Hagia Sophia Must Stay a Monument of Coexistence | Opinion
Turkish President Recep Tayyip Erdogan stated his desire to convert Hagia Sophia from a museum into a mosque in late May, a possibility he had first raised in March 2019. Should he go forward with his plans, he will not only endanger the future of this world heritage site dear to Christians and Muslims alike, but also undermine interfaith relations in the Middle East and beyond. It must not happen.
For almost five centuries, Hagia Sophia—built as an imperial Byzantine cathedral in the sixth century and converted into a mosque following Ottoman Sultan Mehmet II's conquest of Constantinople in 1453—symbolized the domination of non-Muslim subjects by their Muslim rulers. As part of his reforms to transform an empire of subjects to a secular republic of citizens, Turkey's founding father Mustafa Kemal Ataturk transformed Hagia Sophia into a museum in 1934. Ataturk's move was a step toward institutionalizing equality at home and reducing tensions with Greece and other Western nations which he had fought only a decade earlier.
Although some in Turkey welcomed Hagia Sophia's new status as a museum, others did not receive it well. For decades, it has remained a rallying call for Turkish Islamists. We fear this decision would embolden extremists.
Erdogan has made no secret of his own ambitions for the site.
In his youth, as a member of Turkey's successive Islamist parties, Erdogan shared and voiced these dreams. Since the rise to power of his Islamist-rooted Justice and Development Party (AKP) in 2002, however, has he refrained from publicly endorsing such demands for converting Hagia Sophia. More recently, he has used the Hagia Sophia as a rallying cry for his supporters in moments of personal, political crisis—like his attempt to mobilize voters ahead of challenging local elections in 2019 and, more recently, his effort to divert public attention away from Turkey's COVID-19-induced economic downturn.
Erdogan's plans have raised concern among religious freedom advocates not only in Turkey, but also in the United States. In March 2019, the United States Commission on International Religious Freedom (USCIRF) condemned Erdogan for his plans to change the status of Hagia Sophia. USCIRF's 2020 annual report also expressed concern over a similar case, where the Turkish Council of State announced its decision to change the status of the Church of the Holy Saviour at Chora into a mosque after it, too, had served as a museum since 1945. Turkey is singled out in the same report as the only NATO member state to be on USCIRF's "Special Watch List," an indication of the shortcomings of the country's religious freedom record.
In response to Erdogan's recent statements, USCIRF has demanded Ankara withdraw plans to reconvert Hagia Sophia into a mosque. Similarly, Ambassador-at-Large for International Religious Freedom, Sam Brownback has called on the Turkish government "to maintain [Hagia Sophia] as a UNESCO World Heritage site and maintain accessibility to all in its current status as a museum."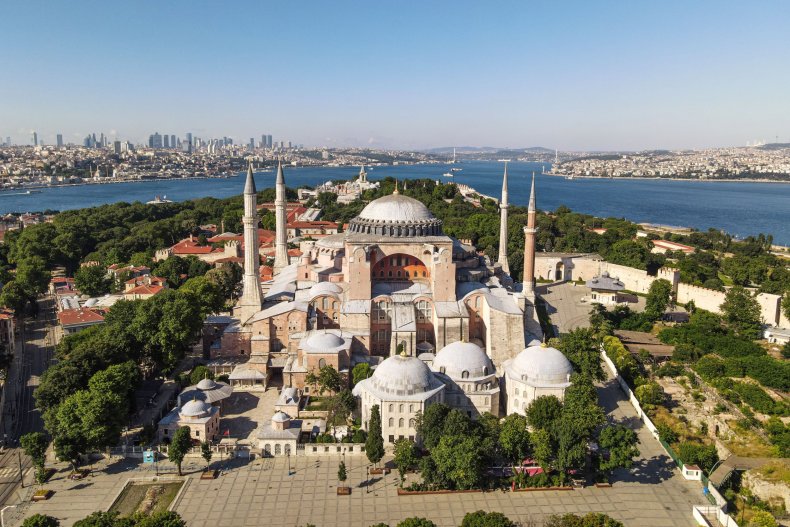 The prospect of Hagia Sophia's conversion has also drawn criticism from Greek Orthodox faith leaders. Ecumenical Patriarch Bartholomew I stated on June 24 that he was "saddened and shaken" by the recent debates on Hagia Sophia's future. On June 30, in his sermon after Divine Liturgy, he warned that "any conversion of Hagia Sophia into a mosque will turn millions of Christians around the world against Islam."
He also reminded the world that Hagia Sophia, in its current status as a museum, can "function as place and symbol of encounter, dialogue and peaceful coexistence of peoples and cultures, mutual understanding and solidarity between Christianity and Islam." Archbishop Elpidophoros of the Greek Orthodox Archdiocese of America has stressed that Hagia Sophia "must be preserved as a bridge of intercultural and interfaith understanding."
All of the calls underscore the symbolic importance of Hagia Sophia as it relates to escalating tensions.
Erdogan must keep his hands off the Hagia Sophia lest he set a dangerous precedent for vulnerable faith communities and their sacred heritage—not only in Turkey, but also in the Middle East.
In the war-torn region, the painful memories of genocidal killing, forced conversion, enslavement of minorities and the expropriation and destruction of their religious sites are still fresh.
The last thing Turkey and the Middle East needs is a fait accompli to reinforce sectarian hierarchies and symbols of domination. The Hagia Sophia must remain a beacon of religious pluralism, peaceful coexistence and mutual accommodation.
Rev. Johnnie Moore is a commissioner on the United States Commission for International Religious Freedom and the president of The Congress of Christian Leaders. Dr. Tugba Tanyeri-Erdemir is a research associate at the University of Pittsburgh's department of anthropology. They both serve on the Anti-Defamation League's Task Force on Middle East Minorities.
The views expressed in this article are the writers' own.