Hailey Bieber Quit Runway Modeling Over 'Important' Casting Director's Dig
Hailey Bieber has revealed that she stepped away from runway modeling after having a "really bad experience" with a "very important" casting director.
Bieber, 25, has walked the runway and appeared in campaigns for a number of brands over the years, including Versace, Dolce & Gabbana and Off-White.
But she has now more recently been seen cheering on her peers from the front row, rather than as a featured model, after a run-in with an unnamed man negatively impacted her confidence.
"I had a really bad experience with a casting director who was very important," she told Allure. "He said something to my agent that just shook my confidence when it came to the runway.
"I don't want to feel bad about myself in this space because I feel really good about the other work that I do. So why would I even put myself in a position to feel small?"
In July 2019, Baldwin had hinted that her days of taking to the runway were coming to an end when she criticized her own form while sharing a photo of herself from a Zadig & Voltaire fashion presentation.
"What I do know is that ur arm truly should never wing this high when ur walking on a runway," she captioned the image, on which she drew a large circle and question mark around her bent elbow, per Page Six. "Hence why it is not, and will never be my thing again lol."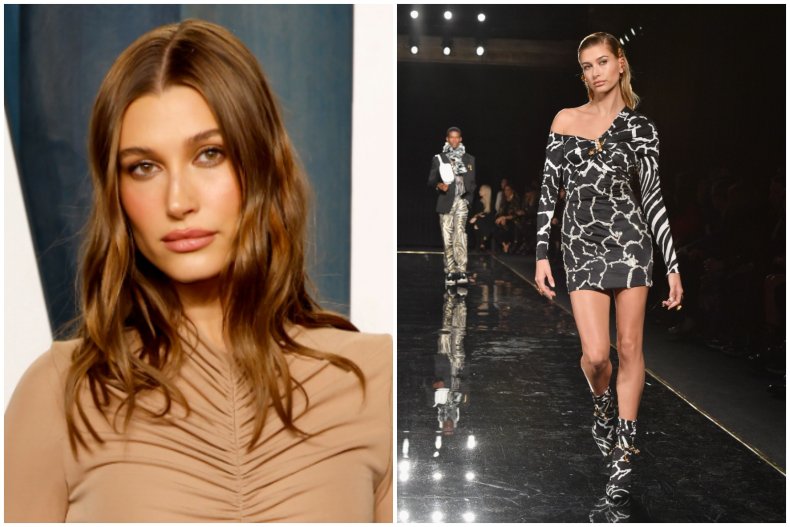 Baldwin, who is married to pop superstar Justin Bieber, has since gone on to channel her energies in other areas, including a YouTube channel started in 2021. She has more than 1.5 million subscribers on the platform.
The channel, Hailey Bieber said, allows her to control her own narrative.
"I understand that there's a lot about my life that people can't relate to and I try not to be naive about that," she told Allure.
Among the subjects the devoted Christian has tackled are her faith, fashion and food. She also posts interviews with the celebrities her status allows her access to, including Kendall Jenner and Insecure star Yvonne Orji.
She will also be venturing into the beauty world, after announcing on YouTube back in November 2021 that she plans to launch her own skincare line.
Hailey Bieber, whose parents are Stephen Baldwin and Kennya Baldwin, said: "I just could always remember my mom, as a child, getting [me] out of the bath, drenching me head to toe, just hydration, hydration, hydration, very focused on keeping the skin healthy."
However, with the likes of Rihanna and Kylie Jenner leading the pack, the cosmetics industry has become something of a crowded field in recent years.
"I think that as a team, we are going into it knowing that people are tired of seeing brand after brand after brand from different people and faces and celebrities," Hailey Bieber said.
"I definitely have had my fears, for sure, because the market is so busy and so saturated. And I've had to, obviously, have the confidence in myself and in our brand to really feel it's going to be something refreshing and different."
"I'm really happy with everything," she added. "I feel proud of the products that are going to come out. I feel excited for what is going to come even after that and what I can continue to develop. I'm hoping that people get their hands on it and they absolutely love it. But if they have feedback, I want to accept that as well."