Hailey and Justin Bieber Wedding Pictures: Candid Photos from the Big Day
After getting married in a quiet ceremony in New York last September, Hailey and Justin Bieber held a big wedding party on September 30, 2019, with some of their A-list friends heading to South Carolina to celebrate the couple.
Luckily for Bieber fans across the world, a number of them took pictures on the day that give us an idea of what the wedding party was like.
People magazine reported that the couple got married again in front of 150 of their friends and family members, with stars like models Joan Smalls, Kylie and Kendall Jenner, actor Jaden Smith and Bieber manager Scooter Braun all in attendance.
According to the magazine, guests enjoyed pre-ceremony cocktails before Justin and Hailey (née Baldwin) exchanged vows as the sun was setting at the luxury resort Montage Palmetto Bluff in Bluffton, South Carolina. After the ceremony, the guests enjoyed a dinner reception followed by music from Bieber DJ Tay James and Canadian singer Daniel Caesar.
Justin posted his first picture of the couple at the wedding early on October 1, showing the pair sharing a kiss in a black and white shot from the wedding photobooth. In another image, Hailey sticks her tongue out at the camera while wrapping her arms around her husband. The "Sorry" singer captioned the images "My bride is [fire emoji]".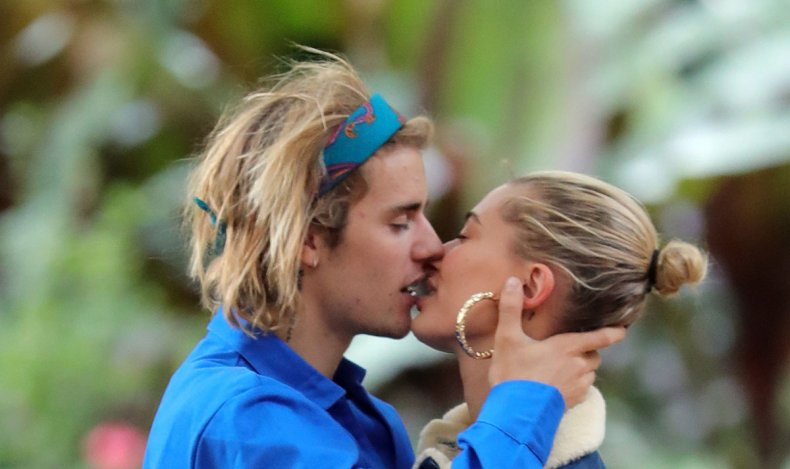 Other images from the photo booth saw the couple pose with Smith and Bieber's musical director Alfredo Flores. Wedding guest David Grutman, meanwhile, shared a shot of model Kendall Jenner in the booth, raising a middle finger at the camera.
Another wedding guest, Dr. Jocelyn Miranda, shared a truly candid moment from the Bieber wedding as Hailey lies on the floor getting a head message in her bathrobe. Another photo posted on a guest's Instagram story featured an unguarded moment with Hailey, wearing a baseball cap that has "Heaven is For Lovers" written on it.
Further photos showed some of the gifts received by wedding guests. According to numerous Instagram stories, attendees received keepsake t-shirts with the wedding date on them, plus water bottles adorned with the bride and groom's names. Another post from singer Justine Skye showed a bejewelled bottle of Moet & Chandon champagne that had "The Biebers 9.30.19' written on it.
A source told People that, prior to the wedding: "Hailey is mostly involved in the planning...Justin lets her take the lead. He jokes that life is better when Hailey is in charge."
The couple first got engaged in July 2018 and then married in a small ceremony in New York. However, according to Hailey's father Stephen Baldwin, a second religious ceremony was crucial to the couple.
He told TMZ: "I just think that as Christians and as believers they understand that if you don't have the God's spirit working in your marriage it just makes it more and more difficult to make it work and have peace and find happiness...Weddings and marriage are supposed to be a holy commitment, one onto another ... They're going to have a lot of their pastor friends and their Christian friends around them this time."