Montana Mom Combats Neighborhood Speeding Problem With Blow Dryer 'Radar Gun'
A Montana woman is single-handedly combatting her community's speeding problem—with a blow dryer.
Patti Baumgartner of Finley Point has taken to the streets around her home near Flathead Lake, brandishing the blower like a radar gun in an effort to make people drive more carefully.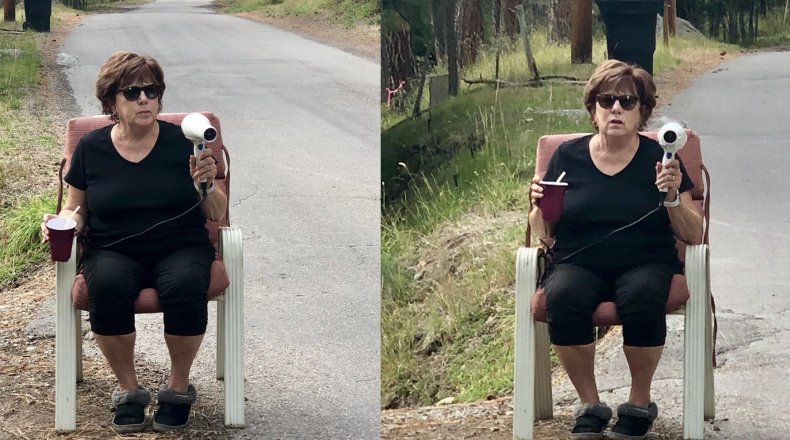 "They forget to slow down and there are lots of people that are complaining about that, they can't walk or ride their bikes," Baumgartner told KRTV on Friday. "I wouldn't even attempt riding a bike around."
She said she was discussing with friends how to slow cars down, and "we decided to put me in a chair and I guess use the hair dryer as a speed thing."
Baumgartner's son, Timmy, enjoyed the idea so much he tweeted pictures of his mom performing her public service—and tagged Montana Highway Patrol trooper Noah Pesola.
An impressed Pesola made Baumgartner an honorary trooper.
"The best thing I could think of was give her a trooper hat and a badge to make her look a little more official," Pesola told KRTV, calling her technique "hilarious."
"I think that we have a speed issue in Montana and I thought it was a great creative idea for the public to try and combat that a little bit without making people too upset," he added.
Since Baumgartner's story was shared, the honorary trooper has since received support from online commenters who also acknowledge Montana's speeding problem.
"I sure wish she'd come sit in my driveway," one twitter user wrote. We're on a 35 mph road with little hills and by a corner, where drivers have the need for speed. Had a speed meter set up and majority of the people fly by going 50+. I'll even provide whatever she needs for her solo cup!!
Of course, the idea of a makeshift deterrent to keep drivers from speeding is not without precedent: In July, Edie Pope of Lydiate in Merseyside, England, created a "scarecrow cop" to patrol busy Southport Road.
Pope, a parish councillor, got the speed limit in Lydiate reduced from 60mph to 40mph. But when people wouldn't heed the new limit, the "scarecrow cop" was born.
"There have been three accidents on this road just recently," she told the BBC. "There was one driver who crashed into a lamppost, breaking it in half and missing a pedestrian by six inches. She had to jump into a hedge to save her life."