Court Rules Texas School District Must Allow Brothers to Keep Long Braids as Part of Religious Practice
A school district barring two brothers with long hair from extracurricular activities must grant the boys a religious exemption, a Texas court has ruled.
On September 5, the United States District Court, Southern District of Texas, directed Mathis Independent School District to grant Cesar and Diego Gonzales a religious accommodation while the case continues to make its way through the courts.
For two years, the Gonzales brothers have been banned from participating in after-school activities at Mathis Middle School, including playing football and joining the art and computer programing clubs, because both have one long, thin braid, which administrators claim is a violation of the dress code mandating hair for males not go past the collar.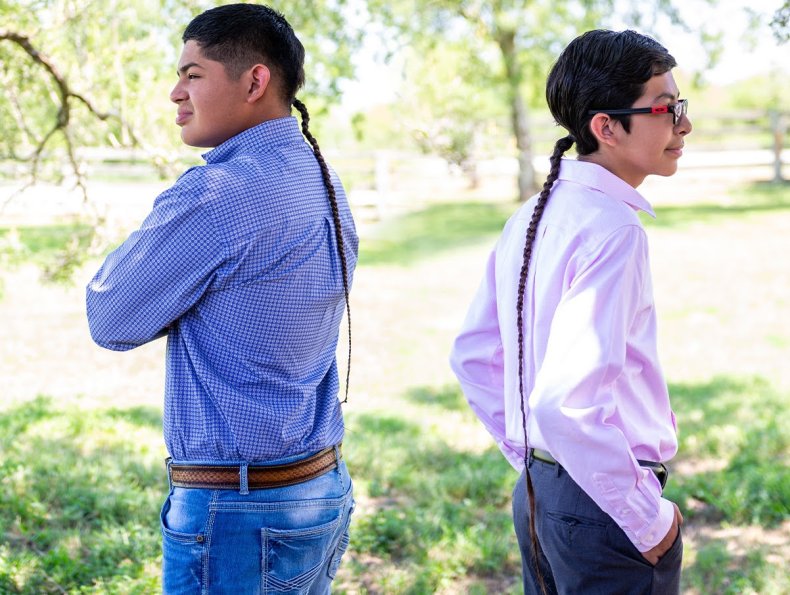 According to filings, the braids stem from a vow their parents made when Cesar, now 14, was an infant and contracted meningitis. If he recovered, they promised God, they would let a lock of his hair grow uncut forever. When they were expecting his brother, Diego, they made a similar promesa, part of the Mexican Catholic tradition.
The Mathis Independent School District reportedly allowed the Gonzales brothers to keep their braids from kindergarten through the sixth grade, but when they entered seventh grade in 2017, they were told to cut them or be barred from activities like team sports and student council. The coaching staff reportedly told Cesar, "All it takes is a quick snip of the scissors for you to get your football equipment."
After the school board rejected the Gonzales' family claim that the hairstyle was part of a religious observance, they filed suit in 2018—claiming it was a violation of the boys First Amendment right to freedom of religion as well as the Texas Religious Freedom Restoration Act.
"After two years of needless bullying of students of faith, it's now clear that the school district is breaking the law," said Montserrat Alvarado, executive director of the Becket Fund for Religious Liberty. "Mathis Independent School District should stop this foolish fight and do the right thing."
"It is unacceptable to keep children from doing what they love because of their religious beliefs," Alvarado added. "Mathis ISD should follow the law and respect these students' religious beliefs."
Signed into law by then-governor George W. Bush in 2000, the Texas Religious Freedom and Restoration Act (RFRA) bars the government from "substantially" infringing on religious practices.
The Gonzales' attorney, Jamie Aycock, argued that the school district's only justification for demanding the boys cut their hair is, "an interest in aesthetic homogeneity and a concern that exemptions will beget requests for additional exemptions." Those arguments, Aycock says, have been rejected by the courts in similar circumstances.
"The fact that the boys render their braids hardly noticeable by tucking them into their shirts makes clear that MISD's condition that they sever their religious braids to participate is inexplicable," he added.
Now an incoming freshman at Mathis High School, the injunction means Cesar is eligible to join the school's football team for it's first league game on September 27.