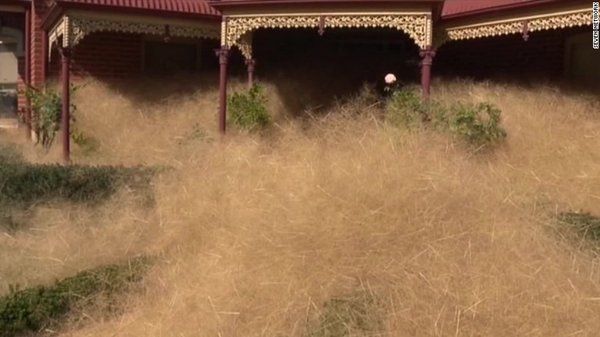 Some sympathy is surely due for the inhabitants of a small town in southeast Australia that has been overrun with tumbleweed.
The fast-growing plant, nicknamed "hairy panic," has piled up daily outside homes in Wangaratta owing to extremely dry conditions in the region.
Residents are spending several hours each day removing the weeds, which have reached roof height in some places, CNN reported. Those in Wangaratta think they know who's to blame: a negligent farmer who failed to clear the grass off his field.
"Hairy panic," or Panicum effusum, to use its Latin name, is found across Australia. If sheep eat it in large quantities it can cause a potentially fatal condition called "yellow big head." As the name implies, the sheep's head swells due to a bright yellow fluid that collects under the skin. However, a vet in Wangaratta, Richard Evans, told the BBC that once dried and in the form of tumbleweed, the plant is no longer toxic.
Though this is good news for any livestock in the town, the grass's presence continues to anger local residents. And because the tumbleweed poses no fire risk, authorities are unable to help with the clear-up.