Haiti Earthquake Death Toll Quickly Mounts as Mudslides From Tropical Storm Grace Feared
As the death toll from a powerful earthquake off Haiti's coast Saturday quickly mounts by the hundreds, officials fear the island nation could face mudslides, heavy rains and further destruction this week from impending Tropical Storm Grace.
At least 724 people have died and 2,800 are missing, according to a report Sunday from Haiti's Office of Civil Protection. It said rescuers are continuing to search for survivors under piles of rubble from collapsed homes, hotels and other structures.
Prime minister Ariel Henry declared a one-month state of emergency on Saturday as some towns were almost completely destroyed.
According to the U.S. Geological Survey (USGS), the epicenter of the 7.2 magnitude earthquake took place 7.5 miles northeast of Saint-Louis du Sud and triggered landslides that slowed rescue efforts in two of the hardest-hit communities. The quake was so strong that it could be felt in neighboring countries, and hospitals across Haiti are now overwhelmed with treating injured patients.
But as the nation continues to desperately search for additional survivors, authorities fear the situation could worsen this week due to Tropical Storm Grace. According to the National Hurricane Center, the storm is expected to hit Haiti on Monday, and could bring heavy rainfall, flooding, and strong winds, as well as mudslides.
The storm is now on a path to go directly over the Dominican Republic, Haiti and Cuba before heading north toward the Gulf Coast of the U.S. The National Hurricane Center told Newsweek Saturday that it is "closely monitoring" the storm as it reaches Hispaniola, the island that contains both Haiti and the Dominican Republic
Robbie Berg, a hurricane specialist at the center, said that the earthquake could also increase the chance of mudslides in Haiti.
"It could have shifted some of the ground and soil, which could make mudslides more common," he said, according to the New York Times.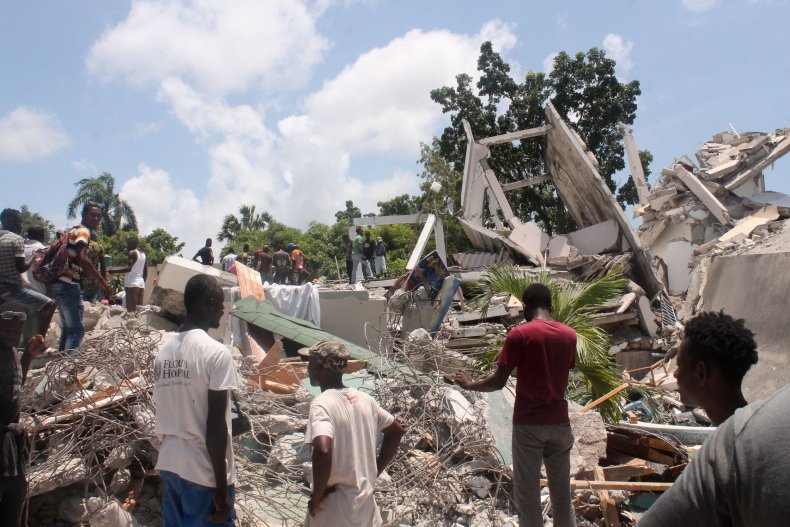 Meanwhile, days before the earthquake, Tropical Storm Fred dumped heavy rains on Haiti Wednesday, leaving many residents without power. The impoverished nation is often vulnerable to natural disasters and has been hit by powerful hurricanes and earthquakes in the past.
In 2010, a massive 7.0-magnitude earthquake struck Haiti and killed an estimated 300,000 people and rendered over 1 million homeless. That quake marked one of the deadliest natural disasters in the Western Hemisphere, and large parts of the island are still recovering a decade later.
The most recent earthquake came as Haiti is navigating through a tumultuous political climate following the assassination of President Jovenel Moïse last month. The country is also struggling to contain the spread of COVID-19, and has severely lagged behind with pandemic resources such as vaccines and testing.
"We're concerned that this earthquake is just one more crisis on top of what the country is already facing—including the worsening political stalemate after the president's assassination, COVID and food insecurity," Jean-Wickens Merone, spokesperson for World Vision Haiti, said Saturday.
President Joe Biden authorized an immediate response for aid on Saturday and named USAID Administrator Samantha Power as the senior official coordinating the effort.