Haitian first lady Martine Moïse was shot in her home overnight in an attack that killed her husband, President Jovenel Moïse.
The attack took place around 1 a.m. local time and was conducted by a group of unidentified individuals, according to Interim Prime Minister Claude Joseph. Martine Moïse was taken to the hospital and receiving medical treatment for her injuries.
Jovenel Moïse was fatally shot, raising concerns about the fate of the Caribbean nation that is facing a food shortage and an ever-increasing humanitarian crisis.
"All measures are being taken to guarantee the continuity of the state and to protect the nation," Joseph said in a statement.
Joseph condemned the attack as a "barbaric," "hateful" and "inhumane" attack and said some of the attackers were speaking Spanish or English, but offered no details. The official languages in Haiti are Haitan Creole and French.
Opponents of Moïse accused him of attempting to increase his power and has been ruling by decree for over a year since Haiti hasn't held legislative elections, prompting the dissolvement of parliament. He's been facing calls to resign since February, which opponents consider the end of his five-year term. Having taken office in 2017, Moïse insisted his term had another year.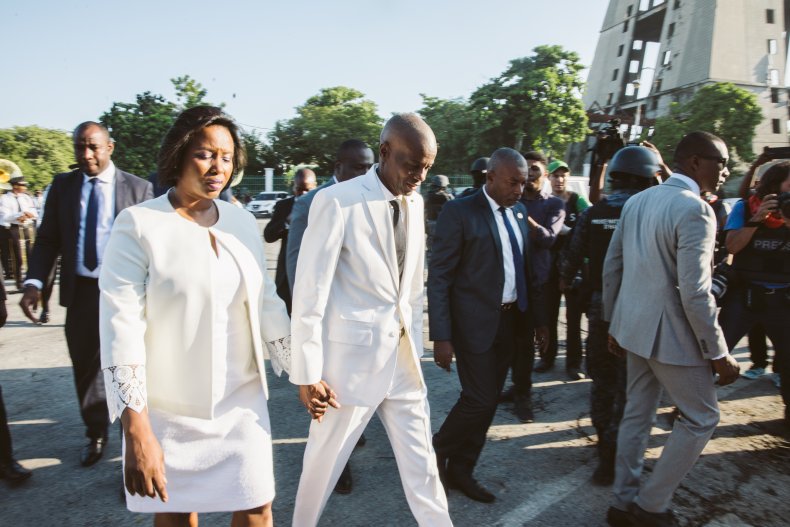 Members of the United Nations, including the United States, expressed concerns about the situation in Haiti with regard to the violation of human rights and fundamental freedoms and urged the government to take action to curb the gangs and violence. On Wednesday, the Biden administration offered their help.
"We stand ready and stand by them to provide any assistance that's needed," White House Press Secretary Jen Psaki told CNN, calling it a "horrific crime" and a "tragedy."
It's unclear who will take over after Moïse death. Judge Jean Wilner Morin of the National Association of Haitian Judges told CNN that normally Haiti's head of the Supreme Court would replace the president, but he recently died of COVID-19. Putting Joseph in the position would require the approval of parliament, and Moïse had been operating without one.
In a statement on Twitter, former President Michel Martelly, Jovenel's predecessor, said he was praying for Martine and called the assassination "cruel." He added that he was sharing in the pain of the family and extended his sympathies to them.
"A hard blow for our country and for Haitian democracy which is struggling to find its way," Martelly said.