Haiti Kidnappings Live Updates: Miami Protesters Decry Deportation of Haitian Migrants Amid Rising Violence
A notorious Haitian gang abducted 17 people from a U.S.-based missionary organization east of Port-au-Prince Saturday, Haitian police inspector Frantz Champagne told The Associated Press.
The 400 Mawozo abducted 16 American citizens and one Canadian from the Ohio-based Christian Aid Ministries. A total of five children and 12 adults were taken in the Croix des Bouquets suburb while they visited an orphanage, according to the group.
"Join us in praying for those who are being held hostage, the kidnappers and the families, friends and churches of those affected," Christian Aid Ministries said in a statement. "As an organization, we commit this situation to God and trust him to see us through."
The 400 Mawazo was blamed for kidnapping a group of Catholic priests and nuns who were eventually released earlier this year. A local nonprofit credits the gang for contributing to the massive surge in kidnappings in Haiti over the last three months.
The U.S. State Department said in a statement it is working with Haitian authorities and the White House confirmed Monday the FBI is on the ground aiding in the investigation.
Haitian workers staged a strike Monday to protest the growing gang violence and the civil unrest following the assassination of President Jovenel Moïse in July and a 7.2-magnitude earthquake that killed more than 2,200 people in August.
Activists in Miami held their own demonstration Monday, protests the deportation of Haitian migrants and calling on the Biden administration to create a pathway to citizenship.
The live updates for this blog have ended.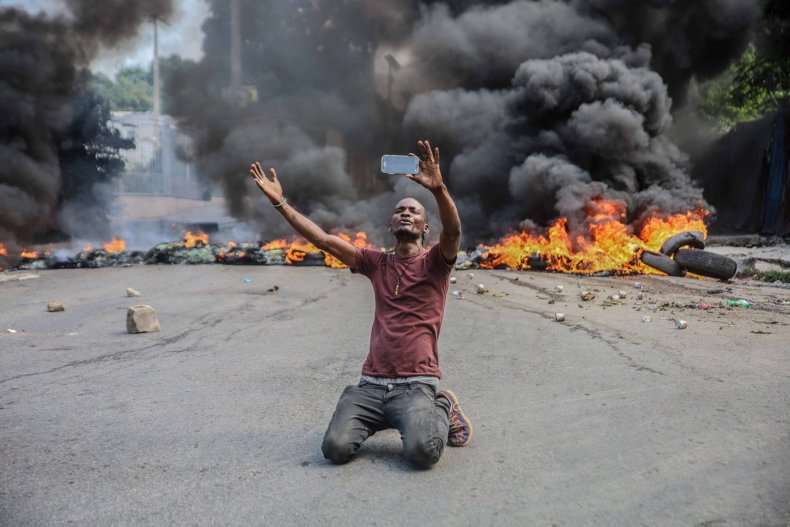 Miami protesters call for pathways to citizenship for Haitians
Demonstrators took to the streets of Miami to protest the U.S. deportation of Haitian migrants back to their home country amid growing violence and unrest.
Protestors at the "Rally 4 Citizenship" temporarily blocked the Biscayne Boulevard entrance to PortMiami Monday, calling on the Biden administration to create a pathway to citizenship for migrants.
People carried signs reading "Stop Deporting Haitians" and "Kamala Harris Deliver Citizenship for Millions" as protestors linked arms and laid down in the road. The street was reopened by 3 p.m.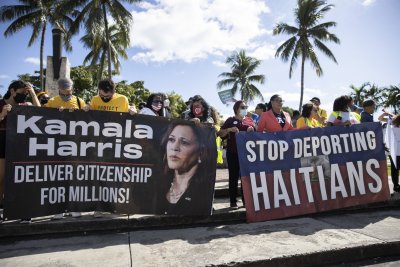 Haitian workers stage protest over government inaction on gang violence
Workers across Haiti went on strike Monday amid surges in violence and civil unrest.
Small protests broke out across the country, as people closed stores and gas stations and took to the streets to demand the government help curb the rise in gang violence.
The protest was first called by leaders in the transportation industry who were among the most common targets for gang kidnappings.
"This strike is our way of saying that we can't take it anymore," Diego Toussaint, an entrepreneur who runs a business that sells solar panels told Reuters. "We live in fear."
Private-sector businesses have joined the protests, saying the government can no longer provide protection.
"We can't rely on the state, as job creators we are obliged to look after our own security," Toussaint said.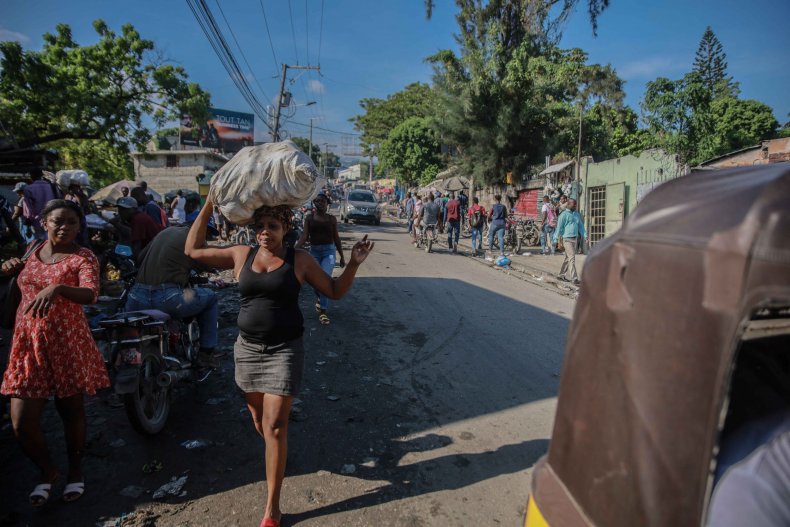 Members of Michigan family among missionaries kidnapped in Haiti, local news reports
Members of a Michigan family are among the 17 missionaries kidnapped in Haiti, local news reported.
WOOD-TV reported missionaries from a West Michigan family were abducted in Haiti over the weekend.
Earlier Monday, Jen Psaki said the White House would not go into detail about the U.S. efforts in Haiti or the kidnapping victims.
Christian Aid Ministries employee convicted of abusing Haitian children over 15 years span
A former employee from Christian Aid Ministries was convicted of felony sexual abuse against minors in 2019.
Jeriah Mast is currently serving his nine-year sentence in an Ohio prison.
According to The Daily Record newspaper in Ohio, a judge said Mast molested at least 30 boys in Haiti over a 15-year span.
Christian Aid Ministries reached an out-of-court settlement with abuse victims in Petit Goave and paid a total of $420,000 in restitution and other assistance to other victims.
FBI is in Haiti to help in kidnapping case, Psaki says
White House Press Secretary Jen Psaki confirmed to reporters the FBI is working on the ground in Haiti with local officials to help with the kidnapping of American missionaries over the weekend.
Psaki said President Joe Biden has been briefed on the situation.
She would not release any further information about the abducted citizens or the U.S. efforts to bring them home.
400 Mawozo leader wanted for murder, kidnapping last year
Almost a year ago, the Haitian police issued a wanted poster for the alleged leader of the 400 Mawozo Wilson Joseph.
He was wanted for murder, attempted murder, kidnapping, auto theft and hijacking of trucks carrying goods, according to the Associated Press.
Joseph goes by the nickname "Lanmò Sanjou," which means "death doesn't know which day it's coming."
The group's reported second-in-command, Joly "Yonyon" Germine, is in jail, the Washington Post reported. Haitian authorities are trying to negotiate with him.
400 Mawozo has been associated with extortion and has targeted clergy and churches in kidnappings.
Missionaries "knew the dangers they were in," former group organizer says
A former director for the Christian Aid Ministries said the group of missionaries kidnapped in Haiti were "dedicated" people who "knew the dangers they were in."
"These are very dedicated people, people that have risked their lives, they knew the dangers that they were in, or at least were aware of what could happen, I'm sure," Dan Hooley, a former field director for Christian Aid Ministries, told CNN.
Hooley said he knew several of the abductees personally, including a young couple and their two children who were all abducted.
"I know the family very well," he added.
All of the kidnapped missionaries are believed to have been in one vehicle at the time of the kidnapping, Hooley said.
Abducted missionary reportedly sent message for help as kidnapping occurred
One of the missionaries abducted in Haiti sent a message as the kidnapping was happening, the Washington Post reported.
A Missionary from Christian Aid Ministries, a group founded by Amish and Mennonites, sent a message in a WhatsApp group, according to a person familiar with the abduction who spoke to the Washington Post on the condition of anonymity.
"Please pray for us!! We are being held hostage, they kidnapped our driver. Pray pray pray. We don't know where they are taking us," the message said.
Kidnappings in Haiti increased 300 percent in three months, nonprofit says
Kidnappings in Haiti have jumped nearly 300 percent from July to September, according to a nonprofit based in Port-au-Prince.
The Center for Analysis and Research for Human Rights (CARDH) said there have been at least 628 kidnappings from January to September, including 29 foreign nationals from three countries.
Abductions surged in recent months, from 31 in July, to 73 in August, to 117 in September, CARDH reported.
The 400 Mawozo was once notorious for car theft, but have pioneered "collective" kidnappings of large groups from buses and cars, according to CARDH.
CARDH said the 400 Mawozo usually sets a ransom of around $20,000, while local authorities to the Associated Press say the gang asks for ransoms ranging from a couple of hundred dollars to more than $1 million.
U.S. issues Level 4 travel advisory for Haiti amid kidnapping
The U.S. Embassy in Haiti has issued a Level 4 "do not travel" advisory for the country after 16 U.S. citizens were kidnapped outside Port-au-Prince.
The advisory cites "kidnapping, crime, civil unrest and COVID-19."
"Kidnapping is widespread and victims regularly include U.S. citizens," the advisory said. "Kidnappers may use sophisticated planning or take advantage of unplanned opportunities, and even convoys have been attacked. Kidnapping cases often involve ransom negotiations and U.S. citizen victims have been physically harmed during kidnappings. Victim's families have paid thousands of dollars to rescue their family members."
State Department confirmed it is working with local authorities in the investigation.
"The welfare and safety of US citizens abroad is one of the highest priorities of the Department of State," a department spokesperson said in a statement. "We have been in regular contact with senior Haitian authorities and will continue to work with them and inter-agency partners."