Republican Congressman Says Haiti Is 'Disgusting' and Filled With Garbage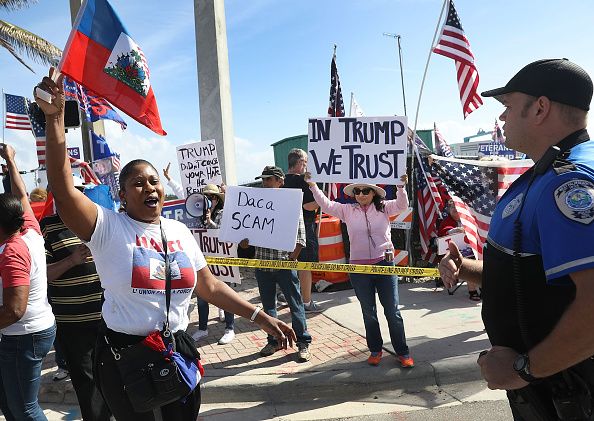 Republican Congressman Matt Gaetz added fuel to the controversy over President Donald Trump's description of Haiti, characterizing conditions in the island nation as "disgusting" and filled with garbage.
Related: 'Bigot' Trump is defended by 'lying' Republican senators after 'shithole' comment, 'Morning Joe' says
This comes as Trump allegedly used an expletive to disparage Haiti, El Salvador and African countries last Thursday. The comments, which Trump has denied, were met with a global backlash, while U.S. diplomats in South Africa and Ghana were called to meet with those governments.
"Why do we want all these people from 'shithole countries' coming here?" Trump reportedly said at a briefing with lawmakers on immigration, according to The Washington Post.
Asked to comment on the remarks, Gaetz had some strong words of his own.
"I would not pick those terms, but I would say that the conditions in Haiti are deplorable. They are disgusting. I mean, it's everywhere you look in Haiti—it's sheet metal and garbage when I was there," the Florida representative told MSNBC's Chris Hayes on Wednesday night.
In the back-and-forth exchange, Gaetz was asked if he understood why Trump's statement in the Oval Office was viewed as "so offensive and hurtful by so many."
"I do. I also understand that the president believed that it was a meeting he was having behind closed doors," Gaetz said.
He went on to say that conditions in some countries "really are bad," blaming it not on their people, but on "systemic failure."
"But if I called Okaloosa County a shithole, you'd understandably be upset with that, right?" Hayes asked.
"Yes—I could also prove you wrong because I could bring you to Okaloosa Country and show you that it's the home of the most beautiful beaches in America. I don't know that in Haiti they can make the same claim," Gaetz said.
Responding to Trump's latest controversial comments, Democratic Senator Richard Durbin, who was also at the meeting, said Friday that the language used was "hate-filled, vile and racist."
Trump has since denied he made any "derogatory" comments, tweeting, "Never said anything derogatory about Haitians other than Haiti is, obviously, a very poor and troubled country."
Haiti—which recently marked the eighth anniversary of a devastating earthquake that left the island nation with one of the worst annual death tolls ever recorded—has since responded with outrage over Trump's disparaging remarks.
"The Haitian government condemns in the strongest terms these abhorrent and obnoxious remarks, which, if proven, reflect a totally erroneous and racist view of the Haitian community and its contribution to the United States," said Haitian President Jovenel Moise.