Haitian Police Killed Four Suspects, Arrested Two in Assassination of Jovenel Moïse
Haitian police have killed four people and arrested two others suspected in Wednesday's assassination of President Jovenel Moïse.
Léon Charles, interim chief of Haiti's National Police, announced the deaths and arrests at a press conference also attended by acting Prime Minister Claude Joseph late on Wednesday night, according to The Miami Herald.
Charles said that additional suspects and police were "engaged in a battle" including an exchange of gunfire as the announcement was made, while three officers who had been held hostage were reportedly rescued. It is not clear what led police to the suspects.
"We blocked them en route as they left the scene of the crime," said Charles, according to Reuters. "Since then, we have been battling with them... They will be killed or apprehended."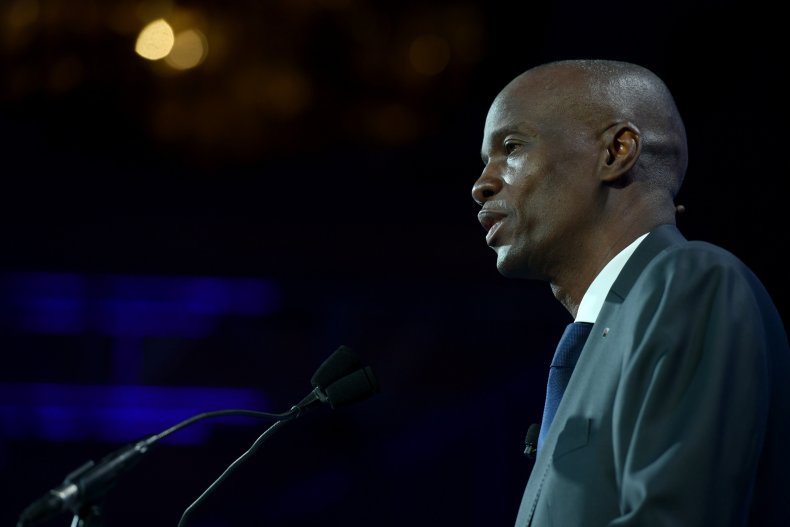 Moïse was killed early Wednesday morning following a home invasion from the armed group. Martine Moïse, Haiti's first lady, was also shot multiple times during the attack before being transferred by "air ambulance" to Miami for treatment. She remained in critical condition as of Wednesday night.
Haiti's government declared a two-week state of emergency to help facilitate its search for Moïse's killers. Although the identities of Moïse's assassins are not yet publicly known, Joseph has said that they spoke English and Spanish and Charles described them as "mercenaries."
Bocchit Edmond, Haiti's ambassador to the U.S., told Reuters that the assassins had disguised themselves as agents from the U.S. Drug Enforcement Agency as they gained entry to the residence.
"Although details are still emerging, at this time it can be confirmed that this was a well-coordinated attack by a highly trained and heavily armed group," a statement issued by Haiti's embassy in the U.S. reads. "President Moise died in defense of democracy and we have a duty to ensure his legacy is honored. Our thoughts and prayers are with the entire nation, and with the family of the President and the First Lady."
"We urge Haitians to show restraint and maintain a peaceful environment over the coming days," it continues. "We also call on the international community to launch an investigation into the assassination and for the United Nations to hold a Security Council meeting on Haiti as soon as possible."
Foreign leaders quickly moved to condemn the assassination. President Joe Biden said that he was "shocked and saddened to hear of the horrific assassination" and offered his "sincere wishes for First Lady Moïse's recovery" in a statement.
Newsweek reached out to the Haitian embassy in Washington, D.C. for comment.