Haitian TPS Extended for Six Months by Trump Administration, Leaving Immigrant Community Uncertain About Future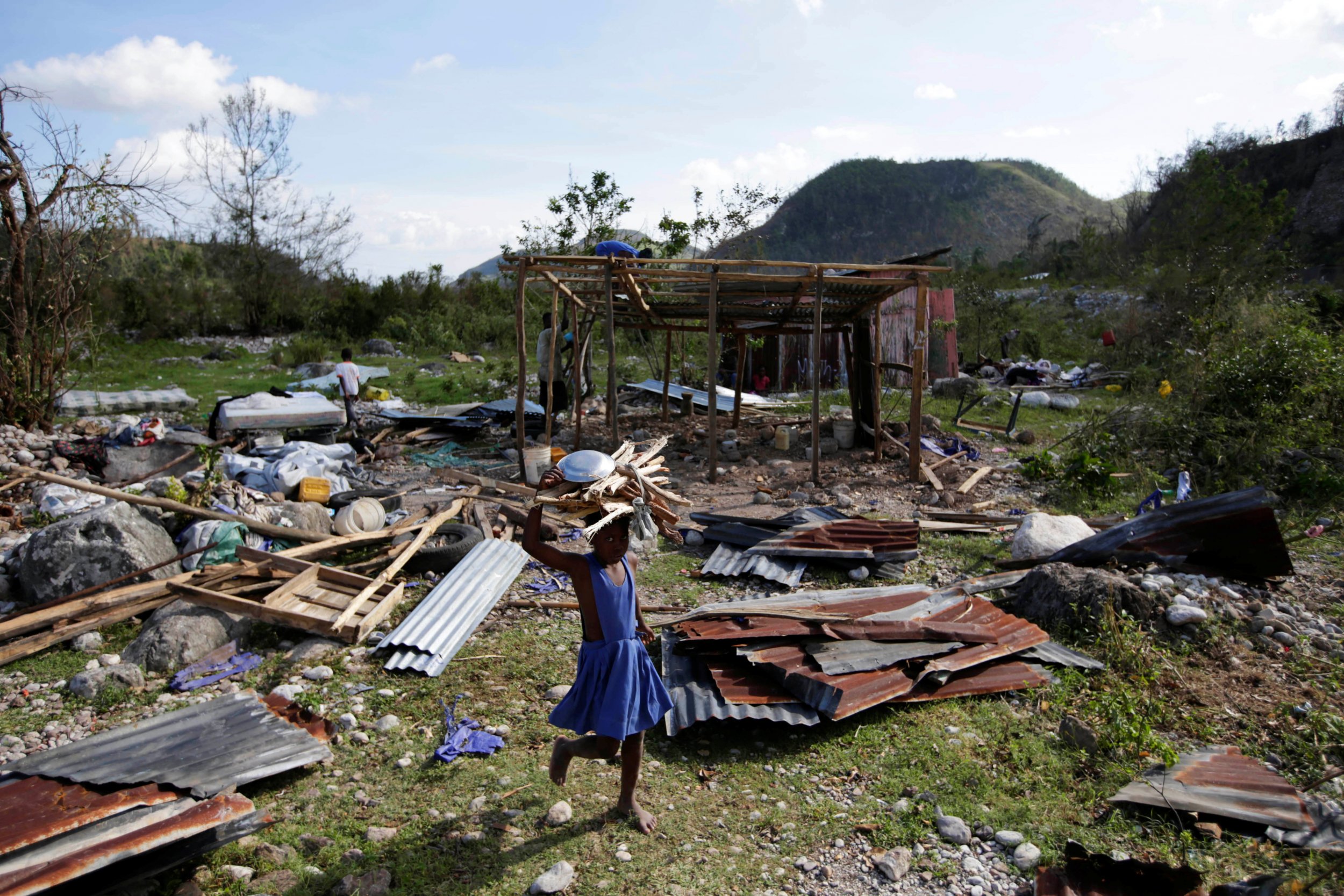 Months after a deadly earthquake ravished her homeland, Violette, 38, boarded a small boat with eight other people and set off on a three-day journey at sea from Haiti to South Florida and the promise of a secure future. She left behind three children "because I know it's very dangerous to come here."
Seven years later, after a series of low-income jobs and cross-country moves, Violette—who declined to give her last name because she fears being deported—is worried her life in the U.S. is about to come to an end. A special immigration status granted to more than 50,000 Haitians will reportedly be extended by the Trump administration after weeks of protests by Haitian immigrants and advocates, but only for six months, providing little relief to a community whose future has been clouded in uncertainty since the new administration took power.
Violette says she first began worrying about her immigration status when Donald Trump became president. He visited Miami's Little Haiti community, the epicenter of the Haitian community in the U.S., during the 2016 campaign, but a few months later, Violette heard on the radio and through a church announcement that Temporary Protected Status (TPS), the immigration policy that provides humanitarian relief to people from countries experiencing disasters or war, was at risk.
"Even the people with green cards, they're afraid of the Trump administration," says Violette. "The way he talks—in the Haitian community now there's a fear about the whole situation."
The Washington Post reported Monday morning that Trump's administration plans to allow for a six-month extension of the special humanitarian immigration status granted to tens of thousands of Haitians like Violette. Roughly 930,000 Haitians live in the U.S., according to the 2013 American Community Survey, the latest year data were available. More than 50,000 of them have TPS. People from countries such as Somalia, South Sudan and Syria are also eligible for the status.
The deadline for the U.S. government's decision on whether to extend TPS is May 23. According to the Post, the U.S. Department of Homeland Security is still finalizing the details of the decision. Immigration advocates hoped the government would extend the status for another 18 months because Haiti, a country still reeling from Hurricane Matthew last year and the aftermath of the 2010 earthquake, which devastated the capital city of Port-au-Prince and killed more than 200,000 people, is not ready to take back tens of thousands of people.
After the six-month extension, the government is expected to review the immigration program later this year, meaning Violette's life in the U.S. would once again be in jeopardy. "My country is not ready to receive us," she says. "Going back to Haiti without money? It would be a disaster."
Before arriving in New York, Violette lived in Orlando, Florida, for three years, working at Disney World as a guest escort. Later, she worked at a laundromat before heading north to Brooklyn. She now is employed as a home health aide and attends the Evangelical Crusade Christian Church in Brooklyn. Dozens of the 900-strong congregation are Haitians on TPS who face deportation under the Trump administration.
The Reverend Philius Nicolas, bishop of Evangelical Crusade, says if TPS is not extended beyond six months, it will affect the entire Haitian community in Flatbush, central Brooklyn, where his church is located. Parents on TPS might face leaving their U.S.-born children behind or bringing them to an unknown life in Haiti. Also, Haitians on TPS are taxpayers and employees, he says, and the U.S. will lose out on their contributions.
Related: How California is resisting Trump's anti-immigration policies
Living with such uncertainty makes it difficult for Haitian immigrants to get settled in the U.S., he says. "If you threaten to cut my life that way, even though you give me a chance for another 18 months, I never know after 18 months what you're going to do," says Nicolas.
Nicolas supported the Republican presidential nominee last year and possesses a small card featuring Trump's signature, a token of thanks for his contribution. But given the recent news, he now suspects Haitians are being targeted.
Nicolas says Haitians in the U.S. plan to organize a march on Washington if their TPS is not extended. "I know President Trump is looking forward to a second term. If this TPS is not granted, he will lose the vote of all the Haitians in the U.S.," he says. "He will lose our vote, he will lose our money, and he will lose our friends."
"It will not only be us who will suffer," adds Nicolas. "He will suffer for his second term."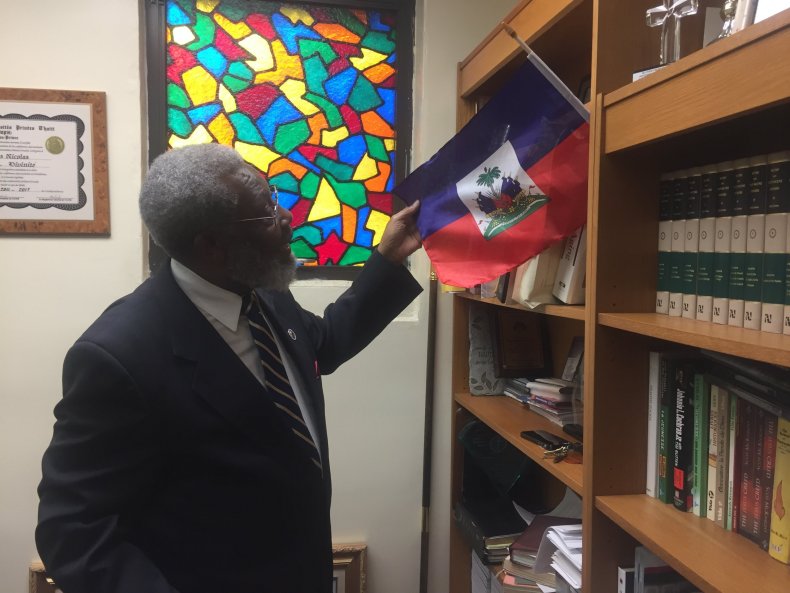 Earlier this month, Trump sent waves of fear through Haitian communities after the Associated Press reported that his administration was looking into how many Haitians on TPS have been convicted of criminal activity, as well as the number using public assistance. TPS immigrants cannot receive public benefits and undergo extensive criminal background checks before being granted their status.
Such a request for criminal data marks "an unprecedented and really disturbing new development in the [Trump administration's] anti-immigrant agenda," says Meredith Owen, policy advocate at Church World Service, a U.S. refugee-resettlement agency. "Simply requesting criminal data for people based on their country of origin is a waste of resources and has absolutely no basis in laws governing TPS. TPS is put in place because of country conditions as a form of humanitarian relief."
A spokesperson for Homeland Security Secretary John Kelly said in a statement that criminal history and public benefit usage is not being used as criteria for determining if someone should receive TPS. To be eligible, people from affected countries must already be in the U.S. when war breaks out or disaster hits, so people in, say, Syria, cannot apply for protection from their origin country.
"Secretary Kelly hasn't made a decision on TPS for Haiti," the statement reads. "The secretary's decision will be based on a thorough assessment of the conditions in the country; separately, he has asked the staff for detailed information to increase his understanding of how the program operates. The two actions are separate and distinct."
Haitians became eligible for TPS following the 2010 earthquake, which for years fueled food insecurity and cholera across the Caribbean island. Those threats were further exacerbated by Hurricane Matthew, which hit Haiti in October 2016.
Earlier this month, Paul Altidor, the Haitian ambassador to the U.S., met with Kelly to discuss extending TPS for Haitians for another 18 months. Altidor says money sent back to Haiti by those living in the U.S. is a huge supporter of the country's economy. Haitian remittances from the U.S. make up around 25 percent of the country's gross domestic product.
"Thousands of households will no longer have an economic lifeline" if TPS is abandoned, Altidor said in a letter to Kelly. Altidor added in the letter that "Haitians with TPS have been exemplary residents in the United States and pose no security threat."
Immigration advocates like Owen say that under the new administration, agents with Immigration and Customs Enforcement also appear to be targeting Somalis, who are eligible for TPS. Somali immigrants have recently been arrested in Maine and Georgia, while ICE said it has deported 230 people to Somalia since October 1, 2016.
The impending decision could similarly affect many immigrants from El Salvador and Honduras, two countries that also have TPS designation. (El Salvador's TPS expires in March 2018; Honduras in January 2018.) Owen says that many people from those countries fear they could be next.
"We know that given the long-standing conflict in Central America, particularly the Northern Triangle [Honduras, El Salvador and Guatemala] and particularly El Salvador, sending people back to that country has basically sent people back to their deaths," she says.
Nicolas believes this to be true. "If they attack the Haitians first, there are others in line," he says. "If they single out the Haitians first, watch out. You'll be there next."