Haitians, Cubans Who Come to U.S. by Sea 'Will Be Returned,' DHS Secretary Mayorkas Warns
Homeland Security Secretary Alejandro Mayorkas is urging Cubans and Haitians not to travel to the United States amid upheaval in the two Caribbean nations.
Mayorkas, who was born in Cuba, warned those thinking of fleeing their country by sea that they will be returned.
"It's a very important humanitarian message. It is a long-standing message from the United States. And the reality of it is that when people take to the sea, they put their lives in tremendous peril," Mayorkas said during an appearance on CNN's New Day on Thursday.
The secretary said that 20 migrants have died over the past week attempting to come to the U.S. by sea.
"It is extraordinarily dangerous," Mayorkas added. "It is not worth the risk. And consistent with long-standing practice, people will be returned. One cannot take to the sea and come to the United States. It won't work."
Unprecedented protests in Cuba broke out this week calling for an end to the communist-style government. The Cuban people have been grappling with shortages of food and medicine, increasing inflation and rolling blackouts throughout the coronavirus pandemic.
The administration has expressed support for the protesters. President Joe Biden told reporters Monday that "we've never seen anything like these protests in a long long time if, quite frankly, ever."
"The U.S. stands firmly with the people of Cuba as they assert their universal rights. And we call on the government of Cuba to refrain from violence in their attempt to silence the voices of the people of Cuba," the president added.
In Haiti, U.S. law enforcement officials are assisting the government following the assassination of President Jovenel Moïse. He was shot dead at his private residence in the hills above Port-au-Prince around on July 7.
The U.S. delegation has met with all three claimants to power in Haiti. According to the White House, the law enforcement representatives encouraged constructive dialogue to reach an agreement to enable Haiti to hold free and fair elections following Moïse's death.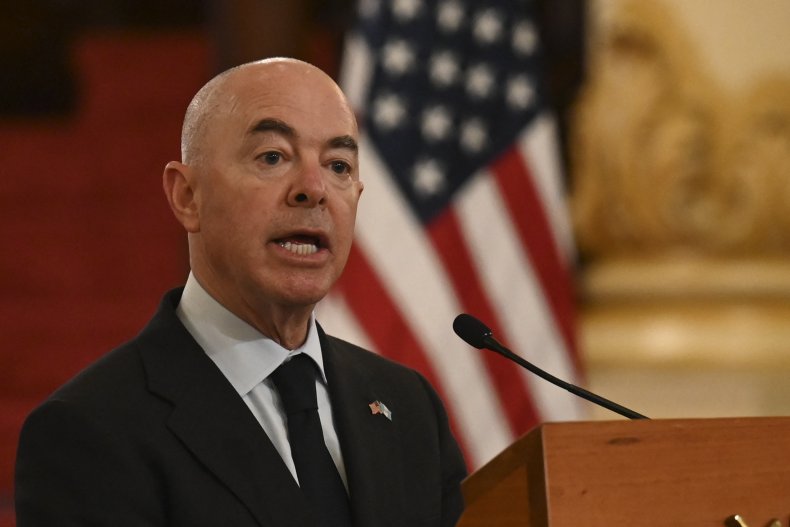 But the administration has now repeatedly warned Cubans and Haitians not to come to the United States.
The U.S. Coast Guard issued a warning Monday night against making unpermitted journeys from Florida to Cuba after social media users suggested setting sail to deliver supplies.
"As a humanitarian organization with a core mission of protecting lives at-sea, we echo the message of many U.S. leaders in the support of the Cuban people exercising their fundamental right of freedom of expression and assembly, but also remind anyone considering a migrant voyage to not take to the sea," Rear Admiral Eric Jones said in a statement.
"Please don't take to the sea," Jones added.
The agency recently ended the search for nine Cubans missing from a boast that capsized off Florida's coast, about 26 miles southeast of Key West. The Coast Guard said in a news release that 13 people were rescued.
Newsweek has reached out to the Coast Guard for additional comment, but didn't receive a response before publication.