Haiti's First Lady Says 'Fight' Must Continue After Husband's Murder, as U.S. Is Asked to Help
Haiti's first lady expressed her grief and asked supporters to keep fighting in her first statement after her husband, President Jovenel Moïse's assassination.
Martine Moïse posted an audio recording Saturday to Twitter with a statement about her husband's killing. The message was confirmed to be authentic by the Haitian minister of culture and communications Pradel Henriquez, according to the Agence France-Presse.
"I am alive by the grace of God. I am alive but I lost my husband, Jovenel," the voice message began.
Moïse described the night that a group of mercenaries entered her home in Port-au-Prince and killed her husband. The president was assassinated early Wednesday morning in "a highly coordinated attack by a highly trained and heavily armed group," according to interim Prime Minister Claude Joseph.
The first lady was also injured in the attack and was flown to Fort Lauderdale to be treated for gunshot wounds at the Ryder Trauma Center at Jackson Memorial Hospital.
"One blink of an eye, mercenaries came to my house and riddled my husband with bullets," she said. "This act has no name because you have to be a limitless criminal to assassinate a president like Jovenel Moïse, without even giving him the chance to say a single word."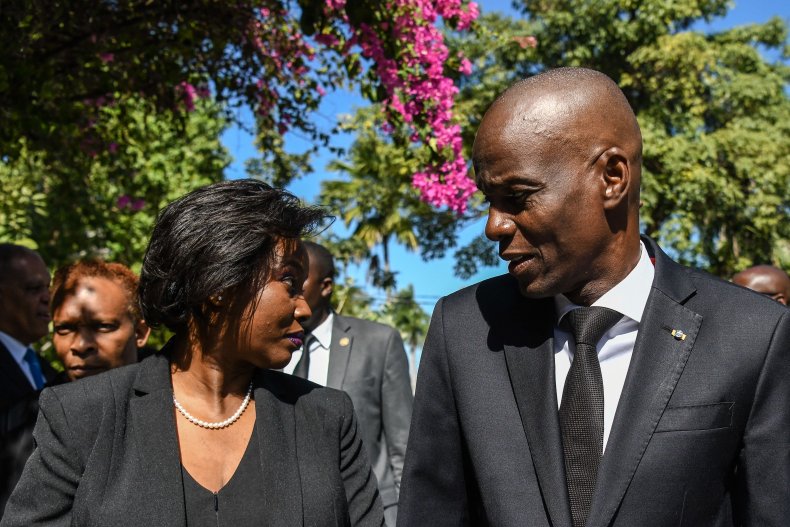 In her statement, Moïse said she believes her husband was killed because of "roads, water, electricity and referendum as well as elections at the end of the year" that would have moved the country forward.
Through her grief, the first lady urged her people to not give up on her husband's vision for the country. She said she did not want her husband's bloodshed to be all for nothing.
"There are other mercenaries who want to assassinate the president's dreams, visions and the ideas that the president had for the country," Moïse said. "Tears will never dry from my eyes. My heart will always continue bleeding. But we can't let the president die a second time. I am crying, that's true, but we cannot let the country lose its way."
"We must stand up and continue the fight...he was fighting for us, and we must continue fighting for him. You know I love you so much, I am not letting go," she concluded.
Haiti's elections minister Mathias Pierre to the Associated Press that the country's police is weakened and does not have the resources to stabilize Haiti following the assassination. He, along with the interim Haitian government called on the U.S. and the U.N. for support.
"What do we do? Do we let the country fall into chaos? Private properties destroyed? People killed after the assassination of the president? Or, as a government, do we prevent?" Pierre said. "We're not asking for the occupation of the country. We're asking for small troops to assist and help us. ... As long as we are weak, I think we will need our neighbors."
President Joe Biden does not plan to send military aid to Haiti as of Saturday, an official told the AP. The White House announced over the weekend that it will be sending top FBI agents to the country to assess the situation.