Haiti's Widowed First Lady Will Return Despite Danger: 'Home May Be Hell, But It's Home'
Haiti's widowed former first lady Martine Moise has said that she intends on staying within her home country even though she fears a second possible assassination attempt on her life.
"What other place do I have?" Moise told WPLG in an interview broadcast on Wednesday evening. "Home is home. Home may be hell, but it's home."
Moise came to Miami, Florida to receive medical treatment for injuries she sustained during a July 7 assassination attempt which killed her husband, slain President Jovenel Moise. She has mostly stayed in the U.S. since, though she also returned to Haiti for her husband's funeral.
She suffered gunshot wounds to her arms and thigh and severe injuries to her hand and abdomen. She left the hospital on July 17. Her injuries caused her right elbow to become non-functional. She wore a splint on her right arm during her TV interview. She said her right arm will remain curved but unbendable.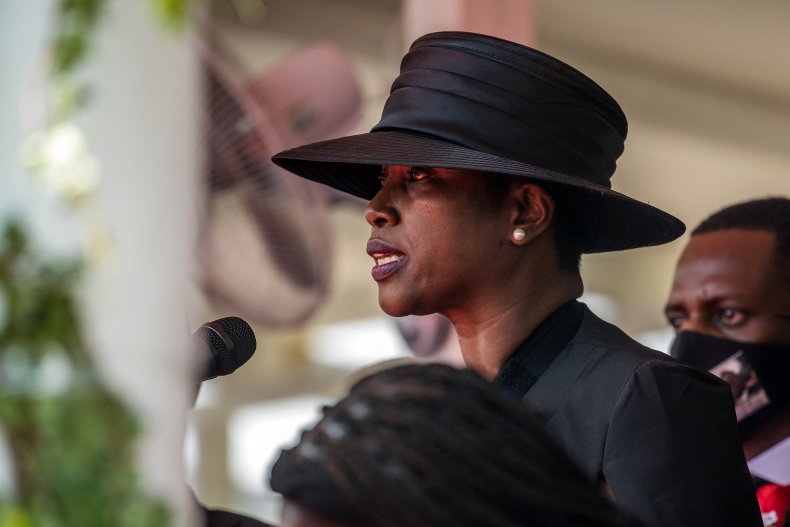 "I wasn't supposed to be alive that night," she said in the interview. "So I'm still at risk, that's what I think."
The "highly coordinated attack by a highly trained and heavily armed group" occurred at 1 a.m. local time on July 7, according to a statement from the country's acting prime minister. At the time of the attack, she and her husband were sleeping in their private Port-au-Prince residence.
Martine Moise told WPLG that she has her own suspicions about who masterminded the assassination. However, she declined to name any suspects to avoid interfering with the ongoing investigation.
"He wanted Haiti to be democratic," she said, speaking of her deceased husband. "He wanted to fight corruption to the bone. And you know, in Haiti, there's a lot of powerful people that are in front of corruption. So he has a lot of enemies."
Over 40 suspects have been arrested in connection with the assassination, the Associated Press reported. Authorities continue to seek out additional suspects.
On September 14, Haiti's head prosecutor asked a judge to formally charge Prime Minister Ariel Henry in the former president's assassination. Investigators found that Joseph Badio, a primary assassination suspect, called Henry twice in the hours leading up to the president's murder.
Further investigation efforts, however, have been hampered by a 7.2 magnitude earthquake on August 14 that killed almost 2,200 people, injured over 12,000 and either destroyed or damaged more than 100,000 houses.
Even before the quake, the country struggled with gang violence, the ongoing COVID-19 pandemic and calls for governmental reform. The calls for reform have coincided with repeated postponements of national and local elections.
Haiti will hold the first round of its national elections on November 7 and the second round on January 23, 2022. The second round will include municipal and local elections.
The former first lady has said that her immediate attention is on caring for her family as Haiti rebuilds from the assassination and earthquake. However, she has also voiced her intentions to run for Haiti's presidency.
"I won't let the vision and the mission of my husband die," she said.
Newsweek contacted the U.S. embassy in Haiti for comment.