Hajj 2018 in Pictures: Millions of Muslims Gather in Mecca for Eid al-Adha Pilgrimage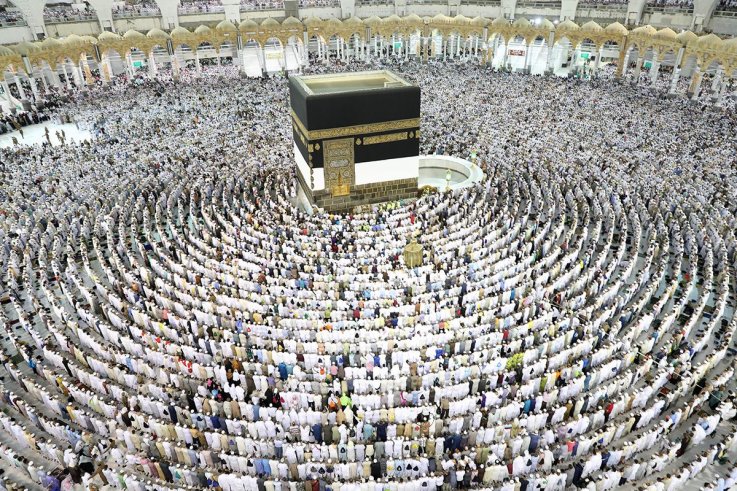 More than two million Muslims have gathered in Saudi Arabia's holy city of Mecca for the annual hajj pilgrimage.
According to official figures, more than 2.37 million pilgrims—mostly from outside Saudi Arabia—are taking part in the five-day ritual. The hajj retraces the route Prophet Muhammad took 14 centuries ago and is a once-in-a-lifetime religious duty for every able-bodied Muslim who can afford to make the journey.
Some pilgrims prayed at the Grand Mosque before heading to Mount Arafat, east of Mecca, where the Prophet is believed to have delivered his final sermon to followers.
On Monday morning a sea of pilgrims dressed in white covered Mount Arafat, where Islam holds that God tested Abraham's faith by commanding him to sacrifice his son Ismail.
Many of the faithful carried umbrellas to block the sun as daytime temperatures surpassed 104 degrees Fahrenheit (40C) following an evening of thunderstorms and high winds. Men and women from 165 countries gathered side by side, while soldiers handed out bottled water and some people snapped selfies.
After sunset, they moved on foot, by bus and in trains to the rocky plain of Muzdalifah to gather pebbles to throw at stone columns symbolizing the devil on Tuesday, which marks the first day of Eid al-Adha, or the feast of sacrifice.
The world's largest annual gathering of Muslims has in the past seen stampedes, fires and riots, with authorities sometimes struggling to respond. A crush in 2015 killed nearly 800 pilgrims, according to Riyadh, although counts by countries of repatriated bodies showed over 2,000 may have died.
Officials say they have taken all necessary precautions this year, with tens of thousands of security forces and health workers on hand to maintain safety and provide first aid.
—Reuters.