What to Know About Zambia: Hichilema's Treason Trial Sheds Light on Political Tensions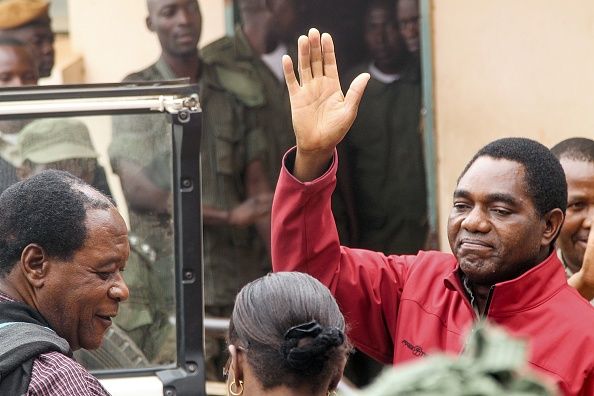 Tensions between the government and the opposition in Zambia have been running high since opposition leader Hakainde Hichilema was arrested and charged with treason earlier in April.
Zambian police arrested Hichilema, who heads the United Party for National Development (UPND), during a raid at his house in the capital Lusaka on April 11, Reuters reported.
Police accused Hichilema of endangering President Edgar Lungu's life when his convoy allegedly refused to make way for a presidential motorcade on April 9. The two convoys were on their way to an official ceremony when they met on the same road in the Mongu district, outside Lusaka.
Hichilema rejected the allegations, claiming police had told him to proceed. H e was then charged with treason—a non-bailable offence in Zambia—for "disobeying lawful orders," the police said, according to Reuters.
On April 18, Hichilema and other five UPND members received an additional charge of treason for allegedly trying to overthrow the government between October 10, 2016 and April 8, 2017, Reuters said.
Hichilema's legal team asked for the treason charges to be dropped, arguing the charge sheet failed to specify how the defendant had tried to topple the government, UPND said in a statement.
Rights groups also called on Zambia's government to drop the charges, claiming they were "designed to harass and intimidate him [Hichilema ] and deter him from doing his political work."
However on April 27 the Lusaka Magistrate Court upheld the charges. Magistrate Greenwell Malumani said his mandate was limited because treason can only be tried by the High Court, local media said.
Some international observers and human rights organizations aren't surprised by Hichilema's arrest and trial, as relations between Hichilema and Lungu have been deteriorating since Zambia held general elections in August 2016.
Hichilema accused Lungu, who won the vote, of electoral fraud and cracking down on freedom of speech in the run-up to the elections. UNPD alleged the poll was rigged and refused to recognize Lungu as president.
Last October, Hichilema and UPND vice-president, Geoffrey Bwalya Mwamba, were charged with "seditious practices" and "unlawful assembly". Amnesty condemned the charges, claiming they were "a ploy to intimidate and silence political opponents." The pair, who pleaded not guilty, were released on bail.
"What's happening in Zambia with Hichilema is not an isolated incident, but rather serves to illustrate a larger pattern of repressing critical voices in the country," said Jeffrey Smith, executive director of pro-democracy advocacy group Vanguard Africa.
"Under successive [Lungu's party] Patriotic Front regimes, we have seen, unequivocally, a very dangerous slide towards authoritarianism. The warning signs have long been present," Smith told Newsweek.
Deprose Muchena, Amnesty International's Regional Director for Southern Africa, tells Newsweek the organization witnessed "a flagrant disregard for freedom of speech and the press in Zambia in 2016, with a deterioration in the run up to the 2016 general election."
The organization has once again spoken against the recent charges against the UNDP leader and members claiming they are "victims of longstanding persecution by the Zambian authorities."
"It is important that Zambia demonstrate respect for human rights and justice at the domestic level and work with other states to promote international justice and human rights," Muchena continued.
The Zambia High Commission has not responded to a request for comments.
Following Hichilema's arrest, police chief, Kakoma Kanganja, told Reuters that police were independ and not under political pressure. "I wish to reiterate that the actions by the opposition leader were unreasonable, reckless and criminal. Therefore members of the public are being warned that as police we are not going to watch such kind of behaviour by any person, irrespective of their status," he said.