A skydiving company operating out of an airport in Colorado has had its fourth skydiving fatality within a year and the third so far in 2019.
Rescuers were called to Longmont's Vance Brand Municipal Airport, around 38 miles north of Denver on Saturday morning, to treat an unconscious man who had just done a skydive.
Two off-duty nurses who were there tried to help him until responders arrived.
Longmont police Sergeant John Wederquist said the man, who was named as Brock Barto, 29, from Frisco, was taken to hospital and later pronounced dead.
Witnesses say that Barto's parachute had opened and seemed to be working but there is speculation over whether he was attempting a special maneuver and simply misjudged the timing, Fox 31 reported.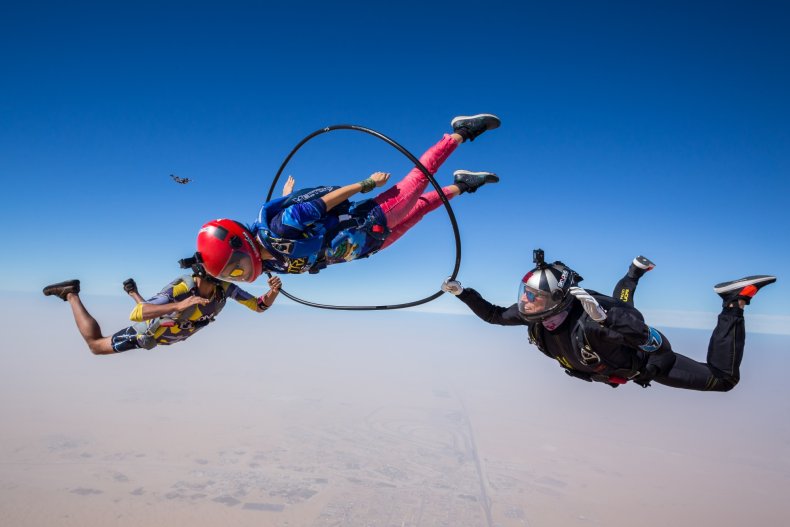 The Federal Aviation Administration (FAA) will investigate his parachute rigging and whether the chute was packed correctly.
Wederquist said, according to the Denver Post, "From all accounts his 'chute was functioning properly. He just misjudged his swooping landing, and impacted the ground hard."
In the past year, there have been three other fatal accidents at the airport linked to Mile-Hi Skydiving, which is the only skydiving company operating at the site.
Logan Polfuss, 23, from Simla was killed last October 18 after he did a group jump with eight other people. Investigators said that his one-piece tracking suit, which he was wearing for the first time, may have caused problems.
Polfuss had completed 150 jumps and the FAA ruled his death to be an accident, the Longmont Times Call reported. The same publication reported that this May, Timothy DeTine of Littleton, 57, died after a fall there on May 11.
Meanwhile, earlier this month, Patrick Gire, 40, who had 6,500 jumps under his belt over 10 years, died from complications following a skydiving mishap at the airport last September 2018.
Family members said many of his jumps were as an instructor, as he worked for Mile-Hi Skydiving.
Some 13 people died skydiving in the U.S. in 2018. So far this year, there have been six fatalities in the U.S., three of which occurred at Mile-Hi.
The United States Parachuting Association (USPA) which licenses skydivers and rates instructors, says most deaths are caused by human error.
Of the latest fatality and its link with Mile-Hi, USPA executive director, Ed Scott said: "It certainly has our attention.
"We've really worked hard to lower the fatality count and the fatality rate in our sport," Scott said.
"We do tend to see a higher rate of accidents at the busier locations," Scott said, pointing out that Mile-Hi is one of the 20 busiest skydiving companies in the country.
In a statement to Fox, the lawyer for Mile-Hi Skydiving, Bryan Biesterfeld, said this has been a difficult year for the center which has had "an unusually high number of incidents."
It said that it tries to ensure the highest levels of safety for every skydiver.
"Skydiving is a challenge-by-choice sport, and as skydivers progress, they often challenge themselves with new canopy skills, different types of suits, and different styles of flying. "
It said that it worked to enforce safety guidelines, but "as with any sport, adherence to those safety standards is ultimately the responsibility of the individual skydiver," he added.