One in Four Republicans Approve Of Kamala Harris Pick: Poll
More than half of Americans approve of presumptive Democratic presidential nominee Joe Biden's choice of running mate, California Sen. Kamala Harris, including a quarter of Republicans, a new poll has revealed.
The ABC News/Washington Post survey found 54 percent of Americans approve of Biden's pick for the 2020 Democratic ticket while only 29 percent disapprove. Seventeen percent of the 1,001 adults surveyed said they had no opinion.
While the reaction to Biden's pick was broadly positive, the margin is narrower among those who have strong opinions. Thirty-four percent of Americans said they strongly approve of her selection, while 22 percent strongly disapprove.
Among Democrats, an overwhelming majority—86 percent—approve of Harris as the vice-presidential nominee, while only 8 percent disapprove.
Disapproval among Republicans is unsurprisingly higher at 55 percent, but notably, one in four Republicans (25 percent) approve of Biden's choice of running mate.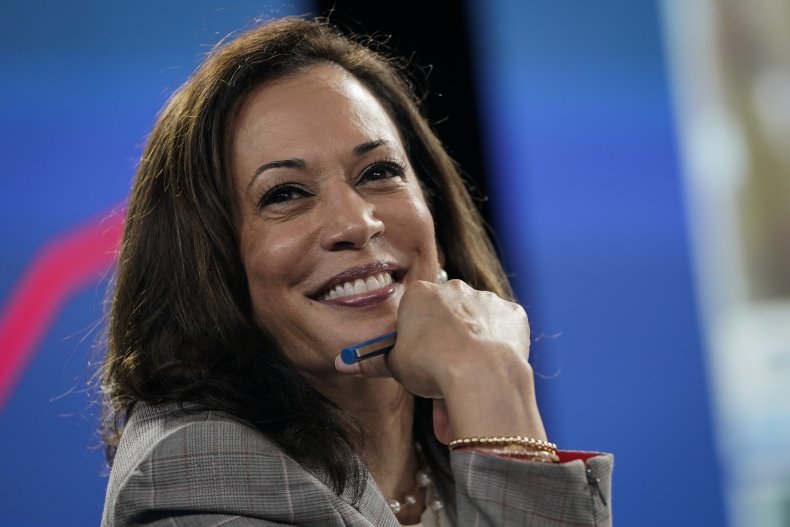 But among independents, who can be swing voters in presidential elections, more also approve of her than not— 52 percent compared to 29 percent.
The poll, conducted by Langer Research Associates between August 12 and 15, also found Harris was more popular with Black people and Hispanics than white people.
Seventy-eight percent of Black people approve of Biden's choice of Harris, compared to 65 percent of Hispanics and 46 percent of white people.
The polls reflected similar opinions between men (52 percent approve, 30 percent disapprove) and women (56 percent approve, 29 percent disapprove).
According to analysis by Gary Langer, the president of Langer Research Associates, "apart from Republicans, disapproval of Harris' selection is highest among conservatives (especially 'very conservatives'), white evangelicals, rural residents and non college-educated white men, all core Trump groups."
He added: "Beyond Democrats and Black people, approval peaks among liberals, Northeasterners, those with postgraduate degrees and urban residents."
Langer noted that views of Sarah Palin had been similarly positive, with 60 percent of Americans approving compared to 34 percent disapproving, after John McCain picked her for the Republican ticket in 2008, but soured as the election campaign progressed.
Harris, 55, is the first Black woman and first Asian American woman picked for a major party's presidential ticket. She was born in Oakland, California to immigrant parents—a father from Jamaica and a mother from India—who came to the U.S. to further their education.