Half of Americans Can't Name A Supreme Court Justice, Poll Finds
The Supreme Court decides quite a bit about the nature of American life. But most folks couldn't name a single justice, according a new poll.
The survey from C-SPAN released on Tuesday asked likely voters, "Can you name any current Justices on the U.S. Supreme Court?"
Fifty-two percent of respondents either said no or had an incorrect response.
Of folks who were able to name a justice, Ruth Bader Ginsburg was the most common answer. Stephen Breyer was the least common. Here were the results:
-Ruth Bader Ginsburg - 25 percent
-John Roberts - 14 percent
-Clarence Thomas - 14 percent
-Sonia Sotomayor - 8 percent
-Neil Gorsuch - 6 percent
-Elena Kagan - 4 percent
-Samuel Alito - 3 percent
-Stephen Breyer - 2 percent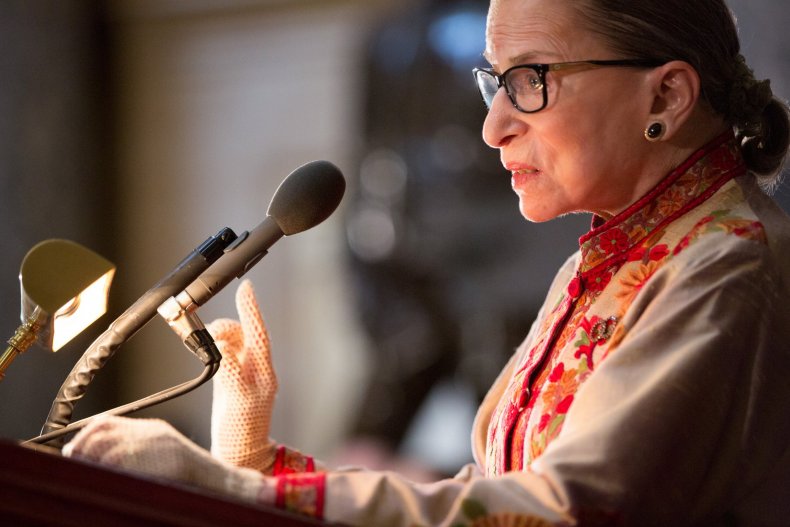 For those who answered incorrectly, some were wrong in a "close but no cigar" kind of way. Four percent incorrectly answered Anthony Kennedy, for instance, who officially retired in July. One percent said Brett Kavanaugh, who President Donald Trump nominated to replace Kennedy but who has not been confirmed. One percent said Antonin Scalia, who died in 2016.
The C-SPAN poll, conducted by PSB Research, surveyed 1,000 likely voters and had a margin of error of plus or minus 3.1 percentage points.
While a majority of likely voters couldn't correctly name a single Supreme Court Justice, they did acknowledge how important the court is. A full 91 percent of respondents agreed with the statement, "Decisions made by the U.S. Supreme Court have an impact on my everyday life as a citizen," according to the CSPAN poll.
Trump nominee Kavanaugh could be the next justice. He isn't exactly popular among the American people, however. Just 37 percent said they wanted to see the Senate vote for him to be confirmed, according to a recent CNN poll. Forty percent said they did not want the Senate to vote for his confirmation while 22 percent had no opinion.
Women especially did not have a good view of Kavanaugh, with less than 30 percent supporting his confirmation, according to CNN. Amid the nomination of the conservative Kavanaugh, a major issue of concern for liberals is Roe v. Wade, the case the established the legal right to an abortion. A recent poll found that support for the decision to remain had increased to 64 percent, up more than 10 percentage points from 2012.