Half of Americans Disapprove of Donald Trump's Helsinki Meeting, Poll Finds
Half of Americans disapproved of President Donald Trump's Helsinki Summit with Russian leader Vladimir Putin that saw him dismiss American intelligence and promote Putin's denial of Russian election interference, a new poll has found.
Fifty percent of Americans said they "disapprove" of the way Trump handled the meeting with Putin while 33 percent said they "approve" of his approach, according to a Washington Post- ABC News poll released Sunday.
Results also showed just 30 percent of Americans said America's leadership in the world has gotten stronger under Trump. Forty-seven percent said it had gotten weaker while 20 percent said nothing had changed.
The poll came amidst a controversial week for the Trump administration that saw some of the president's most vocal defenders hesitate to support his actions.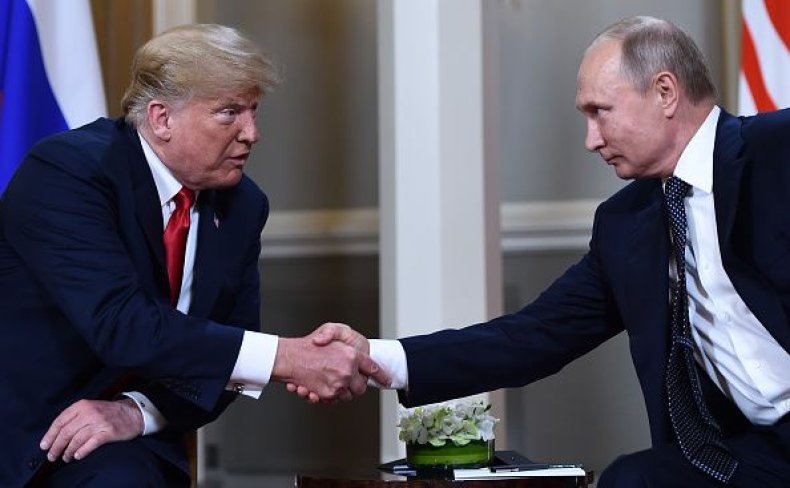 At the Helsinki meeting last week, Trump appeared to cast doubt on the conclusion of multiple U.S. intelligence agencies that Russia did interfere in the 2016 presidential election. "My people came to me, Dan Coats came to me and some others and said they think it's Russia," he said. "I have President Putin. He just said it's not Russia. I will say this. I don't see any reason why it would be."
Trump claimed the next day that he accidentally "said the word 'would' instead of 'wouldn't.'"
While the meeting drew bi-partisan outrage, Trump has defended his actions and claimed that detractors of his suffer from "Trump Derangement Syndrome."
"Some people HATE the fact that I got along well with President Putin of Russia," he tweeted after the meeting. "They would rather go to war than see this. It's called Trump Derangement Syndrome!"
Earlier, he had claimed "So many people at the higher ends of intelligence loved my press conference performance in Helsinki. Putin and I discussed many important subjects at our earlier meeting. We got along well which truly bothered many haters who wanted to see a boxing match. Big results to come!"
The Post-Schar poll surveyed a random sample of 464 voters from July 18 to 20. Overall results have a 5.5 percent margin of error.