Amid teachers striking nationwide for better pay, a poll released on Monday found that half of Americans are willing to pay higher taxes so that educators can have better wages.
Fifty percent of Americans support increasing taxes to raise teacher pay and local public school funding, according to a poll conducted by the Associated Press-NORC Center for Public Affairs Research. In comparison, 26 percent of Americans would oppose a tax increase, and 23 percent remained indifferent.
The poll, conducted April 11 through 16, also found that 78 percent of respondents thought public school teachers aren't getting paid enough. Six percent thought teachers were paid too much, and 15 percent thought teachers were paid the right salary.
The poll follows a wave of teacher walkouts beginning in West Virginia, where educators undertook a historic nine-day strike that resulted in a 5 percent pay hike. Thousands of Oklahoma teachers followed suit and walked out of their classes to draw attention to demands for higher pay and better school resources. Even though legislative measures were passed to increase salaries before the Oklahoma walkout, union leaders said it wasn't enough and continued protesting.
In response, Education Secretary Betsy DeVos said those Oklahoma teachers walking out should "keep adult disagreements and disputes in a separate place."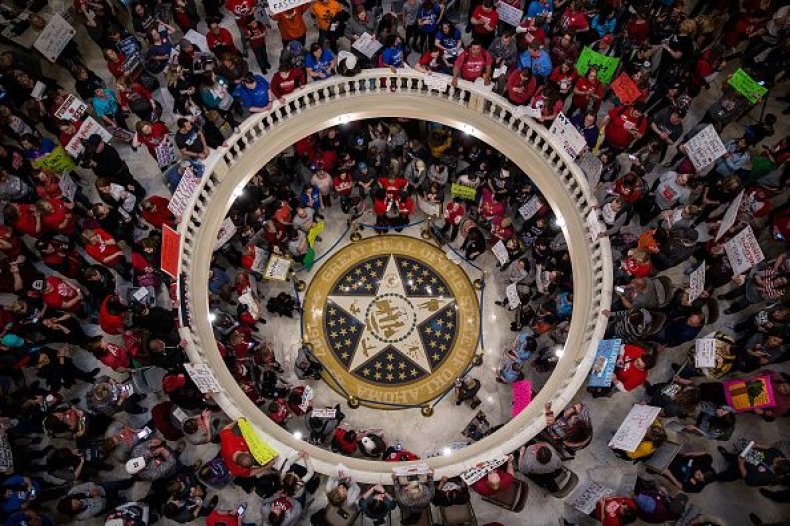 Oklahoma teachers ended their nine-day walkout on April 12, though many said their schools needed additional funding.
Walkouts have also propelled Kentucky's teachers, who crowded the state capitol at the end of March. These teachers protested pension changes amid school closings.
Arizona teachers are among the lowest paid in the nation with average salaries approximately $11,000 below the national average according to the National Center for Education Statistics. Teachers have planned a walkout this week.
A new study by the Brookings Institution looked at factors to determine what other states might hold strikes. Based on growing unrest and economic conditions, Mississippi and North Carolina could be the next states to hold walkouts.