Half of Americans Think Trump's Withholding Tax Returns for Political Reasons, 66% Want to See: Poll
The majority of Americans hope to see President Donald Trump's income taxes, and nearly half believe he has withheld them for political reasons, a new poll suggests.
According to a Reuters/Ipsos public opinion poll released Wednesday, two out of three Americans want to see the tax documents while about half believe Trump has been withholding them for reasons that could hurt him politically.
The survey, conducted July 13 to 14, took place days after the Supreme Court ruled in a 7–2 decision that Trump must turn over his tax returns and other information to a grand jury in New York.
Last August, Manhattan District Attorney Cyrus Vance subpoenaed Trump's financial records as part of a New York grand jury investigation into alleged hush-money payments made to two women in the run-up to the 2016 presidential election.
White House press secretary Kaleigh McEnany called the subpoena "frivolous and politically motivated" in a statement published after the court's July 9 ruling.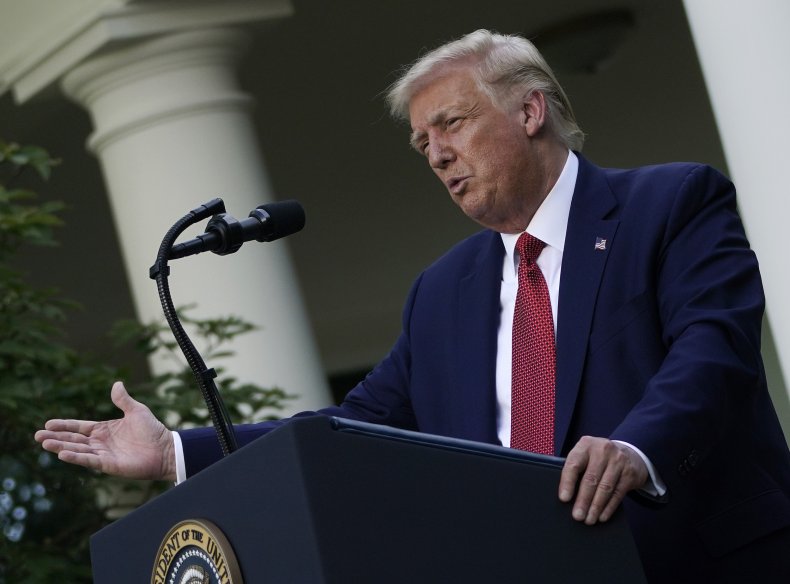 Vance's office had asked for returns and other financial records dating to 2011.
The Reuters/Ipsos poll found that 66 percent of adults agreed that Trump "should release his tax returns from earlier years," and 68 percent of respondents said, "Americans have a right to see each presidential candidate's financial records before the election."
But even if Vance's office does obtain Trump's records one day, the documents might never become public and certainly not before the November presidential election.
The documents will remained sealed while under a secret grand jury investigation, and would only become publicly available if an indictment were handed up and they were entered as evidence.
The recent poll found that 26 percent of adults said they believe Trump's tax documents contain "incriminating evidence against him."
Trump has maintained for years that he will not release his taxes because he is under audit, but just 7 percent of respondents in the Reuters/Ipsos poll said they believed this reasoning.
"This is an issue that was litigated before the voters in 2016 and the American people elected Donald Trump president of the United States," Trump campaign spokesman Tim Murtaugh told Reuters.
"He released more than 100 pages of financial documents in that election. It's no secret that President Trump is a wealthy man who was successful in business before giving it up to serve the American people."
Murtaugh was referencing Trump's 104-page financial disclosure form, which all presidential candidates are required to file. The Federal Election Commission had released Trump's form in May 2016, but it provides much less specificity on his finances than his tax returns would.