Half of Americans Think U.S. Climate Change Policies Are Not Enough: Poll
Half of Americans think that U.S. climate change policies "don't go far enough" and 59 percent said that world nations are doing "too little" to help combat climate change, according to the latest PBS NewsHour/NPR/Marist poll.
The poll, which surveyed 1,209 Americans and was conducted between October 18-22, showed that 78 percent of Democrats, 49 percent of independents, and 22 percent of Republicans said that U.S. climate change policies "don't go far enough."
The poll also found that 84 percent of Democrats and 29 percent of Republicans think that global efforts towards climate change are "too little."
Meanwhile, 33 percent of Republicans surveyed said that those efforts are "too much" and 30 percent said they are "about the right amount."
The poll results come ahead of the U.N. climate summit, which is being held in Glasgow, Scotland, from October 31 through November 12. Officials and world leaders, including President Joe Biden, will evaluate world progress in handling climate change and create new plans to reduce carbon emissions.
The U.S, China, Russia, and India were the top polluters responsible for most of the CO2 emissions produced and confined within the atmosphere over the past 30 years, according to PBS NewsHour.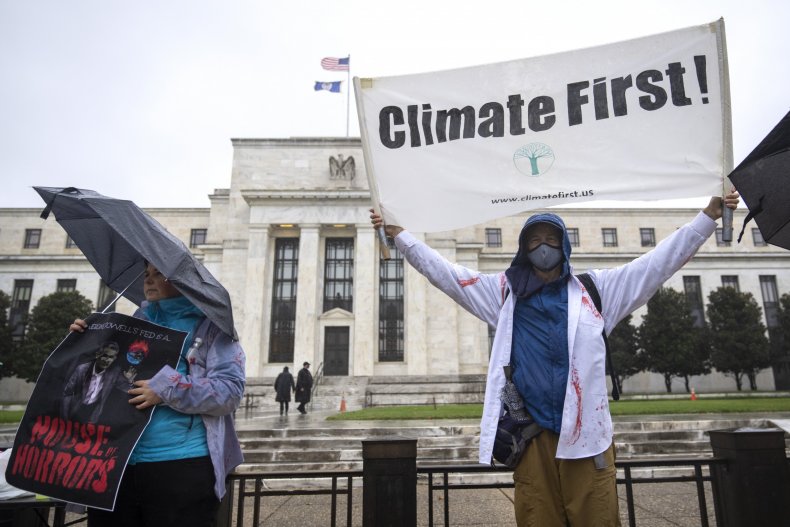 Another recent survey showed that 75 percent of Americans believe that climate change is real while 10 percent don't believe in it. The poll was conducted by the Associated Press-NORC Center for Public Affairs Research and the Energy Policy Institute at the University of Chicago.
Fifty-four percent of respondents who said they believe that climate change exists also said that human activities are the cause of climate change. Meanwhile, 14 percent said that climate change is caused by natural changes in the environment, a theory that scientists said is incorrect. A total of 32 percent said it is a mix of both.
The poll also showed that six out of 10 Americans believe that global warming is accelerating, and 55 percent of respondents want Congress to pass a bill that would ensure the country uses clean energy to produce electricity and rely less on natural gas and coal. Sixteen percent of Americans are against such measures.
The U.S. has been trying to push forward solutions for its climate crisis with President Biden announcing on Thursday a new framework of the Build Back Better plan that includes $555 billion that will be allocated to address climate change.
Meanwhile, the country is also trying to hold major oil companies accountable for climate change. Thursday, the House Committee on Oversight and Reform held a congressional hearing to examine the role of American and European-based oil companies in the fossil fuel industry's alleged climate disinformation campaign.