Half of Biden Voters in Michigan Say Support Is Due to Anti-Trump Sentiment as Democrat Takes 9-Point Lead, Poll Shows
Nearly half of all Joe Biden's supporters in Michigan say their backing of the Democratic candidate is rooted in their dislike of President Donald Trump, as Biden takes a nine-point lead in the state, a new poll shows.
The Hill-HarrisX poll, conducted from October 12 through 15, found Biden with a 54 to 43 percent advantage over Trump in the battleground state, which Trump won by a narrow margin in 2016.
Nearly half of Biden's supporters said they characterized their vote for him as an anti-Trump vote rather than pro-Biden, according to The Hill.
The poll examined two other crucial election states, Pennsylvania and Florida, asking voters the same question. Pennsylvanians showed stronger support for Biden with 51 percent saying they'd cast their ballot in favor of the Democrat, compared to the 46 percent for Trump.
Voters in Florida were split evenly among the two candidates, with both Trump and Biden receiving 48 percent of popularity.
In all three states, enthusiasm for Biden waned in comparison to Trump's support base. Forty-two percent of Biden's backers in both Pennsylvania and Florida said they were casting their vote as a statement against Trump and not necessarily as a show of support for Biden.
Trump voters in Florida demonstrated the most energy for their candidate, with 81 percent saying they were casting their ballots in favor of him, according to The Hill. Comparatively, 58 percent of Biden's supporters in Florida say they're voting out of excitement for him.
Enthusiasm among Trump's base in Pennsylvania and Michigan remained high, with more than 75 percent of Trump's supporters casting ballots in favor of him—while only 58 percent of Biden's supporters could say the same for their candidate.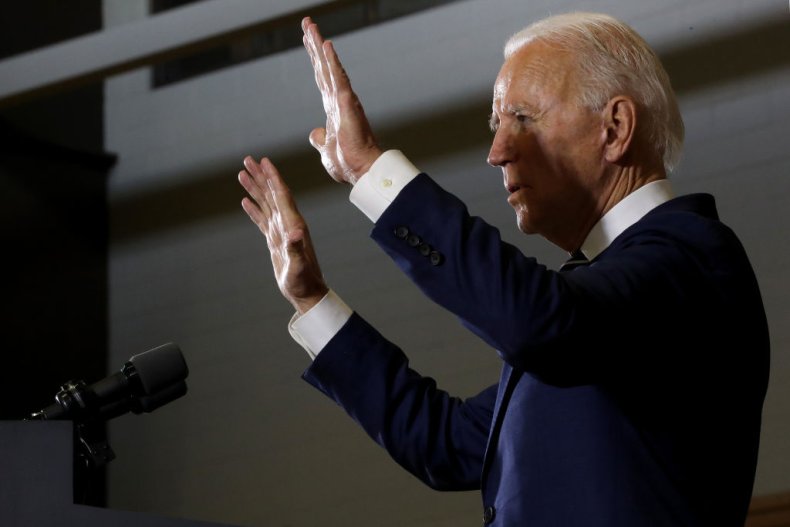 Voters in Michigan seemed to have the most distaste for Trump, with 60 percent saying they personally dislike the president and 55 percent saying they disapprove of the job he's done, the poll found. Two-thirds of those polled said they thought the country was headed down the wrong track.
Biden leads Trump among Michigan voters by double digits when it comes to handling the coronavirus pandemic, but Trump carries a narrow lead over Biden (52 percent) on his handling of the economy.
In Pennsylvania, 53 percent of voters disapprove of Trump's job compared to the 47 percent who said they approve. Like the other two battleground states examined, the majority of Pennsylvania voters (58 percent) disapprove of Trump's handling of the pandemic, which is their number one election issue. Fifty-four percent, however, approve of Trump's ability to manage the economy, according to the poll.
And in Florida—perhaps Trump's most important state in the upcoming election—51 percent of voters say they disapprove of him. Fifty-five percent say they approve of Trump's handling of the economy, whereas Biden led by the same margin in handling the pandemic—the number one issue for Florida voters.
The poll's results come amid Trump's three campaign events in Florida on Thursday and Friday in an attempt to appeal to voters as the election winds down.
Trump participated in a town hall event hosted by NBC News in Miami Thursday night in lieu of the second debate, which the Commission on Presidential Debates cancelled last week after the president refused to participate virtually.
The president took questions from Florida voters as NBC News' Savannah Guthrie moderated. The two sparred over a number of issues, including Guthrie's request that Trump publicly denounce various groups such as white supremacists and QAnon.
While Trump was ready to unequivocally condemn white supremacists, he said he didn't know enough about QAnon—a conspiracy theorist group that believes the president will take down a Satanic group run by high-profile Democrats—to issue a judgment and praised them for being against pedophilia.
"Can you just once and for all state that that is completely not true and disavow QAnon in its entirety?" Guthrie asked.
"I know nothing about QAnon, I know very little," Trump said.
"Let me just tell you what I do hear about it is they are very strongly against pedophilia and I agree with that."
According to Media Matters, the president has either retweeted or replied to an account on Twitter with ties to QAnon at least 258 times as of October 15.
Polling website FiveThirtyEight continues to show Biden leading Trump in national averages. As of Friday, Biden held a 10.5-point lead over Trump—52.3 to 41.8 percent.