More Than Half of Brits Say They Don't Plan on Celebrating Queen's Jubilee
Most Brits say they don't have any plans to celebrate Queen Elizabeth II's Platinum Jubilee and that they're unlikely to make any, according to a new poll.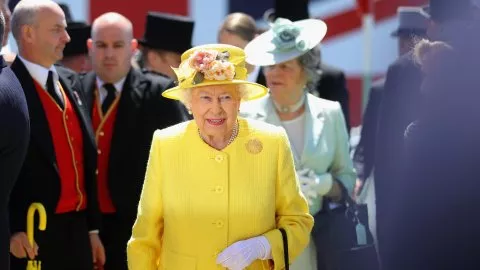 In a survey of 3,389 British adults by YouGov, 56 percent of respondents said they "do not and probably will not make plans" to celebrate the jubilee. Those who said they did have plans or would probably make them totaled 34 percent, with 9 percent responding that they didn't know.
The results come as the monarchy has faced a period of increased public scrutiny following the stepping down of Prince Harry and Meghan Markle from royal duties, the queen experiencing health and mobility issues and a series of disastrous royal tours.
2022 marks the queen's 70th year on the throne, and a series of public celebrations have been planned to take place in the first week of June, including a pop concert outside Buckingham Palace and a special pageant along The Mall that will feature the gold state coronation coach.
Two extra bank holidays have been granted for the central weekend events running from June 2 to 5, offering what organizers are calling an "opportunity for communities and people throughout the United Kingdom to come together to celebrate the historic milestone."
The revelation that Brits may not turn out in the same numbers as those who celebrated the monarch's Diamond Jubilee in 2012, Golden Jubilee in 2002 or Silver Jubilee in 1977 will prove disappointing to the driving forces behind the central celebrations, including London Mayor Sadiq Khan, who has said he hopes this year's events will "blow" the others "out of the water."
Speaking to MyLondon in February, Khan said: "I don't want to breach confidence but the plans we have are wicked. If you thought the Diamond Jubilee 10 years ago was good, and the 1977 Silver Jubilee, this year is going to knock that out of the park."
He added that he believed the U.K "owes it" to the 96-year-old queen to celebrate her after she lost her husband in 2021 and faced a myriad of personal and family issues.
"She's been a great Queen for our country and the commonwealth," he said. "I think it's really important we give her the boost many of us understand she needs."
Despite the low numbers planning to mark the jubilee with any formal celebrations, the queen remains highly popular with the British public, topping YouGov's royal family favorability tracker with an 81 percent positive response as of March 2022.
Though still the most popular royal, the monarch has seen dips in YouGov's positive response data, falling 4 points from February 2022.
This drop could be attributed to many issues that have plagued the monarch in recent months, such as Prince Andrew's settling of a sexual assault lawsuit in February. The settlement was estimated to have cost the prince in the region of $10 million and reports speculated that the queen might have had to assist her son financially.
Earlier this month, speculation that Andrew might attend the jubilee balcony appearance after the special Trooping the Color ceremony planned for the monarch on June 2 was quashed after an announcement from Buckingham Palace explained that only "Her Majesty and those Members of the Royal Family who are currently undertaking official public duties on behalf of The Queen" have been invited to stand on the balcony for the Royal Air Force flypast.
That rules out Andrew, as he retired from public service amid a backlash surrounding his lawsuit. It also rules out an appearance from Harry and Meghan, who later announced that they would travel from America to Britain for the celebrations.
The queen's own attendance at the planned events isn't guaranteed as she continues to suffer from "episodic mobility problems" and is not expected to confirm whether she will show up at certain events until the day they occur.
{{#isDisplay}} {{/isDisplay}}