Half of Brits Say Prince Archie and Princess Lilibet Should Not Have Titles
Prince Harry and Meghan Markle's decision to refer to their children by their prince and princess titles appears not to have found favor with the public in the U.K. as a new poll shows that more than half of Brits are unsupportive of the move.
A new poll by YouGov on Monday found that the majority of the 2,661 British adults surveyed did not support Archie, 3, and Lilibet, 1, being given prince or princess titles.
When asked if they thought "Prince Harry and Meghan Markle's children Archie and Lilibet should or should not be given the royal titles prince and princess," 51 percent said that they "should not."
This is opposed to 25 percent of respondents who said that they "should" and 24 percent who said that they "don't know."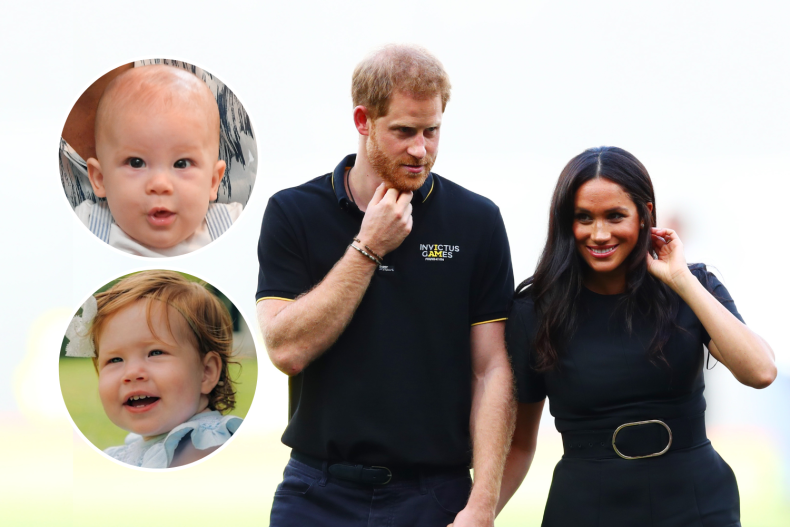 Harry and Meghan ended speculation over their children's titles on March 8 with an announcement via a spokesperson confirming that Lilibet had been christened in California. The spokesperson n said: "I can confirm that Princess Lilibet Diana was christened on Friday, March 3, by the Archbishop of Los Angeles, the Rev John Taylor."
This was the first time that one of the Duke and Duchess of Sussexes' children had officially been referred to as prince or princess. The announcement sparked debate over the children's rights to the titles and why Harry and Meghan would want to use them after publicly criticizing the monarchy.
Prior to the announcement, Archie and Lilibet had been referred to by their first names with a Master or Miss prefix and the surname Mountbatten-Windsor.
An additional statement from the couple's spokesperson, released after the christening notification, made clear that Archie and Lilibet had been prince and princess since the day their grandfather, King Charles III, became monarch last September.
They said: "The children's titles have been a birthright since their grandfather became Monarch. This matter has been settled for some time in alignment with Buckingham Palace."
The change occurred in accordance with protocols over royal titles laid down by King George V in 1917, which state that grandchildren of the sovereign born through the male line have the right to be styled HRH (His or Her Royal Highness) prince or princess of the United Kingdom.
These rights were unaffected by Harry and Meghan's stepping down from their working roles within the monarchy in 2020, nor were they affected by the decision that the couple would not publicly use their HRH styles.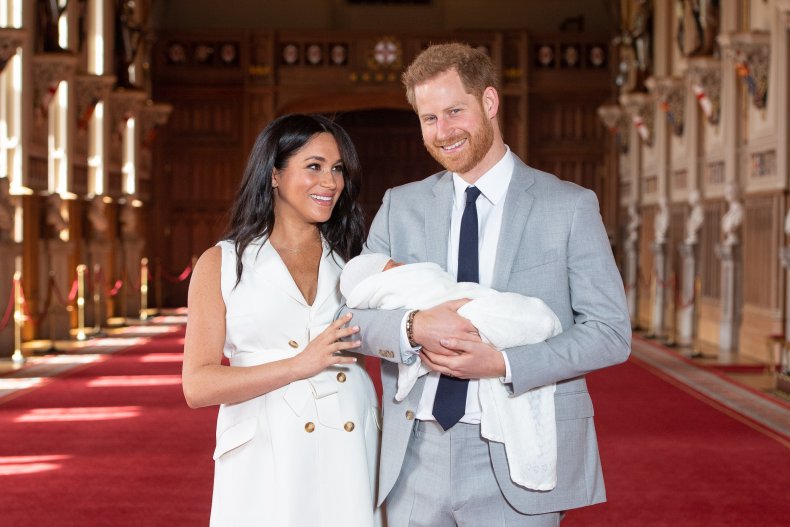 After the announcement from the Sussexes, Buckingham Palace officially updated its website to reflect the new titles on the published list of the line of succession.
Currently, Archie and Lilibet are sixth and seventh in the line of succession, denoting the number of family members ahead of them in line to the throne.
The new polling for Harry and Meghan comes as they have seen a steady decline in their net approval ratings on both sides of the Atlantic in recent months, since the release of their bombshell Netflix documentary, Harry's memoir Spare and his interviews promoting the book.
Latest data compiled by strategists Redfield & Wilton found that Harry's net approval rating has dropped 37 points in the U.K. since November, now standing at -22. Meghan similarly dropped 31 points leaving her with a net approval rating of -33.
Newsweek has approached representatives of Prince Harry and Meghan Markle via email for comment.
James Crawford-Smith is Newsweek's royal reporter based in London. You can find him on Twitter at @jrcrawfordsmith and read his stories on Newsweek's The Royals Facebook page.
Do you have a question about King Charles III, William and Kate, Meghan and Harry or their family that you would like our experienced royal correspondents to answer? Email royals@newsweek.com. We'd love to hear from you.