'Half-Life: Alyx' VR Gameplay Videos Reveal Four Different Movement Controls
In anticipation of Half-Life: Alyx's March 23 release date, Valve Software released on Monday three new gameplay videos that finally reveal how players will move around City 17 using the virtual reality interface.
Set between the events of Half-Life and Half-Life 2, Alyx puts players in the shoes of Alyx Vance, a prominent member of the Resistance fighting the alien Combine government. She is also the daughter of a physicist who formerly worked at the Black Mesa Research Facility, where extraterrestrial creatures were first unleashed on Earth.
What comes across in these gameplay videos is the tremendous amount of thought that went into the various modes of interaction that are possible via a VR interface. But it seems that directly controlled motion—a standard element in first-person shooter gameplay—was trickier to fully translate.
A gameplay video at IGN delves into some of the Half-Life: Alyx settings, revealing four different ways the game will handle movement: Blink, Shift, Continuous and Continuous Hand.
Blink: "Teleport to destinations with a brief screen fade. (Most comfortable)"
Shift: "Teleport to destinations with a fast linear movement."
Continuous: "Move continuously based on your head orientation."
Continuous Hand: "Move continuously based on hand orientation."
The three gameplay videos released by Valve primarily explore the Blink and Shift movement modes, both of which rely on jumping to locations selected by the player with an orange interface, which highlights a trajectory and where Alyx's feet will be placed on the other side of the movement.
While players will have a groundbreaking range of possible movements and interactions from each static position, it's hard not to feel the limitations the control scheme places on standard FPS tactics in the new gameplay videos. Players may be able to lean away from blows, pull open car doors for additional cover or pick up objects and wield them offensively. But gameplay in Half-Life: Alyx leans away from running around or acrobatically outpacing your foes.
Walking—guided by the position of your head or your hand—seems primarily useful in puzzle solving and exploration segments, where players can move to make fine adjustments in an environment or bring certain objects within reach.
The third gameplay video released by Valve shows how the interface works in a shootout with Combine soldiers. Virtual hands, Alyx's main interface, can catch grenades, affix explosive attachments to guns and break open objects in the environment hiding ammunition and medicine. Rather than running around the field of combat, the in-game player teleported from cover position to cover position, sometimes using two hops to teleport to a new position around a corner.
Direct movement was used a little in the gameplay video, typically to nestle Alyx a little further into cover or to move forward a few feet to interact with something helpful in the environment.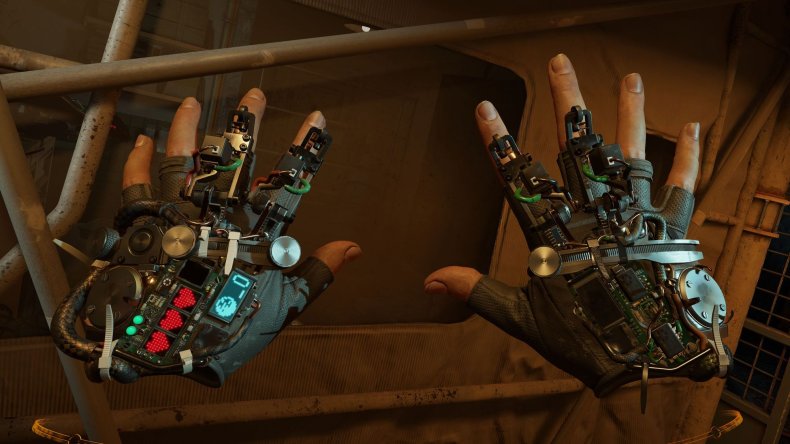 Half-Life: Alyx is compatible with the Valve Index, HTC Vive, Oculus Rift and Windows Mixed Reality VR headsets. It will be available for PCs on March 23.