Oregon Evacuation Map, Update as Half a Million Forced to Flee, 'Militia Checkpoints' Patrol Roads
Over half a million people have been evacuated statewide in Oregon due to wildfires, authorities have confirmed.
According to the Associated Press (AP), The Oregon Office of Emergency Management reported that over "10 percent of the state's 4.2 million population" had been forced to leave their homes. Governor Kate. Brown has also confirmed that fatalities have been reported though numbers have not been reported—AP reports that at least three have died in Oregon.
Speaking on her Twitter account, Gov. Brown says: "We have never seen this amount of uncontained fire across our state. Currently, there are fires burning more than 900,000 acres. To put that into perspective, over the last 10 years, an average of 500,000 acres burn in an entire year. We've seen nearly double that in 3 days.
"Thousands of evacuated Oregonians are sleeping in motels, on cots in shelters, or with friends/family," her thread continues. "Please know that we are doing everything in our power to fight these fires. We are working hard to keep you safe and help you deal with the aftermath. We will get through this."
Senator Ron Wyden (D) has also confirmed on his Twitter account that he is traveling back to Oregon to get updates on the fires. "Just boarded a flight back home from DC to meet with Oregon state and local officials and community members to get on-the-ground fire updates," he says. "Thankful for all the hard work of first responders, firefighters and volunteers working 24-7 to keep us safe from these devastating fires."
The fires have resulted in evacuation alerts and orders all over the state, however another concern has been shared by residents on Twitter.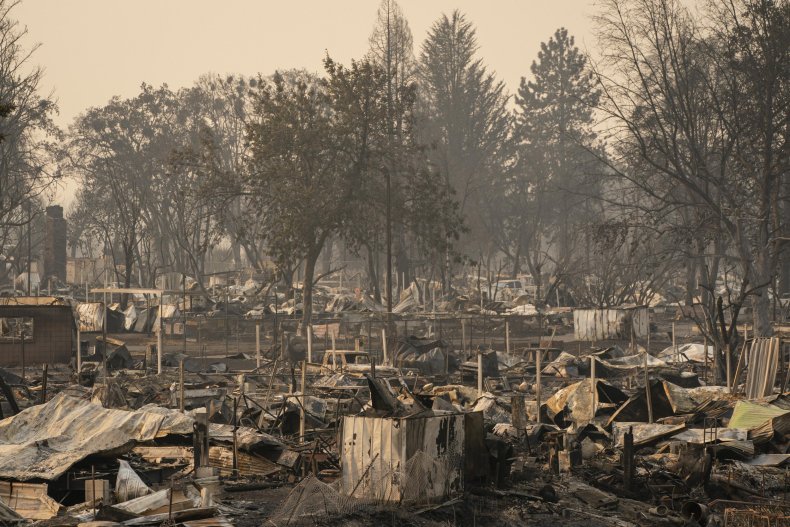 Independent journalist Alissa Azar informed their followers that they were at level 3 evacuation in Molalla, Oregon, with photos of the burned orange sky. However, further into the Twitter thread, Azar reports that during their documenting of the events, three men approached them with weapons.
"We got 3 guns pulled on us at a militia style checkpoint," Azar tweets. "None of us are white." The journalist goes onto explain that more cars showed up at the "checkpoint".
"We're safe," Azar confirms. "It's scary knowing there are people who legitimately think "Antifa liberals" are setting these towns on fire... we are very clearly documenting and interviewing folks. Our pictures were taken and so was the car and license plate."
Another Twitter user, @KimCostello, says to Sen. Wydner in response to his tweet: "You need to deal with armed militia members on the roads acting like law enforcement in fire areas. THEY ARE NOT."
Evacuation points and check-ins are being set up by several organizations statewide. Near Portland, these include:
Oregon Convention Center, Portland
Willamette Mission State Park, Gervais
Champoeg State Park in St. Paul, Portland International Airport
The latest updates for Clackamas County evacuations can be found here. People can also sign up for Public Alerts to get the latest information in their area.