Half a Million People Have Fled Ukraine Since Russian Invasion: U.N.
More than 500,000 people have fled Ukraine amid Russia's ongoing invasion, according to estimates from the United Nations.
Many of the fleeing Ukrainians are heading for the eastern edge of the European Union, and checkpoints at the borders of Poland, Hungary, Slovakia and other nations were backed up by long lines of cars and buses, the Associated Press reported.
Some travelers are also crossing into other countries, along with their possessions, on foot.
The launch of Russia's attack last week sent many Ukrainians running for subway stations and other means of escape from cities across the country. Now, the nations receiving the hundreds of thousands of migrants are tasked with processing and sheltering them as Russian attacks continue to strike Ukraine.
Shabia Mantoo, a spokeswoman for the U.N. High Commissioner for Refugees, said that the latest count of Ukrainian refugees and their locations sat at about 281,000 in Poland, 84,500 in Hungary, 36,400 in non-European Union member Moldova, 32,500 in Romania and 30,000 in Slovakia.
She said that the rest of the estimated refugees were dispersed across other unidentified nations, the AP reported.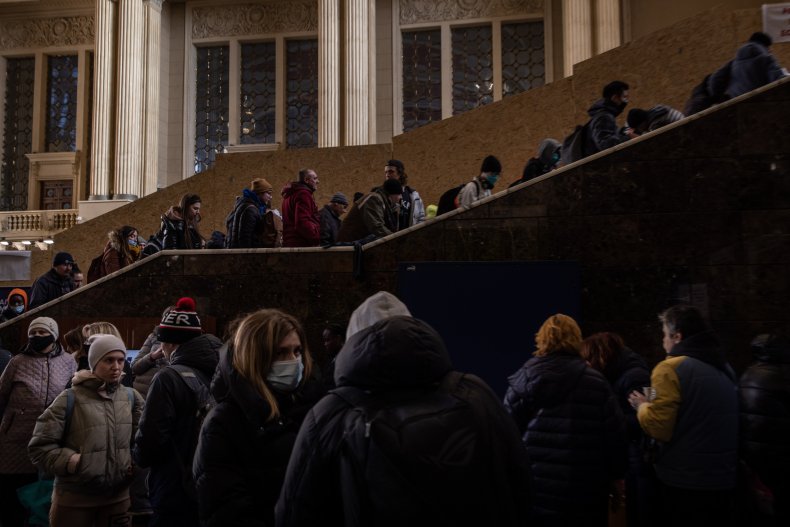 Some of those who escaped Ukraine did so under extremely dangerous conditions. Priscillia Vawa Zira, a Nigerian medical student who had been in the Ukrainian city of Kharkiv, recalled fleeing for Hungary while Russia attacked.
"The situation was very terrible. You had to run because explosions here and there every minute, run to the bunker," she told AP.
Natalia Pivniuk, who left Lviv for nearby Poland, described to AP people in crowds shoving each other to board trains out of Ukraine. She called the experience "very scary, and dangerous physically and dangerous mentally."
"People are under stress ... and when people are scared they become egoist and forget about everything," she told the AP. "People are traumatized because they were on that train."
Ukrainian and Russian officials held their first round of talks in Belarus on Monday. Afterward, Mykhailo Podolyak, an adviser for Ukrainian President Volodymyr Zelensky, said that negotiations had been "difficult."
Podolyak tweeted that "the Russian side is still extremely biased regarding the destructive processes it launched." In a separate tweet, CNN reporter Natasha Bertrand quoted the adviser as saying that the Russian and Ukrainian delegations "discussed holding another round of negotiations where these decisions can develop."
With no end to the conflict immediately in sight, some organizations and companies are stepping in to help the countries receiving the mass influxes of refugees.
Rental company Airbnb announced Monday that it would provide temporary housing at no cost for up to 100,000 Ukrainian refugees. It plans to "work closely with governments to best support the specific needs in each country, including by providing longer-term stays," according to a press release.
In an effort documented on his Twitter page, Chef José Andrés' nonprofit organization World Central Kitchen is also helping feed refugees at the Ukraine-Poland border.
Newsweek has reached out to a UNHCR spokesperson for updated refugee numbers and additional comment.
Update 2/28/22, 2:35 p.m. ET: This story has been updated with additional information.