Half of Russia's Doctors Think Country's Coronavirus Death Count Is Too Low: Poll
Nearly half of Russia's doctors think that the country's official number of COVID-19 infections and deaths are too low, new polling has shown.
Russian business newspaper Vedomosti reported the results of the survey by research organization ESOMAR on Tuesday, according to The Moscow Times. The polling data showed that 47 percent of doctors responded saying that they believed the number of deaths attributed to the novel coronavirus pandemic is too low. Furthermore, 49 percent believed the number of confirmed cases is undercounted, as well.
The survey comes after Russia has reported one of the highest numbers of confirmed novel coronavirus infections of any country, with more than 693,000 reported as of Tuesday, according to a tracker from Johns Hopkins University. But the county has also seen an extraordinarily low mortality rate of just 1.5 percent, with 10,478 confirmed deaths. Comparatively, the mortality rate in the United Kingdom currently stands at 15.4 percent, while it is about 4.4 percent in the U.S.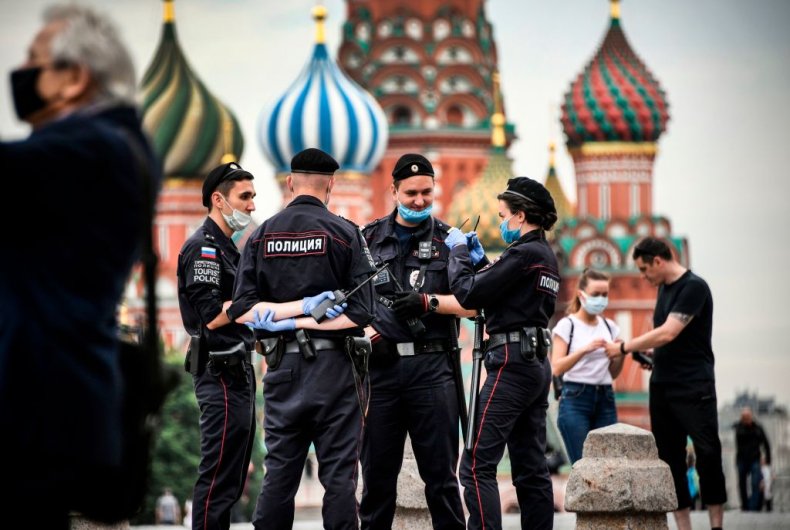 Newsweek reached out to the Russian embassy in Washington, D.C. for comment but it did not respond by the time of publication.
While many Russian doctors believe their country's statistics are incorrect, just 9 percent said they believe the number of confirmed cases is too high and 11 percent believe the number of deaths has been overcounted. Just 23 percent said they trust the official number of confirmed cases, while only 21 percent said the same of the reported death toll. About 60 percent of those surveyed had direct experience with patients infected with the novel coronavirus.
"Doctors have more expert information and most of them talk about lowered statistics," Stepan Goncharov, a sociologist with the independent polling agency Levada Center, told Vedomosti, according to The Moscow Times. "Those who have worked with patients infected with COVID-19 have more of this mistrust."
Russia's government has faced national and international scrutiny for its low mortality rate, particularly as the novel virus surged in April. Officials there have touted their testing and contact tracing efforts, crediting their rapid response to the pandemic for saving lives. Some have suggested that Russia could be manipulating their data, which the government has flatly denied.
"We have never manipulated the official statistics," Deputy Prime Minister Tatyana Golikova said in June, ABC News reported.
Globally, there have been more than 11.6 million confirmed cases of the novel coronavirus. Of those infected, more than 539,000 have died. Some countries, like the U.S., have seen their overall mortality rates decline as testing has been greatly expanded. In the early days of the pandemic, only the sickest patients or those who were known to be exposed could access tests. But with expanded testing, many asymptomatic and mild cases are now being confirmed.
However, as new infections have surged over the past few weeks in the U.S., they have been declining in Russia, throughout Europe and in many other countries around the world. The U.S. continues to be the country in the world with the highest number of confirmed cases and deaths due to the pandemic, representing about one-quarter of the global numbers. As of Tuesday afternoon, there have been more than 2.9 million confirmed cases and over 130,000 deaths nationwide.