Half of San Francisco's COVID Cases Are Hispanic and Latino, Despite Community Making Up 15% of Population
Almost 50 percent of San Francisco's total COVID-19 cases were diagnosed among Hispanic and Latino residents as of Monday, according to public health data. The statistic far outweighs infection rates reported among other communities and raises concerns about health inequities in San Francisco, given that Hispanic and Latino individuals compose roughly 15 percent of the city's overall population.
Grant Colfax, director of the San Francisco Department of Public Health (SFDPH), discussed the data during a conversation with San Francisco Mayor London Breed on Monday.
"We have a disproportionate number of people of color who are diagnosed with COVID-19 compared to the population overall," Colfax said, referencing San Francisco's virus statistics. "This is why we are working with stakeholders across neighborhoods in the city and ensuring that community leadership and community leaders and…community members and their families are actively engaged in the responses."
Colfax said the SFDPH has partnered with the San Francisco Latino Task Force (LTF) to strengthen education, community engagement and access to diagnostic testing in areas where the new coronavirus' impact is most severe. He also noted that the partnership aims to ensure that individuals who test positive for COVID-19 have access to medical care and social services support, in addition to other resources.
The San Francisco LTF offers a range of resources related to COVID-19 support, including information about diagnostic testing, on its website. In May, the task force announced a disaster relief assistance program to provide financial support to undocumented people facing challenges amid the pandemic. The initiative was one of several relief programs established in the wake of the virus outbreak.
The disproportionate impact of COVID-19 on San Francisco's communities of color is a local example of a nationwide data trend. Regions across the U.S. have reported similar disparities in virus cases diagnosed among Black and Latino residents compared with white residents since the onset of the pandemic, calling attention to broader issues related to health care inequality and access.
Newsweek reached out to the San Francisco Department of Public Health for additional comments but did not receive a reply in time for publication.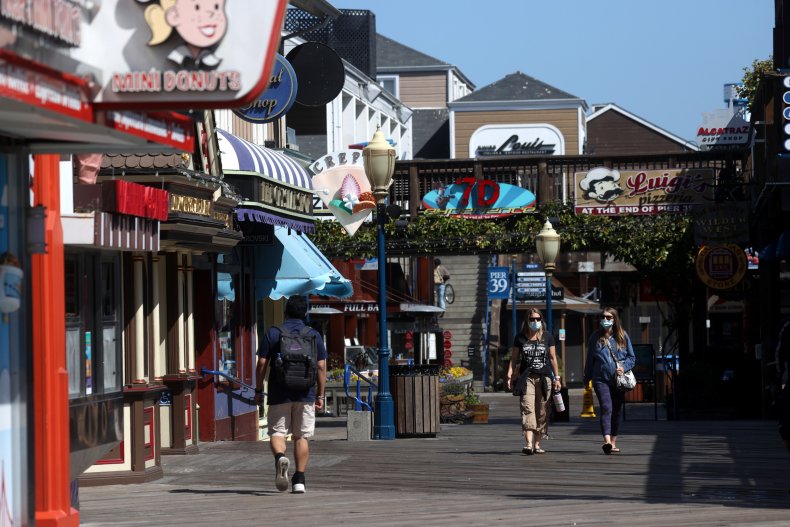 San Francisco, like dozens of other U.S. cities, has seen a spike in new cases of the coronavirus over the past several weeks. The resurgence prompted Colfax and Breed to pause businesses reopening developments in San Francisco last week. The directive affected personal care service providers, museums, indoor dining services and other establishments that encourage close contact or group gatherings.
"COVID-19 is still too prevalent in our community, and we need to be vigilant and take all the precautions that are proven to slow the spread," said Breed in a July 10 statement. "Unfortunately, reopening businesses that will encourage gathering and interacting with people outside of your own household is not the safe thing to do right now."