Russia has said its forces have destroyed two more U.S.-made High Mobility Artillery Rocket Systems, also known as HIMARS, in Ukraine.
It adds to the four HIMARS launchers that Russia claimed to have destroyed over a two-week period in July; however, these earlier claims were dismissed by U.S. officials.
A "high-precision" strike in Kharkiv took out the systems and killed 53 people, Lieutenant-General Igor Konashenkov, a spokesperson for the Russian defense ministry, said in an announcement on Monday, according to Russian state news agency TASS.
"As a result of a high-precision strike in the city of Kharkiv, on the territory of the Ukrainian Energy Machines plant, two American launchers of HIMARS multiple launch rocket systems were destroyed," Konashenkov said. "53 Ukrainian nationalists and foreign mercenaries were also destroyed."
Newsweek could not independently verify the report.
U.S. Department of Defense referred Newsweek to Ukraine's ministry of defense. Ukraine's ministry of defense and Russian officials have been contacted for comment.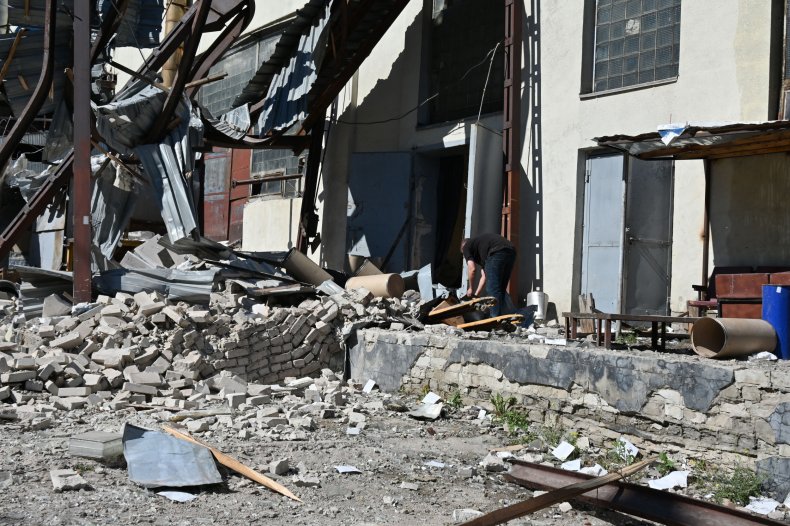 The U.S. and other NATO nations have been sending arms into Ukraine since Russia launched its full-scale invasion of the country in late February.
Heavy long-range artillery has proved especially powerful, with numerous Russian ammunition and fuel depots destroyed in recent weeks.
Washington had sent 12 HIMARS to Ukraine, as of July 20, according to U.S. Secretary of Defense Lloyd Austin, who pledged four more, bringing the total to 16.
The latest four HIMARS arrived in Ukraine on Monday, after Russia made the claim of destroying two systems.
Konashenkov announced on July 21 that Russian forces had "eliminated" four HIMARS between July 5 and 20.
But a day before that announcement, General Mark Milley, the chairman of the Joint Chiefs of Staff, said all of the rocket-launching systems remained intact.
"To date, those systems have not been eliminated by the Russians and I knock on wood every time I say something like that," Milley said during a news conference on July 20. He said that Ukrainian forces were "being very effective at using them, employing precision weapons against targets."
Austin added: "The Ukrainians have made excellent use of HIMARS and you can see the impact on the battlefield."
"I'm grateful to @POTUS @SecDef Lloyd Austin III and [American] people for strengthening of #UAarmy," Ukraine's minister for defense Oleksii Reznikov wrote on Twitter. "We have proven to be smart operators of this weapon. The sound of the #HIMARS volley has become a top hit of this summer at the front lines!"
Update 8/1/22, 11:02 a.m. ET: This article has been updated to clarify that 12 HIMARS were initially supplied to Ukraine.