Hall of Fame Coach Jim Calhoun Turned University of St. Joseph Athletic Department Into a 'Boys Club,' Lawsuit Claims
On Wednesday former UConn basketball coach and current coach at the University of St. Joseph, Jim Calhoun has been named in a Title IX sexual discrimination lawsuit. The suit, which also named Calhoun's long-time assistant Glen Miller, was filed by former associate athletic director at the University of St. Joseph, Jaclyn Piscitelli.
The suit, alleges that the coaches made disparaging comments towards Piscitelli including Calhoun calling her "hot" as well as Miller saying he'd "swipe left." Piscitelli also included former athletic director at the university, Bill Cardarelli, who failed to intervene when she brought allegations against Calhoun to him.
Included in the suit, Piscitelli claims that she was fired after she complained about the conduct of men in the athletic department.
"Jackie Piscitelli had a job she loved and excelled at in an environment in which she generally felt respected and valued as a professional," Magdalena Wiktor, of the law firm Madsen, Prestley and Parenteau, said. "However, that work environment was swiftly and drastically transformed into one that was hostile and demeaning toward women once Jim Calhoun and Glen Miller joined the staff of USJ athletics. Rather than protecting Jackie and her female colleagues from further harassment and discrimination, USJ not only condoned this 'boys' club,' it fired Jackie in retaliation for daring to speak out against it."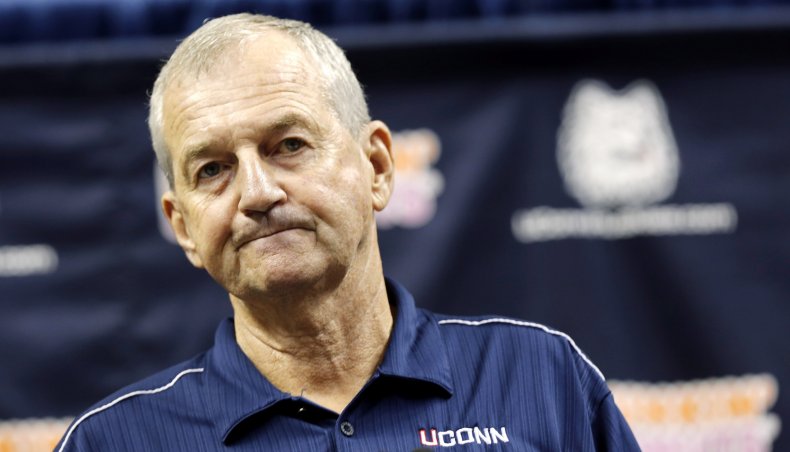 In a 13-page complaint filed by Piscitelli she details different examples of what she considered degrading treatment by Calhoun and Miller, which included the "K-cup incident."
In the suit, the K-cup incident occurred when Calhoun knocked multiple K-cups, used for brewing a single cup of coffee, on the floor and proceeded to step on them. After making a mess of coffee grounds on the floor, Calhoun told Piscitelli to clean them up. Calhoun then stated that if he made the same type of mess at home, his wife would clean it up after him.
The lawsuit also claims that Cardarelli watched the entire K-cup incident unfold followed by him expressing to Piscitelli that he did not see anything wrong with Calhoun's behavior and that he found the situation amusing.
After Piscitelli was fired, she was replaced by John Ingham, the sports information director. In the lawsuit, she claims that Ingham was given special treatment with extra interns and staff, while she was given none.
According to the lawsuit, Calhoun turned the athletic department in to a boy's club, forcing Piscitelli to give up her own office and share one with two other male employees.
Additionally, the lawsuit claims that Calhoun and Miller made multiple sexual allusions during their interactions with Piscitelli. She alleges that on one occasion Calhoun made the comment "Well, you're certainly hot."
"We have received and are reviewing the lawsuit. The University of Saint Joseph takes compliance with all matters relating to Title IX very seriously. The University does not comment on pending litigation," the University said in a statement to NBC Connecticut.