Hall of Fame Quarterback Brett Favre Ordered to Return $828K in Misspent Welfare Funds
Mississippi's state auditor said Thursday that Pro Football Hall of Fame quarterback Brett Favre must repay $828,000 in misspent welfare funds or face a civil lawsuit.
Favre is among a group of individuals who the auditor said misused $77 million in funds. The former NFL star and his company, Favre Enterprises, allegedly owe the state $828,000 in Temporary Assistance for Needy Families (TANF) money.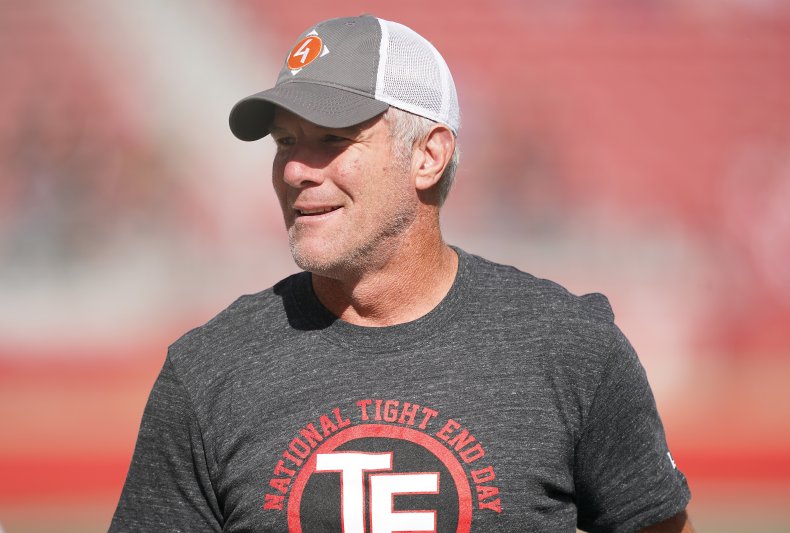 The allegations against Favre came to light during an investigation that began in early 2020 when a public corruption case found former Mississippi Department of Human Services Executive Director John Davis had allegedly misappropriated funds. He and five other individuals were indicted for using millions of dollars intended for needy families.
"Two years ago my office audited DHS [Mississippi Department of Human Services]," State Auditor Shad White said in a statement. "After two years of work, we found tens of millions of dollars in misspending. Those findings have now been confirmed, this month, by an independent forensic audit commissioned by DHS. It's time for the taxpayers to attempt to recover what we lost."
The findings of the independently conducted audit were released on October 1. White said the investigation found Davis authorized over $77 million in illegal TANF spending, and he demanded that the former DHS head pay back $96.313 million, which includes interest.
The others indicted along with Davis are former professional wrestler Brett DiBiase; former DHS employee Latimer Smith; Nancy New, director of the Mississippi Community Education Center and New Learning Resources; Zach New, assistant executive director of the education center; and Anne McGrew, an accountant for the education center.
On Monday, McGrew pleaded guilty to one charge of conspiracy to commit embezzlement. As part of her guilty plea, she agreed to testify against others indicted, including her former employers, Nancy and Zach New.
White said in May 2020 that Favre had repaid $500,000 of the $1.1 million in welfare money he was paid for speaking engagements for Families First for Mississippi. Favre allegedly did not show up for any of the speeches for the foundation, but he has maintained he did not know the payments came from welfare funds.
"My agent is often approached by different products and brands for me to appear in one way or another. This request was no different, and I did numerous ads for Families First," Favre wrote on Twitter on May 6, 2020.
"I have never received moneys for obligations I didn't meet," Favre said in a follow-up tweet. "To reiterate Auditors White's statement, I was unaware that the money being dispensed was paid for out of funds not intended for that purpose, and because of that I am refunding the full amount back to the state of Mississippi."
White's demand for the $828,000 is for the $600,000 that remains unpaid by Favre out of the $1.1 million the ex-quarterback was allegedly paid, plus $228,000 in interest. Though he has not been criminally charged, Favre and Favre Enterprises could face a civil lawsuit within 30 days, according to White.
"These demands serve as the next step in the recovery process," White said. "If there is more money that the Attorney General believes has been misspent than what we have identified in these demands, we stand ready to help them investigate if needed. More demands are possible."
Also involved in the case is Brett DiBiase's brother Ted DiBiase Jr., also a retired professional wrestler. White said he must return $3.9 million for money received as a motivational speaker for the welfare agency.
The brothers' father, WWE Hall of Famer Ted "the Million Dollar Man" DiBiase Sr., was ordered to repay $722,299 that his Christian ministry received. Brett DiBiase pleaded guilty to his role in defrauding Mississippi's welfare agency in December 2020.