Hallmark Backtracks After Pulling Ads Showing Lesbian Wedding: 'It Was The Wrong Decision'
The Hallmark Channel has backtracked after pulling ads that showed a lesbian couple kissing, saying it was the "wrong decision."
The channel sparked outrage after it bowed to pressure from conservative campaign groups and took four ads for wedding planning website Zola that featured a same-sex couple off the air last week.
Following a wave of criticism over the move on social media, including from Ellen DeGeneres and GLAAD, Hallmark issued an apology and said it will reinstate the ads.
Mike Perry, the president and CEO of Hallmark Cards, Inc., said in a statement: "The Crown Media team has been agonizing over this decision as we've seen the hurt it has unintentionally caused. Said simply, they believe this was the wrong decision.
"Our mission is rooted in helping all people connect, celebrate traditions, and be inspired to capture meaningful moments in their lives. Anything that detracts from this purpose is not who we are. We are truly sorry for the hurt and disappointment this has caused."
Perry said that Hallmark will be working with GLAAD to better represent the LGBTQ community and will be reaching out to Zola in a bid to reinstate the commercials. "Across our brand, we will continue to look for ways to be more inclusive and celebrate our differences," Perry added.
Zola announced it would no longer advertise on the Hallmark Channel after the ads featuring a same-sex couple were pulled while those that featured a heterosexual couple were not.
On Monday, a Zola spokesperson told Newsweek that the company will be contacting the Hallmark Channel about a "potential" return to advertising in the coming days.
"We were deeply troubled when Hallmark rejected our commercials for featuring a lesbian couple celebrating their marriage, and are relieved to see that decision was reversed," Mike Chi, Zola's chief marketing officer, said in a statement to Newsweek.
"We are humbled by everyone who showed support not only for Zola, but for all the LGBTQ couples and families who express their love on their wedding day, and every day."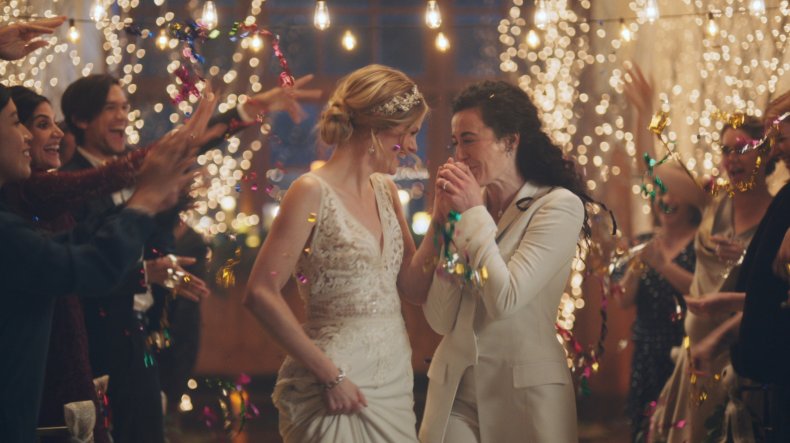 GLAAD president Sarah Kate Ellis said Hallmark's U-turn is a "major loss" for "fringe" groups like One Million Moms. "The Hallmark Channel's decision to correct its mistake sends an important message to LGBTQ people and represents a major loss for fringe organizations, like One Million Moms, whose sole purpose is to hurt families like mine," she said.
"LGBTQ people are, and will continue to be a part of advertisements and family programming and that will never change. GLAAD exists to hold brands like The Hallmark Channel accountable when they make discriminatory decisions and to proactively ensure families of all kinds are represented in fair and accurate ways."
On Twitter, GLAAD added: "You spoke out and @hallmarkchannel listened. LGBTQ people deserve to see ourselves represented on all TV networks. Thank you to everyone who raised your voices."
In a statement to Newsweek responding to Hallmark's decision to reinstate the ads, Monica Cole, the director of One Million Moms, said: "One Million Moms is extremely disappointed that the Hallmark Channel caved under pressure. This is an enormous mistake that will cause a majority of its viewership to turn the channel."
She added: "We continue to urge the Hallmark Channel to return to the family-friendly content it has always been known for. The issue of same-sex relationships should be left for families to talk through together according to their faith and personal beliefs, rather than be forced to address this complex matter during family movies."
One Million Moms, a division of the American Family Association that describes itself as campaign to "stop the exploitation of children" by the media, had launched an online campaign to urge the Hallmark Channel to pull the ads.
Urging people to sign its petition, the group said: "Please reconsider airing commercials with same-sex couples, and please do not add LGBT movies to the Hallmark Channel. Such content goes against Christian and conservative values that are important to your primary audience. You will lose viewers if you cave to the LBGT agenda."
In an update posted on the website last week, One Million Moms said they had been informed by Bill Abbott, the CEO of the Hallmark Channel's parent company Crown Media Family Networks, that the ads had been pulled.
"He reported the advertisement aired in error, but he was informed about it after hearing from concerned 1MM supporters. Way to go!" One Million Moms wrote on its website. "The call to our office gave us the opportunity to also confirm the Hallmark Channel will continue to be a safe and family friendly network. Praise the Lord!"
LifeSiteNews, a far-right evangelical website founded by the Campaign Life Coalition, also recently started a petition urging Hallmark not to make Christmas movies featuring same-sex couples. That campaign was launched after Abbott told The Hollywood Reporter that Hallmark is "open" to doing any type of movie, including those with leading characters that are gay.
This article has been updated with a statement from Zola and One Million Moms.