Hallmark's Never Had a Gay Movie Before, But a Change May Be Coming
Curling up with a cheesy, Hallmark Christmas movie may be a cozy way to celebrate the holiday season, but there's no denying the channel has a ways to go in terms of representation. Eighteen of 40 new movies were announced by the channel on Wednesday—23 of which are Christmas themed—and there's no gay storylines in sight.
That could be changing soon, though.
There may be gay plot points on the horizon. "Today we are excited to announce 18 of our forty holiday movies," George Zaralidis, Crown Media Vice President or Network Program Publicity told Newsweek via email. "Diversity and inclusion is a top priority for us and we look forward to making some exciting programming announcements in the coming months, including announcements about projects featuring LGBTQ storylines, characters, and actors. We are committed to creating a Hallmark experience where everyone feels welcome."
It's not super surprising that Wednesday's announcement didn't feature any same-sex couple surprises, given Hallmark never aired any original film with LGBTQ leads. The Christmas films, in particular, stick to a formula, one so well-known it's become a meme. TikTok accounts constantly create their own "Hallmark storylines," most of which involve a big city love interest who moves to a small town. There, they rediscover their love for hometown charm and Christmas magic.
The plots may be tired, but it all appears to come from Hallmark's past as a Christian network. Hallmark rebranded back in 2001, according to The Washington Post, and has since ditched most of their religious inspired programming.
In 2014 religious viewers were offended when Hallmark bleeped the word "god" interpreting the move as a stance by Hallmark that talking about religion was controversial. The channel explained, though, it was an act intended to respect the Christian idea of not taking the Lord's name in vain.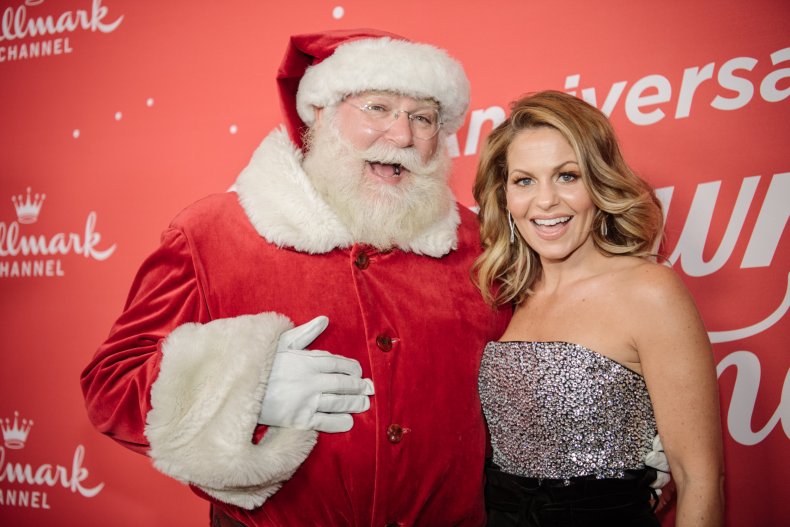 As a competitor in the world of cable tv Hallmark straddles a line between producing lighthearted content and being called to embrace ever-evolving societal norms, despite its religious past. This all came barreling to the forefront in 2019 when the channel aired a commercial featuring two women getting married.
It was the first LGBTQ moment in Hallmark's history, and the channel didn't take a firm stance when the backlash from conservative viewers came. After outcries for what some called tainting a family network, Hallmark actually pulled the commercial from rotation.
Then, they walked back it back.
Hallmark started airing the ad again and issued a statement that claims they do support all types of love. "The Crown Media team has been agonizing over this decision as we've seen the hurt it has unintentionally caused," a statement from Hallmark President Mike Perry explained to IndieWire.
"Said simply, they believe this was the wrong decision. Our mission is rooted in helping all people connect, celebrate traditions and be inspired to capture meaningful moments in their lives. Anything that detracts from this purpose is not who we are. We are truly sorry for the hurt and disappointment this has caused."
When Hallmark releases the rest of its movies, it knows they will be dealing with a mixed response from their audience should a same-sex couple take a starring role in a Christmas feature. In 2019 when Bill Abbott, CEO of Crown Media Family Networks, spoke with The Hollywood Reporter. "We're open to really any type of movie of any type of relationship," he said when asked about a potential same-sex Christmas film.
Even that interview prompted an angry mob. A petition was started by fans who demanded the less-than-Christian content be kept off Hallmark entirely.
One Million Moms, a "division of the American Family Association" which "was begun to give moms an impact with the decision-makers and let them know we are upset with the messages they are sending our children and the values (or lack of them) they are pushing," according to their website, was the petition founder.
The petition has since been closed but raked in over 36,000 signatures.
Hallmark's note to Newsweek seems to imply there are giant changes coming, ones that could shift not only the standards of the Christmas season, but could make viewers feel accepted and understood, no matter who they are. What's more, it sounds like they are ready to stand by those decisions, too.