Halloween 2018: Terrifyingly Creative Costumes From Around the World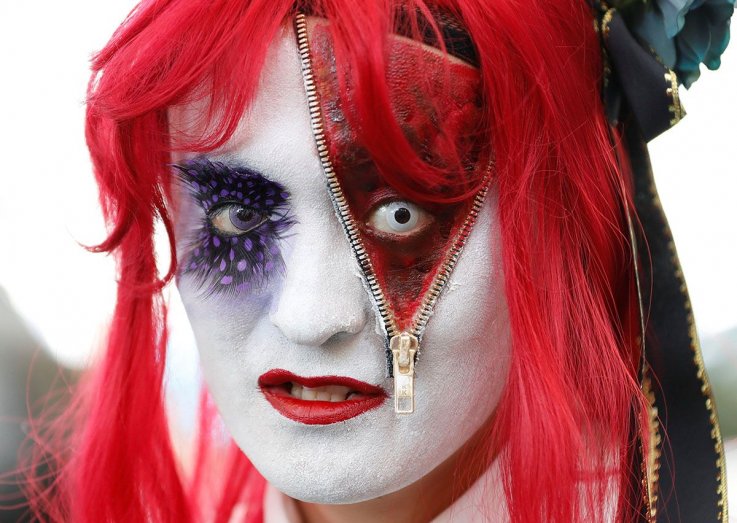 Evenings are getting colder, pumpkins are staring out from windows and the nation is stocking up on candy. Yes, Halloween is finally upon us.
October 31, or Halloween, occurs on a Wednesday this year. Many people had premature celebrations over the weekend, with ghouls flooding the streets from Japan to Ukraine.
On Sunday in Kawasaki, an industrial city on the outskirts of Tokyo, around 2,200 celebrants paraded in the streets in stunning homemade costumes. Zombie McDonald's workers marched alongside a gaggle of high-fashion, kawaii cyclopes in what was an impressive—and often grizzly—display of creativity.
Unlike some Halloween parades, which are purely done for enjoyment, the revelers in Kawasaki had their eyes on the prize—500,000 yen ($4,448) for the best outfit on display.
On Saturday in Kiev, the capital of Ukraine, a parade of zombies marched through town, dressed as everything from zombie teddy bears to demonic nuns. Meanwhile, similar parades took place in countries as far afield as South Korea, Spain and the U.S., highlighting the now-global nature of an ancient tradition.
Halloween dates back to Celtic pagan festivals celebrated in Britain and Ireland. The Celts believed that the barrier from the spirit world thinned at the end of summer, allowing ghosts to spill into our world and haunt us. Celebrations were intended to scare away these unwelcome spirit invaders.
This tradition was brought to the U.S. with Irish immigrants, the descendants of the ancient Celts. It was popularised globally during the 20th century through American mass media, losing most of its supernatural traditions along the way.
This modernization of Halloween can be seen in the range of costumes on offer. The traditional ghosts, witches and vampires have been usurped by superheroes, celebrities and sexy cats.
Today, Halloween is America's favorite holiday. With its trick-or-treating, apple bobbing, costume parties and jack-o'-lanterns, it's one big party for the whole family. But why stop there? As New York's hugely popular Tompkins Square Halloween Dog Parade proves, dressing up is not just for us humans.
In this gallery, we look at some of the most intricate and creative Halloween costumes known to man—or dog.