Halloween Events Near Me 2019: Spookiest Parades and Festivals from New York to Salem
Although the big day isn't until October 31, there are plenty of Halloween events happening across the U.S. throughout the month. From parades to haunted hayrides and even a coffin challenge, there are tons of ways to celebrate Halloween 2019.
From New York to California, there are fun, frightening Halloween events near you. Take a look at our round-up of the spookiest events across the U.S.
New York City Halloween Parade
For the 46th year, New Yorkers will descend on Greenwich Village for the epic New York City Village Halloween Parade. There will be performers, puppets and, of course, impressive costumes. It's free to participate (as long as you're in costume), but you can buy tickets to participate in the parade's special themed section. The 2019 theme is Wild Thing, and your ticket comes with early admission and an in-parade party.
Check out the NYC Village Halloween Parade website for more information.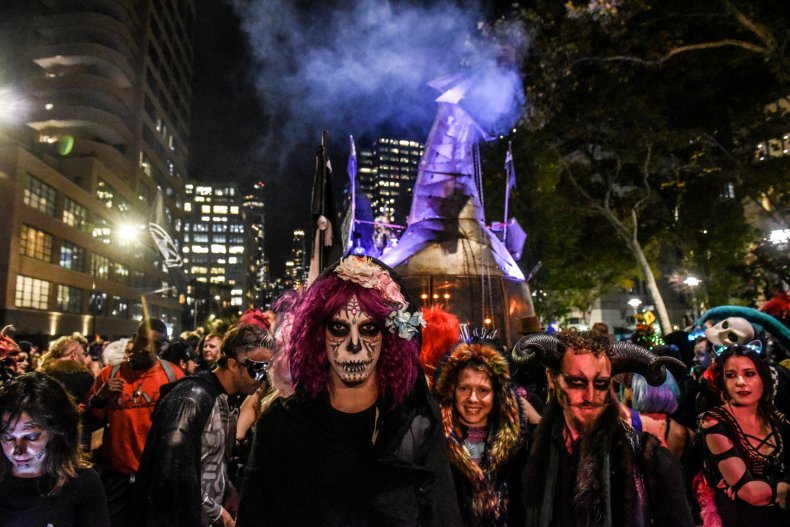 Knott's Scary Farm—Southern California
Every year, Knott's Berry Farm undergoes a spooky makeover into Knott's Scary Farm. On select dates throughout October, the theme-park will transform, with haunted mazes, spooky shows and mysterious creatures lurking in the dark. The rides will be open as usual, though some will be given a terrifying twist.
For more information, visit the Knott's Scary Farm website.
Night of 1,000 Jack-o'-Lanterns—Chicago
The Chicago Botanic Garden will be taken over by jack-o'-lanterns this Halloween. More than 1,000 hand-carved pumpkins will line the gardens, as well as artists carving and performers. There will also be seasonal food and drink to enjoy along the route.
Visit the Chicago Botanic Garden for more information.
Six Flags Fright Fest 30-Hours Couples Coffin Challenge
Six Flags locations across the country will host Fright Fest 30-Hours Couples Coffin Challenges, which sees couples compete to remain in coffins for more than a day. Couples will also have to complete spooky challenges, but can't leave their coffins outside of their designated break times. The bravest couple will win a 2020 Six Flags pass, a Fright Fest package, plus a cash prize of $600.
Salem's Grand Parade
The US's spookiest town will be hosting events throughout October, but the highlight of Halloween in Salem has to be 24th Annual Chamber of Commerce Haunted Happenings Grand Parade. This year's theme is 'Its Our Future' and will see thousands of Salem residents come out to celebrate in costume.
For more information, check out the Salem Chamber Haunted Happenings website.