Halloween 2020: Move Over Jack-O-Lanterns, It's Time for 'Thankful Pumpkins'
Could a pumpkin help you remember what's best in life? Instead of carving pumpkins, one woman and her family wrote on theirs instead, enumerating all they had to be thankful for during the harvest season.
Created by crafts blogger and book author Amy Latta, who specializes in hand lettering, Thankful Pumpkins were originally proposed as a way to practice gratitude during Thanksgiving.
"It's so easy to get caught up in other things. We need to stop and focus and be intentional about counting our blessings. To help do that in our family, we started the tradition of the Thankful Pumpkin," Latta wrote in a 2012 blog post.
But while first suggested as a Thanksgiving exercise, Thankful Pumpkins might need an early kickstart in 2020—a year that has brought devastating news to many, including the families of the 200,000 people in the United States who have died from the COVID-19 pandemic.
"Gratitude has never been more important than it is this year," Latta told Newsweek in an emailed comment. "In the past, the thankful pumpkin was a nice way to take a minute to name the things we often take for granted, but now we are in a totally different situation! In 2020, it's SO easy to think of all the things that have gone wrong and how many things are difficult for us personally as well as nationally and all over the world. It's human nature, I think, to focus on the struggles we are experiencing (like virtual school!) and lose sight of the fact that there are still many blessings in our lives."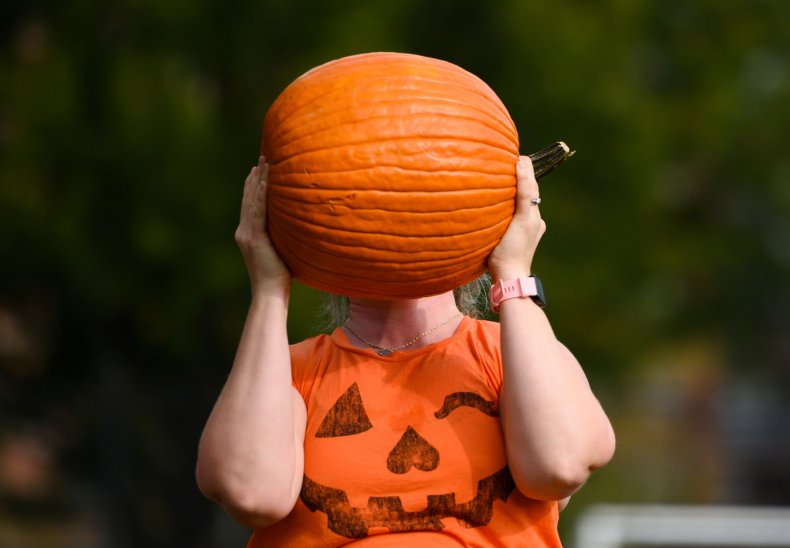 The first Thankful Pumpkin was harvested from a pumpkin patch near Hampstead, Maryland. The idea of using the pumpkin skin as a canvas for gratitude was made spontaneously, with a permanent marker, but has since become a family tradition.
"At meals, we were playing the 'thankful game,' where we would take turns going around the table and saying things we were grateful for, and I thought it would be fun for [Latta's son]—and for all of us—to physically see just how many blessings that added up to," Latta told The Today Show in 2018, describing the idea's origin.
The pumpkins can be a platform for sharing minor and major gratitudes, with Latta's family recording everything from "Elmo" to "Grammy and Poppy" on their pumpkins over the years. Latta and her family would add to the pumpkin day-by-day, and sometimes look back through photos of past Thankful Pumpkins to see what they were thankful about during previous holiday seasons.
"I was excited to get the project out there, because it is so simple and requires no special skills or materials," Latta told Today. "Literally anyone can do it, and I was excited to think about other families taking time to focus on gratitude."
The Thankful Pumpkin tradition has been picked up by families across the United States and around the world, with many sending photos of their pumpkins to Latta.
"This year, we may have to dig a little deeper to find what we are grateful for, but there are truly still many things that are going right, in spite of what's going wrong," Latta said to Newsweek. "Hopefully, this little pumpkin can help us all to shift our perspective a little and find joy in the midst of a very challenging year."