Halloween 2020 Is Still Up in the Air, But Americans Are Already Eating More Candy Than Ever
Americans are either desperate for Halloween festivities this year, or they're suffering from a severe sweet tooth because candy sales are on the rise.
Data released by market research firm IRI and the National Confectioners Association on Thursday revealed that Halloween 2020 candy sales are up 13 percent more than what they were around this time last year, and sales for Halloween chocolates are up 25 percent. According to the report, candy sales typically only increase by a few points from year to year—the firms have never recorded more than a single-digit jump between any two years.
The figures may be the only bright spot candy companies face this season, as the increase isn't expected to last through October if more states ban trick-or-treating in light of the coronavirus pandemic. Although New York's Governor Andrew Cuomo is still allowing trick-or-treaters in the state to collect their candy on Halloween, a number of cities like Antigo, Wisconsin, and Springfield, Massachusetts, have issued orders against it. Los Angeles officials initially banned trick-or-treating this year, but changed their tune in early September to now only "recommend" that Halloween celebrators refrain from going door-to-door.
The Centers for Disease Control and Prevention updated its coronavirus guidelines on Monday and deemed "traditional trick-or-treating" a high-risk activity. It advised Americans to avoid door-to-door trick-or-treating, boozy costume parties, visiting haunted houses and taking treats from Halloween trunks.
The department instead recommended enjoying Halloween-themed activities with those already living in the same household. Those who may have been exposed to COVID-19 are strongly encouraged not to hand out candy at all this year.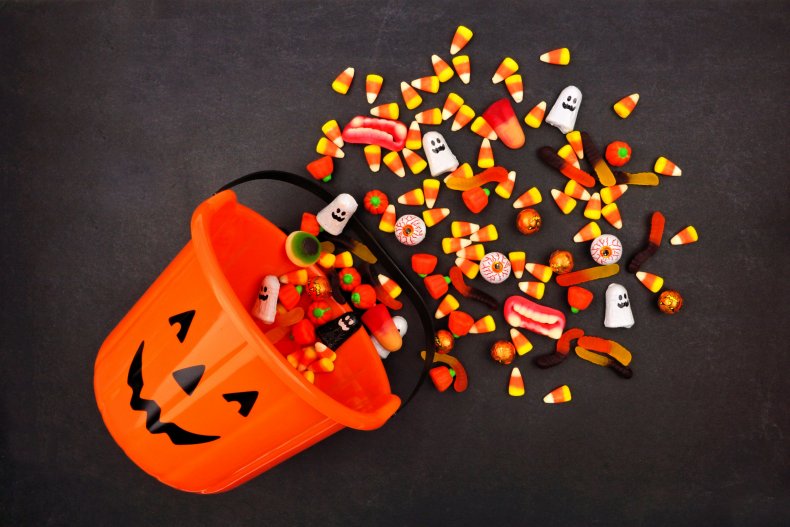 Candy companies like Hershey aren't producing as many Holloween-themed candy bags. Phil Stanley, Hershey's global chief sales officer told the Associated Press recently that the company has opted to focus on selling smaller-sized candy in standard packaging that can still fill up grocery aisles as spooky season transitions over to Thanksgiving and the holidays.
Meanwhile, CVS Caremark told the AP that it would cut back on buying large bags of candy in exchange for a variety of "instant consumable" sized candy and gum that parents can keep handy for their own individual households.
While there are still concerns worth considering regarding the spread of COVID-19 during the fall season, some people have been getting their candy fix just to experience some kind of feeling similar to the Halloweens of the past. Speaking with the AP, Wisconsin resident Cassandra Ambrosius said she wasn't surprised to learn that candy sales were up in her neighborhood, because she started buying candy in September.
"I'm sure people are just excited for a little sense of normalcy," Ambrosius said.