Is Halloween Canceled? Trick-or-Treating Postponed in Multiple Communities as Bad Weather Sweeps Across U.S.
Several communities across the country have decided to postpone Halloween celebrations as cold, wet, snowy and windy weather affects many regions over the course of Thursday.
While the eastern United States remains warm, an Arctic cold front is sweeping eastwards through the country, bringing lower than average temperatures for this time of year to much of the western and central U.S.
Furthermore, a low pressure system is expected to bring thunderstorms and rain to "trick-or-treaters" all the way from the Deep South to much of the East Coast as Thursday turns to Friday, according to the National Weather Service (NWS).
"The vigorous dynamics ahead of the cold front will likely bring a round of strong to severe thunderstorms across the central Appalachians followed by the Mid-Atlantic this evening," a statement from the NWS reads.
"In addition, cold air wrapping around the strong low pressure system will bring accumulating wet snow across the Midwest today and into the central Great Lakes this evening. Parts of the central Appalachians into western New England may see rain heavy enough to cause some flooding issues before the rain ends as a period of wet snow tonight," according to the statement.
The worst of the thunderstorms will likely occur in parts of the Carolinas, Pennsylvania, Virginia and Washington, D.C. in the late afternoon and evening, The Weather Channel reported. In many places, the storm system will be also accompanied by strong wind gusts, and isolated tornadoes are even possible in some areas.
In some parts of central Indiana, authorities are postponing Halloween celebrations with the cities of Muncie and Marion moving trick-or-treat hours to Friday, FOX59 reported. Meanwhile, public health and safety officials in Indianapolis have urged Halloween revelers to stay indoors.
"Halloween is not looking comfortable at all," Weather Authority Meteorologist Krista McEnany told FOX59. "We are looking at temperatures that are going to be falling throughout the day, it's going to be windy, it's going to be wet, and we even have a chance of a wintry mix that's going to work its way in there."
Meanwhile in Connecticut, cities, towns and neighborhoods across the state have also decided to delay trick-or-treating and other Halloween celebrations due to the weather, WFSB reported. In the town of Naugatuck, for example, a large community street party has been pushed back to Saturday.
In northern Utah, the cold snap is putting a dampener on festivities with the Lagoon Amusement Park in Farmington—which contains the Frightmares haunted attraction—deciding to close for Halloween, ABC4 reported.
"Due to the forecast of snow and freezing temperatures, and in the interest of safety and the difficulty of keeping equipment running, Lagoon will be CLOSED Tuesday, October 29th for the remainder of the 2019 season. We apologize for the inconvenience and wish we could control the weather!" a park statement said.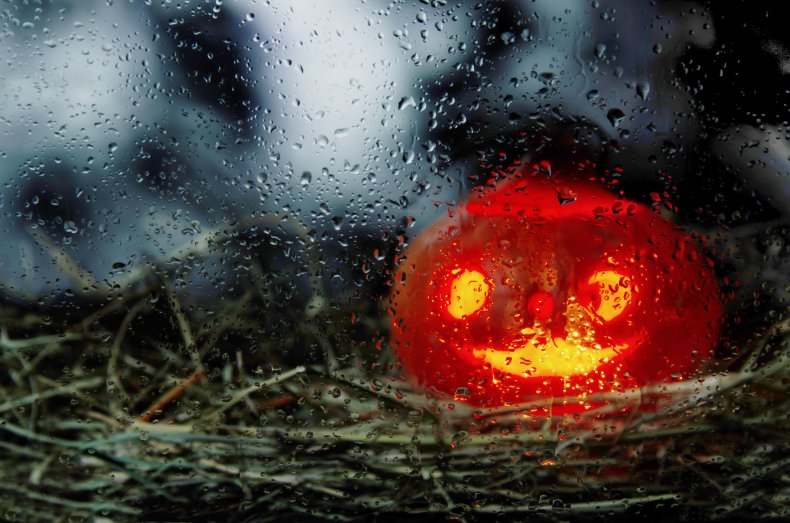 In North Carolina, FOX 8 reported that several communities across the state have decided to postpone trick-or-treating till Friday, while the city of Winston-Salem issued the following statement urging revellers to stay safe.
"With severe weather forecasted for Thursday evening, city residents are urged to take appropriate precautions with their Halloween trick-or-treaters. The National Weather Service forecast calls for a line of storms, including some that could be severe, to impact Winston-Salem between 4 and 11 p.m. A cold front will bring strong wind gusts and much colder temperatures," the statement said.
"Parents and caregivers are encourage to have their kids trick-or treat before dark, and to ensure they are prepared for the temperature drop and inclement weather. Parents or caregivers should accompany trick-or-treaters and be aware of the possibility of falling tree limbs. All trick-or-treaters who are out after dark should carry flashlights so they can see, and be seen, in the dark."
And in the Chicago area—which is expected to be hit with cold weather and snow—several communities have also delayed trick-or-treating to Friday or Saturday. One of these communities is Vernon Hills where up to 3 inches of snow is forecast.
"People understand that while there's a little bit of an inconvenience, it's being done for the safety of everyone involved," Vernon Hills Police Commander Jim Levicki told ABC 7.