The Most Popular Halloween Candy in Every State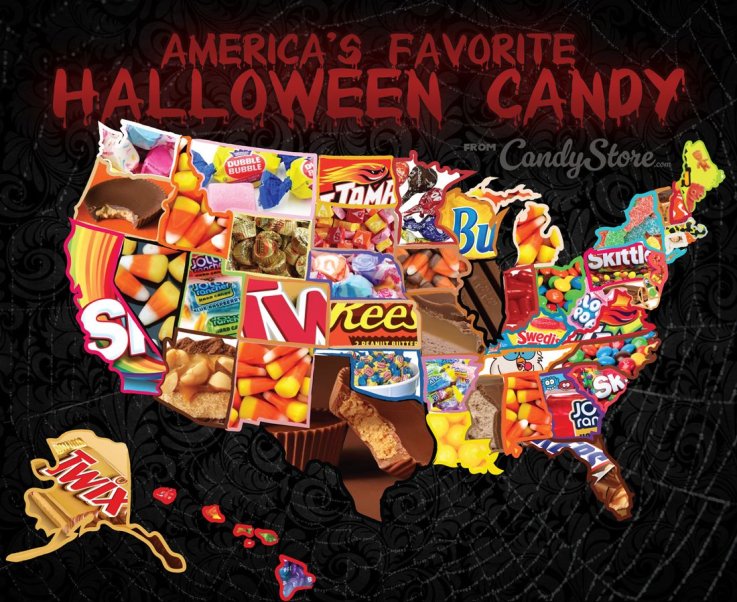 Halloween candy is big business: According to the National Retail Federation, Americans spend $2.6 billion on seasonal sweet treats. But which ones are the most popular?
CandyStore.com, one of the largest bulk-candy retailers in the U.S., examined more than a decade's worth of data to determine the top Halloween candy in every state. (Did you know that more than a quarter of candy purchases are made online?)
To get the results, CandyStore.com looked at sales figures between August to October, the prime sales period for Halloween candy, and came up with a weighted average, favoring 2017 and more recent years. In addition to its own sales data, CandyStore.com also incorporated stats provided by distributors nationwide.
The results are surprisingly diverse: Skittles was the favorite in six states, but salt water taffy showed up a few times, too. Some of our country's most famous candy—Hershey Bars, Nestlé Crunch, Baby Ruth—didn't crack the list at all.
One of the top candies on the list is also one of the most polarizing: Candy corn.
For some, the waxy tri-colored treat is Halloween. For others, the only bag candy corn should be dropped in is the trash bag.
"People in states where candy corn was number one have been reaching out to express their outrage," CandyStore.com's Clair Robins told Newsweek. "Often in not so pleasant language."
In fact, candy corn also made it onto CandyStore.com's least favorite Halloween candies list. (It was the only treat to make both lists.) It's one of the oldest candies on the list, first introduced by Wunderlee Candy Company in 1880. Maybe more people would like it if still had its original name: Chicken Feed.
So what's the most popular Halloween candy in your state? Slide through for a real treat.