As Halloween Candy Sales Soar, Donations Run Low for Nigeria's Starving | Opinion
With Halloween sales expected to skyrocket over $10 billion this year, a study found that the most sought after candy in America is Reese's peanut butter cup. Many of us have enjoyed this popular chocolate candy with peanut butter in the middle.
In the African nation of Nigeria, children are desperate for a peanut product that can save their life. It's made from a peanut paste that comes in similar packaging to Reese's except it's called Plumpy'Nut. Enriched with vitamins, Plumpy'Nut is given to children who are suffering from severe malnutrition in impoverished countries. This peanut paste saves children's lives.
Children in Nigeria need Plumpy'Nut to survive as record levels of hunger are occurring there because of conflict, poverty and the impact of COVID-19.
There are 4.4 million people in desperate need of food in northeast Nigeria, the most impacted area of the country. Violence from terrorist groups like Boko Haram have forced over 2 million people to flee their homes in the region. U.S. Ambassador to Nigeria Mary Beth Leonard redeclared a disaster for the country "due to continued humanitarian needs resulting from the ongoing complex emergency in the northeast."
Food production has been devastated in northeast Nigeria. The U.N. World Food Program (WFP) and other relief agencies are needed to provide life-saving aid. Parts of Nigeria are in danger of famine.
The WFP recently warned it will have to cut rations for these starving conflict victims if they do not get required funding from the international community. The WFP, the lead hunger relief agency, depends on voluntary donations from the public and governments. The WFP needs more donations to keep up with the crisis in Nigeria.
Tragically, as Halloween nears and massive amounts of candy purchases are occurring in America, food is running out for the poor and hungry in Nigeria.
Chris Nikoi, WFP's regional director for West Africa pleaded: "Cutting rations means choosing who gets to eat and who goes to bed hungry. We are seeing funding for our life-saving humanitarian work dry up just at the time when hunger is at its most severe."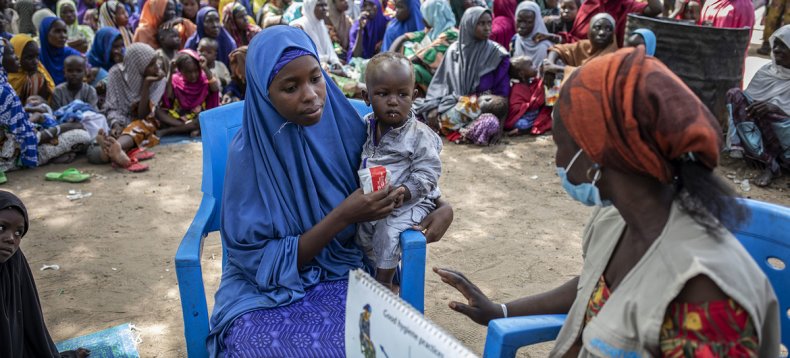 The WFP said if $55 million is not donated within weeks, the food aid cuts will begin. This is most tragic for over 1 million children who are malnourished in northeast Nigeria. Children under age 5 who suffer malnutrition are at risk of stunting both physical and mentally. Or they may starve to death from severe malnutrition.
What can save many of these children is that special peanut paste, Plumpy'Nut or Plumpy'Sup. If enough funding is provided for them, children can receive this life-saving food. Families can then get rations to give nutrition and hope during a time of crisis.
The lack of funding for humanitarian aid in northeast Nigeria contributes due to a cycle of violence and desperation. If food aid cuts take place in Nigeria it will be devastating.
Displaced children who are going hungry are also vulnerable to recruitment by armed groups. Many schools are closed and children lack protection. With food aid cuts looming children and their families will be forced into more desperate measures to try and survive.
This Halloween season can save Nigeria if people diverted even a small fraction of candy and party supplies toward donations to feed the hungry. One way would be to have a Halloween fundraiser for the World Food Program to help overcome the shortage of donations. Some colleges are holding a FreeRice match to raise donations for WFP, recognizing the desperate need for food in Nigeria and other countries on the brink of famine.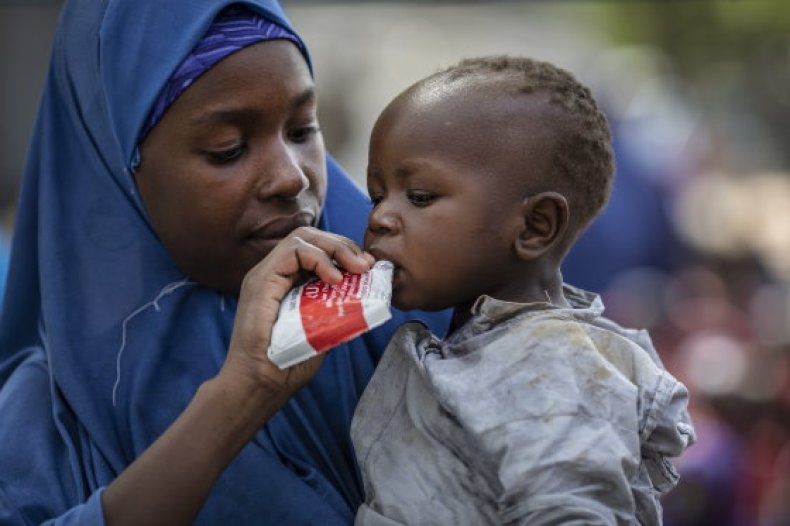 You can also fundraise for WFP partners providing aid in Nigeria via UNICEF, Save the Children, CARE, Catholic Relief Services and others. Rhode Island based Edesia is one of the producers of Plumpy'Nut and accepts donations.
The Reese's company, Hershey, could donate to the relief of Nigeria or set up a program where for every purchase a donation is generated for world hunger relief. Every time you see a peanut butter cup, remember it's the peanut paste Plumpy'Nut that malnourished children in Nigeria and other suffering countries desperately need.
This Halloween, we can take action to save people from starvation in northeast Nigeria. If people are aware of the crisis and get involved, we can save people from the worst fate of famine.
William Lambers is an author who partnered with the U.N. World Food Program on the book Ending World Hunger. His writings have been published by The New York Times, History News Network, Newsweek and many other outlets.
The views expressed in this article are the writer's own.