Last-Minute Halloween Costume Ideas for Procrastinators to Make at Home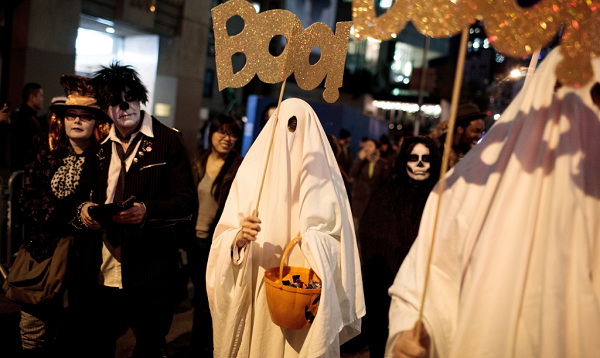 Halloween falls on the same day every single year—October 31. So how come so many people wait until the last minute to figure out their costumes? If you're one of those procrastinators, we have you covered with these last-minute, you-might-even-convince-someone-you-put-a-little-effort-into-it ideas:
Error 404 Page: Anyone who's been on the Internet has seen this—the godforsaken "HTTP Error 404" message that appears when you're trying to view a site that can no longer be found. It's an easy costume to pull off as long as you have a white t-shirt and a black sharpie handy. Write "Error 404 Costume Not Found" on the front of the t-shirt, and, boom, you're the most viewed page on Halloween.
A spider: All you'll need is a black long-sleeved shirt, black jeans and about three pairs of black, cotton-stuffed pantyhose to pull this off. Insert the top of the pantyhose into your jeans' pockets and let the legs dangle. If you're really feeling ambitious, tie some white string to create a web.
Dirty laundry: Attach a few socks, wrinkled shirts, undergarments and a few fabric softener sheets to whatever you're wearting. If you have a netted laundry basket, toss it over the top of your head and you're dirty laundry in a basket.
Arthur "Fonzie" Fonzarelli: Channel Happy Days by simply slicking your hair back and throwing a leather jacket on over a white t-shirt and jeans. Greet everyone at the Halloween party with the Fonz's classic "Heeeeyyyyy," and add an "amundo" to the end of words. Example: "This Halloween costume is coolamundo!"
Ceiling fan: Show off your team spirit by wearing literally whatever you want and attaching a "Go Ceiling!" banner on it. You can either write the phrase on a t-shirt, or just print it out on a piece of paper and pin/tape it to your shirt or on a hat.
Medusa: With the help of some dramatic green eye makeup and a few gummy worms or toy worms sporadically placed in your hair, you can become the wicked Greek Gorgon sister. Bonus: Turn a couple of partygoers into stone.
Black cat: It's generally assumed that you didn't actually plan your Halloween costume if you show up in the standard black cat-ears headband with a few whiskers drawn on your face. But if you did, then you probably wouldn't be reading this list.
Regina George: Remember in the movie Mean Girls, when Cady, Janis and Damien tried to sabotage Regina by cutting holes in her tank-top and exposing her bra? Remember the day after the trick, when every other girl at North Shore High School showed up with the exact same holes cut out of their shirts? Take a tank top you no longer care about and cut holes into it, exposing yourcolorful bra. Presto: You're the meanest, sneakiest, most popular student in cinema history
.
A ghost: This costume will never get old. And if we have to tell you how to do it, you're already drinking too much.
Risky Business: Relive Tom Cruise's glory days by reincarnating Joel Goodsen. All you need is a button-down shirt, briefs, a pair of white socks—for sliding across the floor, of course—and some killer dance moves. If "Old Time Rock and Roll" by Bob Seger should happen to come on during the party, you've totally nailed Halloween at the last minute.