Halloween 2019 Food Deals: Promo Codes, Free Meals and Special Deals for Krispy Kreme, Wendy's and More
Food is a major part of the Halloween season. It's a time to indulge in all things sweet, from candy to chocolate and pumpkin-spiced treats. We've rounded up some of the best Halloween food deals so you can get free or discounted treats this October.
From special limited-time Halloween-themed menus to free meals for kids, there are tons of Halloween deals out there this holiday season. You could get 10 donuts for $2 or a cocktail for $1.
Krispy Kreme
Krispy Kreme has launched spooky doughnuts just in time for Halloween. You can opt for Slimon, an Original Glazed doughnut with lemon slime filling. He comes dipped in green icing and a green Kreme dollop. And, of course, he's covered in "slime."
Or there's the mummy-inspired Mumford, an Original Glazed doughnut wrapped up in purple ​icing. Last, but not least, Hypno‑Henry, a doughnut filled with cake batter, dipped in yellow icing and orange sanding sugar. To claim your free doughnut, visit Krispy Kreme on October 31 wearing your Halloween costume.
Wendy's
You can get five coupons for a free Jr. Frosty at Wendy's when you purchase a Boo! Book for $1. Not only is this a great deal, but 85¢ of every $1 purchase goes to the Dave Thomas Foundation for Adoption. The coupons are valid from now until October 31, and you can choose between a chocolate or vanilla Frosty.
IHOP
IHOP has launched an Addams Family-inspired menu to coincide with the release of The Addams Family movie. Try Wednesday's Web-Cakes, Morticia's Hot Chocolate, Gomez's Green Chile Omelette, Uncle Fester's Chocolate Ice Scream Shake, or the Kooky Kids Combo. For a limited time, you can get a free kids entree with each adult entree every day between 4 p.m. and 10 p.m.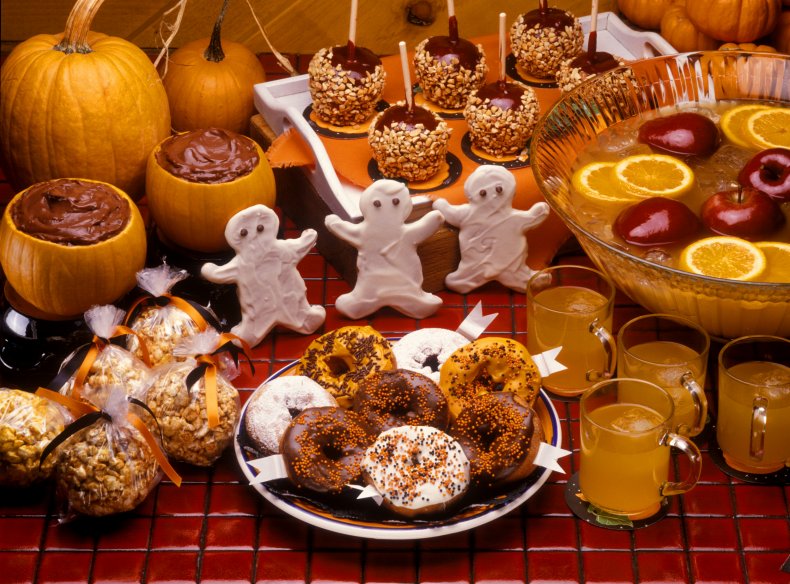 Applebee's
Applebee's is celebrating Halloween with a special $1 Vampire cocktail for a limited time only. This "freaky tiki rum cocktail" is made with rum, strawberry, passion fruit, dragon fruit and pineapple juice. It comes with "vampire fangs" and a cherry.
Baskin Robbins
Enjoy $1.70 scoops at Baskin Robbins on October 31 to celebrate its 31 flavors. Additionally, the flavor of the month is Candy Mashup, made from your favorite Halloween candy like Snickers and caramel cups. Baskin Robbins has also launched a Halloween menu including a Ghost Cake, Spider Web Cookie Cake and, in select locations, a Piñata Ghost Cake.
Dunkin' Donuts
You can get 10 Munchkin donut holes for $2 at Dunkin' Donuts this month. Plus, Dunkin' has relaunched the Spider Donut and other donuts especially decorated for Halloween. Lucky Dunkin' Donuts visitors might bump into the Dunkin' Runner, who will be visiting stores across the U.S. where 200 guests at each location will enjoy one free donut each.
Chili's
Chili's has a $5 Monthly Margarita deal where, each month, one margarita flavor is only $5. Chili's has given its promo a spooky twist for October, with the Fangtastic 'Rita. It's a blend of Lunazul Blanco Tequila, Cointreau, Monin Blood Orange and fresh sour mix.
Bubba Gump
In a "no tricks, all treats" promo, kids can eat free at Bubba Gump on Halloween with the purchase of an adult entree. Use the promo code KID HALLOWEEN to claim your free kid's meal.