Halloween Needs To Be Moved To The Last Saturday Of October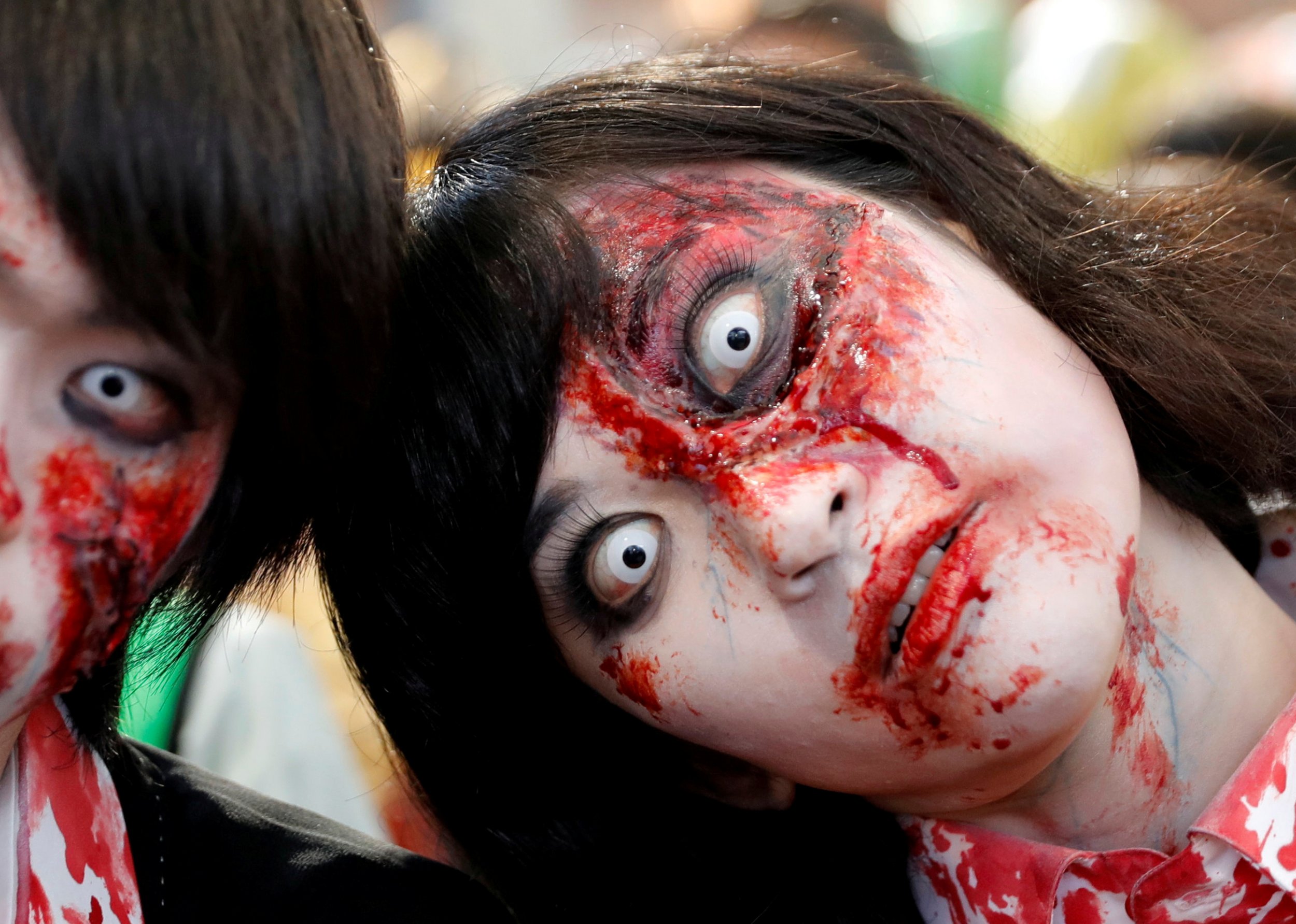 I'm sick of Halloween becoming Halloweek.
It happens almost every year because All Hallow's Eve typically falls on a weeknight, which means a pre-Halloween party the weekend before, days of buildup, and sometimes another weekend party.
That's a lot of candy. That's a lot of offensive costumes. That's a lot of Santa-Con-esque excesses. So can we please just agree to move Halloween to the last Saturday in October and be done with it?
To clarify: I am not anti-Halloween. Nothing brings me more joy than seeing friends dress up (like that time my friend and I were both Barry Gibb, because, let's face it, who wants to be Robin Gibb?). I am grateful for any excuse to eat fun-sized Snickers. And I recognize that a little kid dressed like an old person is the cutest thing ever. I will even sit through a scary movie and then sit up all night thinking about it. I am happy to do and see all of these things, but I have rule: I do it all...ON HALLOWEEN.
But a person can only hear the bubbling cauldrons and rattling chains of Bobby Pickett's "Monster Mash" so many times before she loses it. And by "she," I mean me.
Weekday Halloweens hurt parents, too. Trick-or-Treating starts early, and leaving work isn't an option. Kids stay up late and eat candy all night, which makes getting to school the next day a difficult task—and being a good parent by limiting sugar intake really isn't an option either.
Most mothers now work outside of the home, in nearly half of households with a mother and father, both parents are employed full time. So who has time for trick or treating on a Tuesday?
It's not like we can't change Halloween to make it whatever we want. It started about a thousand years ago as a Celtic-Pagan holiday that was essentially a spooky harvest festival. In the early 700s it was appropriated by Christians as a day to "pray for the recently departed souls who have yet to reach Heaven." Then it came to America and, before long, became a consumer-oriented holiday celebrated by people of all religious backgrounds and candy preferences.
If a pagan harvest festival can morph into a corn-syrup-fueled parents' nightmare, then Halloween can change into whatever we want.
And let's face it, America has a love-hate relationship to the calendar anyway: George Washington's birthday isn't actually the third Monday of February, and Martin Luther King Jr's birthday isn't the third Monday in January, because that's not how birthdays work. And Thanksgiving was moved a few times in order to facilitate a longer holiday-shopping season. So let's at least hold the line on Halloweek.
This frightful fortnight is even affecting the president. First he handed out candy to media families last Friday. Then he held the White House Halloween party on Monday (and got spooked by a giant dinosaur). But the president has nothing planned for the actual day of Halloween: October 31.
It's high time that we come together as a nation and admit that Halloween on whatever random weekday on which it falls makes no sense. Let's move it to the last Saturday of the month—and smash this pumpkin once and for all.