The Best Horror Movies Streaming Online For Free This October Ready for Halloween
Horror movies are an essential part of most people's Halloween experience, and the streaming services have plenty of ghosts, ghouls and gore to last the whole of October.
Free streaming services like Tubi, the free version of Peacock and The Roku Channel have some classic horror available to watch online now, plus some unseen spooks ready to settle even the strongest gorehound.
From classic chills to new releases, here's the best 25 movies streaming online on the major streaming services this Halloween (October 31).
25 movies you can watch online for free this Halloween
An American Werewolf in London - Peacock
Were you terrified by Michael Jackson's "Thriller" video as a child? Well its director John Landis learned everything he needed to know from this effects-heavy horror about a U.S. backpacker who becomes a werewolf while traveling in the U.K.
Audition - Tubi and Kanopy*
The best horror films lull you into a false sense of security by pretending to be one thing before unveiling their full horrors as the movie progresses. Audition does this so well it even works if you have seen the movie dozens of times, as a classic romcom set-up becomes...well, let's say not that.
Candyman - Tubi
With the 2021 version still in theaters, what better time to watch the 1992 original? It has some problems the new one does not (like centering this very Black story around a white woman), but also manages to be a lot scarier than the new version.
From Dusk Til Dawn - Pluto TV
Another film that lulls you into a false sense of security is From Dusk Til Dawn. The Robert Rodriguez-directed, Quentin Tarantino-scripted movie has an almost deliberately boring first half, which only serves to make the blood-soaked frenzy of the second half all the more unhinged.
Green Room - Kanopy*
From the quaint time of 2015, when American white nationalists were the subject of horror movies rather than real life. Green Room is an underseen gory treat, as a punk band's gig at a neo-Nazi bar goes very wrong. What is right, however, is a terrifying Patrick Stewart as a fascist maniac and a great performance from the much-missed Anton Yelchin.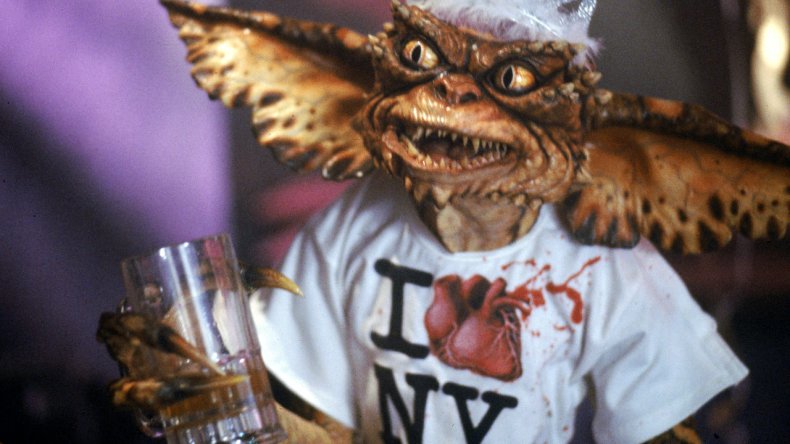 Gremlins 2: The New Batch - Peacock
Most sequels manage to be bland money-makers. Gremlins 2 is not most sequels. Instead, it is a gleefully demented 100-minutes of chaos that makes fun of every horror convention – and everything set up in the first movie. It's time to admit it's way better than the first.
Halloween - The Roku Channel and Hoopla*
With the sequel Halloween Kills coming out on Peacock this October, it is time to revisit the original. There were slashers before, but this was the one that crystallized the genre, birthed a horror icon and made suburbia scary for a generation.
Hereditary - Kanopy*
Ari Aster instantly became a horror force to be reckoned with with his debut. Toni Collette deserved an Oscar for her work as a grieving mother, and Aster deserved carte blanche to make whatever follow-up he wanted (he got it with Midsommar).
Invasion of the Body Snatchers - Pluto TV, Kanopy* and Hoopla*
The 1950s version of this classic story of a secret alien invasion is a taut piece of Cold War conspiracy horror, but it is the 1970s version that became the real classic thanks to having all that as well as gore!
It Follows - Peacock
A newer addition in the canon of classic horror films, It Follows took the horror cliche of teens getting slaughtered after having sex and turned it on its head for a new generation.
Let the Right One In - Kanopy* and Hoopla*
Before director Tomas Alfredson's major misfire with The Snowman, he established himself as the king of chilly nordic horror with this teen vampire tale, remade in the U.S. as the Chloe Grace Moretz-starring Let Me In.
Mandy - Hoopla*
No, not the long-awaited movie adaptation of the Barry Manilow hit. The bloody and brilliant movie starring a completely off-the-chain Nicholas Cage as a man on a revenge mission.
Night of the Living Dead - Peacock, Kanopy*, The Roku Channel, Tubi, Hoopla*, Vudu, Popcornflix
A true landmark of horror cinema. Without George A Romero's Night of the Living Dead, there is no zombie takeover of pop culture – and everything from The Walking Dead to Get Out may never have been made.
Peeping Tom - The Roku Channel, Tubi
A film so grotesque that it nearly destroyed the career of director Michael Powell – even after a career that saw him make beloved masterpieces like The Red Shoes, Black Narcissus and A Matter of Life and Death. Even 60 years later, this story of a photographer who likes to capture his victims' final moments on film is a nasty piece of work.
Re-Animator - Tubi and Kanopy*
Many films have been gory and featured gruesome prosthetics, but few movies have as much fun with them as this HP Lovecraft adaptation from cult goremaster Stuart Gordon.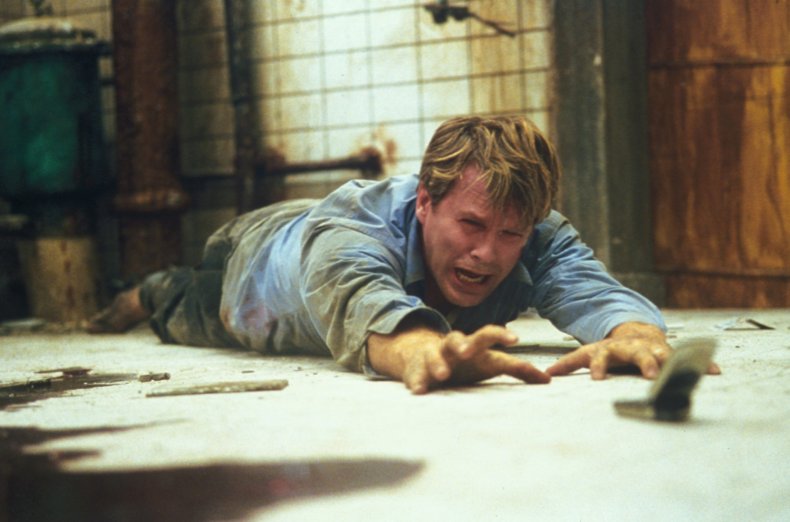 Saw - Peacock
Saw may have been weighed down by some very bad sequels (including this year's wildly misjudged Spiral), but that does not stop the original from being an effective horror-thriller with a great twist.
Scream - Pluto TV
Meta-horrors soon became pointless pieces of navel gazing for writers and directors who thought they were cleverer than they were. But that may be because Scream both invented the genre and then did everything there was to be done with it.
Suspiria - Tubi and Kanopy*
Though the 2018 remake was better than many gave it credit for, the original is the true masterpiece, proving that when it comes to horror: Italians do it better.
Tetsuo The Iron Man - Kanopy*
In the late '90s, "J-horror" became cool in America thanks to movies like Audition and The Ring. But Japan had been making weird unsettling movies like this story of a man slowly turning into metal for decades.
The Blair Witch Project - The Roku Channel
Decades before "fake news" was a thing, The Blair Witch Project became a sensation with an internet campaign that tried to make people believe its characters had really died. Even if that has long been debunked, the movie still holds its power.
The Cabin in the Woods - Peacock
With its generic title and typical gang of teens in a spooky house in the middle of nowhere, this film initially feels like just another empty horror – until the curtain is pulled back and we discover what's really going on in this twisty delight.
The Cabinet of Dr. Caligari - The Roku Channel, Tubi, Hoopla* and Kanopy*
Though it turned 100 in 2020, there has still not been another movie made that looks or feels like Dr. Caligari. This is the perfect film to watch for anyone who has never seen a silent film before – with images like this, who needs sound?
The Silence of the Lambs - The Roku Channel
The only horror movie to win the Oscar for best picture, it is also the last film to win the Academy Awards "big five" of picture, actor, actress, director and screenplay. Even though director Jonathan Demme had to pretend it was a psychological thriller to do that, it is definitely a horror movie.
The Texas Chainsaw Massacre - Tubi
Watching films now that were previously banned generally makes you wonder what all the fuss was about. This is not the case with The Texas Chainsaw Massacre, which remains as nasty as the first day it was released.
Train to Busan - Peacock, Crackle, Pluto TV, Tubi, Hoopla* and Vudu
Bong Joon-ho gets much of the American attention, but Korean cinema in general is a rich field that has produced some killer horror. Train to Busan sees our heroes fight zombies on a train – what more do you need?
* – Hoopla and Kanopy require you to log in with a library card