'Halloween Kills' Delayed to 2021, But Here's a Teaser Trailer to Hold You Over
The sequel to 2018's Halloween, Halloween Kills, has been delayed until 2021, director David Gordon Green and original Halloween creator John Carpenter announced in a letter addressed to horror fans.
"Over the past few weeks, our film family has looked at the forecast of theatrical exhibition with obvious concern," the duo said in the letter, which was posted to Carpenter's Twitter account on Wednesday. "If we release it in October of this year as planned, we have to face the reality that the film would be consumed in a compromised theatrical experience. After weighing our options, we have chosen to push the film's theatrical release by one year."
Halloween Kills will now be in theaters, including IMAX screens, beginning October 15, 2021. But it's not all bad news, because Carpenter also released the first teaser trailer featuring footage from the upcoming Halloween sequel.
After opening with a version of the series' iconic first shot—a decaying pumpkin—the Halloween Kills teaser trailer returns to the very end of the most recent movie, suggesting that this sequel will proceed immediately from the events of that film.
In 2018's Halloween, Laurie Strode (Jamie Lee Curtis) traps the implacable killer Michael Myers in the basement of her forest compound, then, with the help of her daughter and granddaughter, burns the house down around him. They then escape the scene in a bed truck.
In this new teaser, Laurie, Karen (Judy Greer) and Allyson (Andi Matichak) are still in the truck bed, speeding away from the final confrontation. But, as fire trucks head toward the conflagration, it becomes clear something is wrong: Laurie and her family worry it won't have been enough to kill the killer.
"No, no, no, no," Laurie shouts at the emergency vehicles driving by. "Let it burn! Let it burn!"
As often happens, it looks like Myers somehow survived the inferno, with the final shot in the trailer revealing Myers in his blank-faced white mask.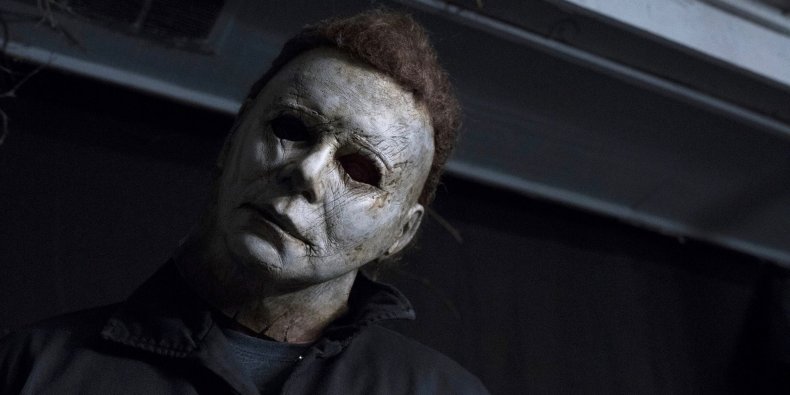 In their letter to fans, Gordon Green and Carpenter, who returned to compose the score for Halloween Kills, describe the upcoming entry in the series as a "wild and vibrant production."
"We lined up a cast of legacy characters like Laurie, Tommy, Lindsey, Lonnie, Marion, Brackett and The Shape, then alongside some new faces, we aggressively made the second chapter of our Halloween trilogy," they wrote. (For those wondering, "The Shape" is another name for the movie franchise's killer). "It unfolded into an experience that was a creative playground and we feel confident that our misfit pleasures will be seen as an unexpected entry into this franchise."
The cast, many of which are returning or playing characters from the 1978 original, indicates that Halloween Kills will build on one of the primary themes of the 2018 movie, which looked at the consequences of Strode's teenaged trauma on her adult life. But a new Empire interview with Gordon Green suggests that Halloween Kill will also engage with more modern concerns.
"The first one was more about Laurie's life of isolation after Michael and her attempts at revenge," Gordon Green told Empire. "This is more about the unraveling of a community into chaos. It's about how fear spreads virally."
Halloween Kills may also have one of the highest body counts of any entry in the slasher movie series, with Carpenter describing the movie to IndieWire as "fun, intense and brutal: a slasher movie times one hundred."
"I've never seen anything like this: the kill count!" Carpenter added.
While Carpenter confirmed the movie is complete and awaiting sound mixing, we now know there will be more than a year to wait. Mark your calendars: Michael Myers will return in Halloween Kills, now out October 15, 2021.