Halloween 2019: Makeup for Gory and Glamorous Halloween Costumes
Halloween makeup is one of the most important elements of creating a Halloween costume. Whether you want to be spooky or gory, or you want to go for something more glamorous and creative, makeup is key to achieving your Halloween look. As the day gets nearer, it's time to start planning.
Check out these makeup products that are perfect for the Halloween season. From special effects makeup to beautiful—but seasonal—eyeshadow palettes, these are the key products you'll need for Halloween 2019.
Gory makeup
This white base matte foundation by Makeup Revolution is ideal for transforming into a ghoul or vampire. It will also work for ghostly, gothic makeup looks, and is a great place to start for any kind of spooky Halloween makeup.
Newsweek subscription offers >
Another product by Makeup Revolution, this liquid latex is all you need to create gory effects like cuts, blisters, and burns. It's perfect for zombie looks.
Once you have your base, this SFX Face Paint Palette by Makeup Revolution has everything you need to complete the look. With 12 shades ranging from bloody red to sickly green, there's no limit to the Halloween looks you can pull off with this.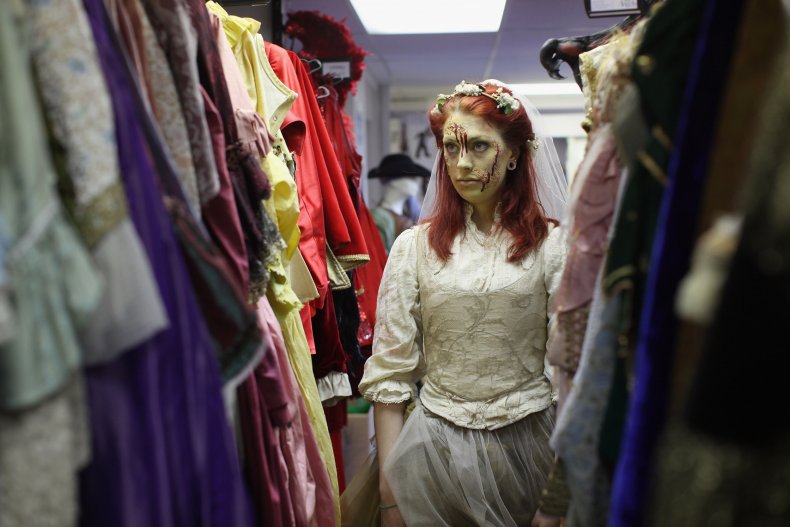 Glamorous Makeup
Newsweek subscription offers >
The Beautiful Darkness Palette is not only inspired by Halloween, with eyeshadows named "nightmare," "demon" and "horror," but the dark shades of black and purples are ideal for dramatic Halloween eye makeup.
Disney has teamed up with Color Pop to creat this Midnight Masquerade palette inspired by Disney princesses like Belle, Cinderella, and Rapunzel. The shades are appropriately named "Damsel," "Enchanted," and "Frog & Wife." The mix of light, pretty shades, and bold, dark shades means you can go as a princess or an evil witch.
The soon-to-be-released Manny MUA Moon Spells palette has a bewitching design that nods towards the world of the supernatural. The shades are suitably alluring, with a mix of matte and shimmery pinks and purples plus pops of yellow, turquoise and silver.
This Radioactive palette by Melt Cosmetics is perfect for bright, bold, colorful looks. The intense, highly pigmented formula is perfect for dramatic costume makeup, rather than everyday makeup looks.
Another alchemy-inspired product, the Black Magic palette by Uoma is mystical. The shimmery and matte yellows and greens would be great for a witchy eye-makeup look.
Use the Cosmic Glow Highlighting palette by Misslyn for out-of-this-world looks. It's great for adding a blinding highlight to your extraterrestrial Halloween costume.
The Moonchild Glow kit by Anastasia Beverly Hills is perfect for frosty makeup, and the highlight can be doubled up as eyeshadow. It's all you need for an ice-queen inspired look.
Halloween 2019: Makeup for Gory and Glamorous Halloween Costumes | Culture